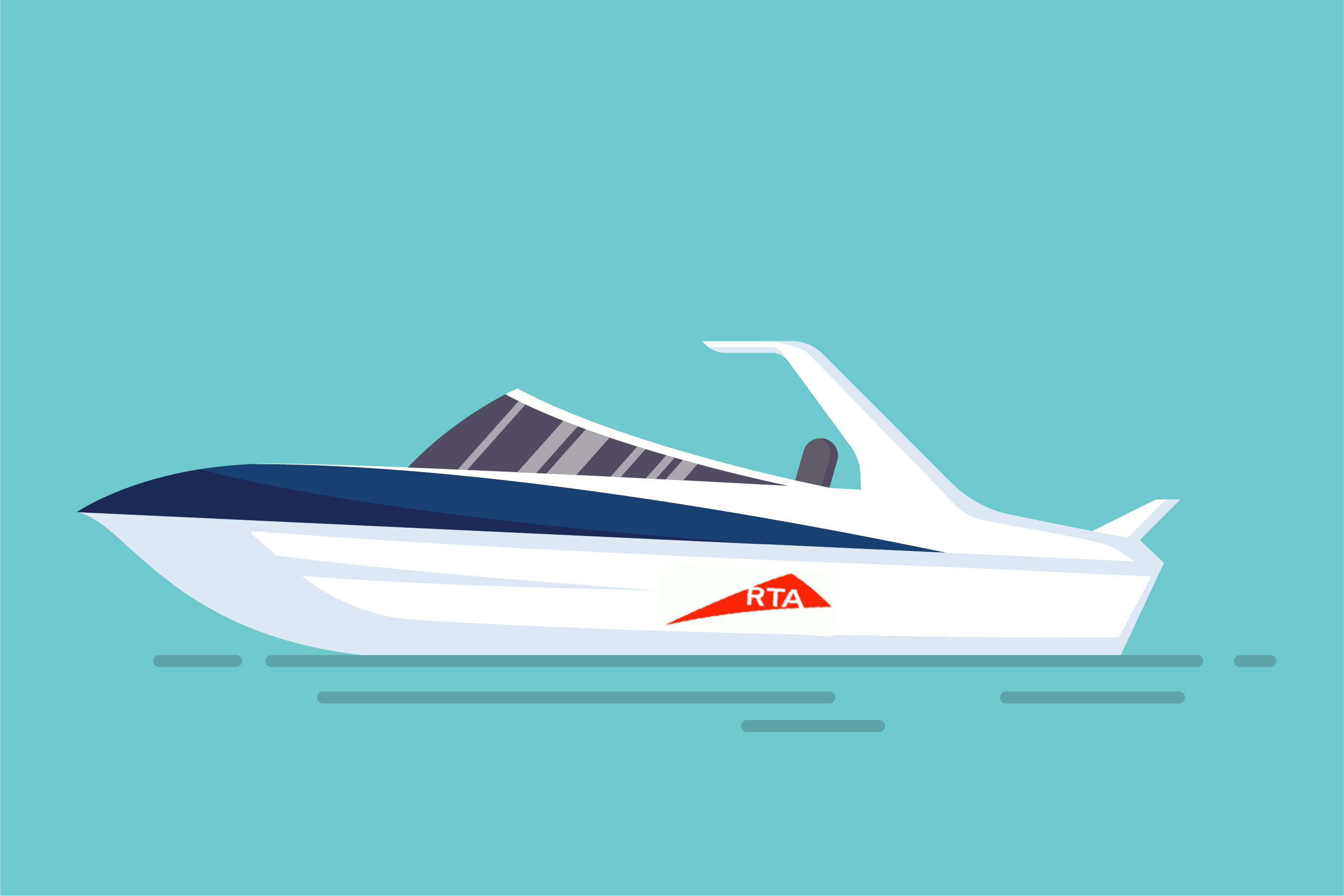 What is Dubai water taxi?
Road and Transport Authority(RTA) of Dubai has introduced the water taxis with a good sense of flexibility in timing and travel.

Dubai transport authority opened nine marine canals in the Dubai canal. Water taxis are the only means of public transport that are able to leave the creek and navigate the waters on Arabian Gulf, unlike Abras and Ferris.
Go through : 22 cheap and best things to do in Dubai
Features of Dubai water taxi

Dubai water taxi can accommodate up to 10 passengers
With a cruising speed of 25 knots and a top speed of 35 knots, the taxi can make the passengers travel to different locations like Jebel Ali and Al Mamzar with the longest trip being one and a half hour
LCD monitors will be arranged in all passenger seats
32 pick points are arranged all over Dubai for the water taxi
The taxi has 18 stations all along the Dubai Creek including other tourist places of the Emirate.
Dubai water taxi is air-conditioned and facilitates all the necessary privacy to the passengers
How can you book a water taxi ride?

You can book a Dubai water taxi ride via online or by contacting the call center with number 8009090. As soon as you book the water taxi, it arrives at the nearest station for you to hop in. The services of water taxi will be available from 10 am to 10 pm

Stations of Dubai Water Taxi
Al Mamzar station
Al Boom tourist village station
One and only The Palm station
Waterfront Market
Al Ghubaiba station
Rixos hotel station
Deira old souk
Al Jaddaf Station
Dubai Marina Mall station
Al Sabkha station
La Mer Marine station
Sofitel Resort The Palm station
Baniyas station
Jumerirah beach park station
Marina terrace station
Dubai Festival city station
Jumeirah beach hotel station
Marina Promenade station
Dubai Creek Globe and Yacht substation
Port Rashid station
Dubai Design district station
Al Shindagha station
Al Sufouh station
Anantara station
Bur Dubai Station
Dubai Marina station
Dubai canal station
Al Fahidi station
Jebel Ali Golf club station
Jumeirah station
Al Seef station
Atlantis the Palm station
Al Wasl Station
Creek Park A station
Mina Siyahi station
Al Safa Park station
Business bay station
One and only Royal Mirage station
Sheik Zayed Road station
Wald Astoria Dubai Palm Jumeirah station
Marasi station
Al Wajeha station
Go Dolphin station
Planning for a trip in the Dubai water taxi

In order to plan a ride in the Dubai taxi, you need to go to the RTA official website and have to fill in the details of departure and arrival station, date and time you want to depart.
If you want to plan a regular journey you have to choose if it would be between Friday and holiday or Saturday to Thursday and also mark the timing of your regular trip accordingly.
Costs involved in Dubai water taxis

Dubai water taxis usually cost you AED 55 and 205 AED completely depending on the place and ride you select

Advantages of Dubai water taxis

Water taxis provide you with a ride full of comfort and privacy
You can book taxis by standing at any station and the taxi will be present within a short period of time
There will be facilities like wheelchairs for differently-abled people in a water taxi
Abra (traditional water taxis in Dubai)

Dubai abras are nothing but the small motorized water taxis that are used to cross the places in Dubai. These are one of the cheapest modes of transportation in Dubai that only costs you Dh 1 to travel from one place to another.
Abra can accommodate up to a count of 20 passengers to travel in between Deira and Bur Dubai.

Routes of Dubai abra
The two main routes of Dubai abra include the one that runs between Bur Dubai Abra station that lies at the west end of textile souk and Deira old souk abra station in front of Spice souk while the second route starts from Bur Dubai Old souk abra station in the middle of textile souk to Al sabkha abra station which is just a few errands away from Baniyas square.

Timings of this traditional water taxi

If you consider abras on route one, they travel daily starting from 5 am to midnight while the abras on the route two travel for 24 hours a day not confining to any particular timings like the bars of route one. In the peak times, there are 150 abras that work on both of the routes with the departures for every 2 minutes.

Fares you can expect from the Dubai abra

Abra as said is one of the most affordable mode of transport in Dubai with the fare of 1 dirham usually which has to be paid to the abra driver.

Type of abras you can find in Dubai

There are three types of abras available in Dubai

The Petrol Heritage abra

This is one of the latest abras in Dubai that is designed with a traditional design. 20 people can be accommodated in this abra.

The Electrical abra

This abra which is environmental friendly can carry a count of 8 passengers in it during a ride. This electrical abras can usually be found at places like lakes near Burj Khalifa, The Global Village.

Air conditioned Abra

This abra is ideal for the summer season as the abra is totally air-conditioned and can easily accommodate 20 passengers in it.
The eligibility needed to use abra

There is no such thing as particular eligibility to use abra. Any individual can make good use of it to travel through the places as per mentioned by the abra.

Documentation required

If you want to travel in the electrical abra, you need to have the abra ticket with you

Petrol and air-conditioned abra require Nol cards like blue, green and red cards for you to travel in them.

If you want to travel in Petrol heritage abra in between Al Ghubaiba station- Dubai old souk station – Baniyas station you need to have any of the Nol cards with you while traveling.

If you want to travel in Petrol Heritage abra in between Baniyaas and Al Seef station you need to have an Abra ticket along with you.

Service fees or fares of Abra
Type of abra
Fees
Petrol heritage abra
2 AED/ trip
Air conditioned abra
2 AED/ trip
Electrical abra
Burj KhalifaThe global village Al Mamzar
68.25 AED (25 minutes)50 AED/ trip (12 and 15 minutes)60 AED/ trip (30 minutes) 120 AED (1 hour)
The validity of each trip varies in accordance with the category of the trip.

Places you can visit and enjoy by using Dubai abra
1)Dubai Canal
You can hop on an abra in Dubai canal and it can accommodate a passenger count of 20 in it. You can start this ride at Sheikh Zayed road Marine Transport Station.

2) Dubai Creek

This is another tourist attraction in Dubai that usually costs you less than that of Dubai Canal ie., AED 1.Having a ride in Dubai Creek is the best way to explore Bur Dubai and Deira.

3)Souk Madinat

This is the best place in the entire Dubai where you can come across Arabian architecture and have a good view of the magnificent skyscrapers like Burj Al Arab as well. This ride costs 85 per adult and 50 AED per child.

4) Burj Khalifa Lake

If you want to have a beautiful ride in open waters, then you can hop in a traditional abra that generally costs with 65 AED.
Advantages of an abra

Abra is one of the most comfortable modes of transport you can find in Dubai
You can hop into any of the abras and rest assured you will reach your desired destination within a period of 5-7 minutes maximum
Motorized and electrical abras are the new inventions that carry the people to their desired places within a short period of time.
Conclusion
People in Dubai generally use water taxis and abras so that they can have a hassle-free journey, unlike the traffic-filled travels they face while they travel on the road.