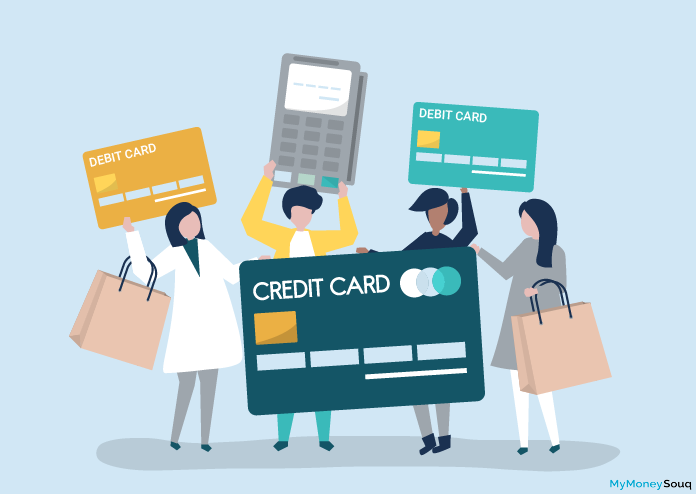 Both the Credit card and Debit card look the same. They have the same sixteen digits card number with an expiry date, magnetic stripe and EMV chip. Both credit card and debit card purchases are made easier through online or offline mode. Debit card money is money that you have in your bank account. Credit card money is issued by the bank with a certain limit amount for making purchases or withdrawals.

Having a credit card and a debit card is no more a luxury, it has become a necessity. The facility of protection and convenience is difficult to explain but worth experiencing. Both credit and debit cards have their importance in day to day usage. Here in this article, we present to you the difference between credit cards and Debit cards.

Credit card
A bank or financial institution issues credit cards and it gives privilege to the credit card holder to use borrowed money. The user of the credit card is under liability to payback the money withdrawn or purchases made. There are various types of credit cards issued by banks in the UAE.

Standard Credit card
A Standard credit card is simply a card that has a line of credit for the cardholders to make buying possible, transferring balances, cash advance and others. These cards may not have annual fees

Premium credit cards
Premium credit cards offer perks like concierge services, airport lounge accessing facility, events permit and others. These premium credit cards have annual fees associated with them.

Balance Transfer
These cards have less interest charges and less fees for balance transfers from one card to another card

Secured Credit card
These credit cards will require starting a cash deposit which is with the issuer as a safe deposit known as collateral. There is no preset spending limit and it will not allow the unpaid balance to carry forward over each month.

A credit card user can get discounts, points, travel privileges and many other benefits which are not facilitated to the debit card users. The reward points can be on the flat rate base or tier rate basis. You can use the points to book hotels, travel tickets or avail the advantages provided by the bank.
Click here for How credit counselling can help you?
Advantages of Credit card
Credit cards will offer few advantages compared to debit cards. It also has some disadvantages but compared to debit cards the incentives and privileges are more for credit cards.

Credit score
You can build a credit score with a good track record of payments. The credit history will play a major role in issuing credit in the future. The usage of credit cards will credit a credit history. The factors such as one-time payment, timely repayment of liabilities will create a good track record. Late payments, missing payments, defaults will create a negative credit record. Users can increase their credit score by maintaining good credit payments and effective card utilization.

Special warranty
Credit cards will issue special warranty and they also provide insurance facilities for purchasing items that are beyond retail sales. If the seller of the product offers purchase protection on a credit card and if the product gets damaged the cardholder will get coverage on the purchases.

Protection against fraud
There is higher protection against fraud on credit cards compared to debit cards. The customer should report loss or theft during the event. If the frauds are reported on time then the card-issuing company will take proper action to ensure fraud protection to the customer. It is best advised to report within 48 hours of realizing the event.
Click here for Credit card utilisation impact on credit score
Disadvantages of Credit Cards
The following are the main disadvantages of credit cards.

More spending more debt
If you do not have the ability to repay the credit card liability then you will fall into a debt trap. The more you spend, the more you fall into debt. Remember whenever you spend money using a credit card it is not your money it is the bank's money that you are spending. It is recommended to use 20-30% of the credit limit provided.

Impact of credit score
A good credit score will yield positive results but a bad credit score will result in adverse situations and you have to pay penalties for misusing the credit card. Non-payment of liability or delayed payment, going default, using a complete credit limit will reduce your credit score and you cannot get credit in the future.

Interest rates
A credit card is like a short term loan that you have to pay back to the lender. The interest rates are highly charged by the company. The higher the annual percentage rate (APR), the higher is the expense that you have on your credit card.

Keep yourself informed about annual charges, foreign transactions charges, balance transfers fees, cash advance fees, delayed payments fees and other charges. The higher the reward program, the higher the advantages to the credit card holder and the fees associated with it will also be high.

Debit Card
A debit card is your owned funds card meaning that it is a card issued by the bank for the funds that you put into the account. The amount you will withdraw from a debit card or purchases that you make on a debit card will reduce the balance on your savings account/current account. Debit cards provide convenience when they are issued by Visa/ Mastercard. Standard debit cards are issued by the bank for having an account.

Advantages of Debit Card
The following are the advantages of using the debit cards

No Debt
A debit card is about drawing money or making purchases from your bank account. It will not allow you to fall into debt. Card users pay more when using their card but when you are using a debit card you cannot spend beyond the funds in your account. This helps you not fall into a debt trap.

Safe to use
The cards issued by the payment processors like Visa/Mastercard offer more protection. The customer should just report the event as soon as possible and the chance of loss will get reduced.

Fee
Compared to credit cards the debit card will not have any fees or charges for withdrawing money from your account. Money can be withdrawn from your account using ATMs. Credit cards will charge very high-interest withdrawals on cash.
Click here for Know all about prepaid cards in UAE
Disadvantages of Debit Card

Reward points
There are no reward points issued by the bank for using the debit card. Reward points like miles, cashback, privileges and others are not available on using your debit card. You may have to lose money for not having rewards points on your spending.

Credit score
There is no credit score built for using debit cards. Whatever amounts that you spend on your debit cards is your money that gets debited from your account. You will not have the opportunity to create a history of payments

Fee & Charges
Debit cards will not have an annual fee, you have to pay charges for account and card maintenance fees associated with your account. The bank may charge for overdraft and if you are transacting on foreign ATM charges may be applicable on your debit card. The bank charges may be different from bank to bank depending upon the privileges offered to the customers.


Vinay Kumar Goguru is a finance professional with more than 8 years of diverse experience as a researcher, instructor and Industry work experience with both public and private entities. Prior to MyMoneySouq, he spent 6 years in Berkadia, It's a commercial mortgage banking company. He has a "Doctoral Degree in Commerce" and two master's degrees with a specialization in Finance, one as Master of Commerce and other as Master of Business Administration. He has written several articles on personal finance, published by different International journals. He loves traveling, reading and writing is his passion. He has a dream of writing a book on his favorite finance topics.