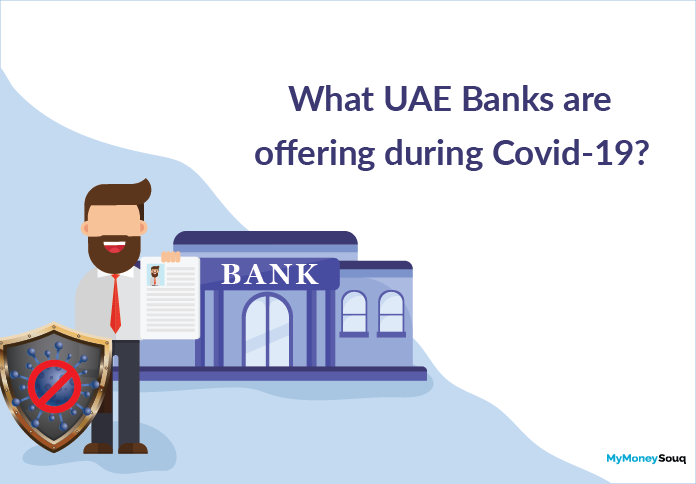 The UAE Central Bank has advised all the UAE banks to give temporary relief to the loan holders by giving a postponement on monthly loan payments. It has also advised reducing fees, commissions for customers who are affected by Coronavirus.

The Central Bank with a focus on customer protection and keeping the stability of the banking sector in UAE proposed to reschedule loan contracts, grant temporary postponements on monthly loan payments, reduce commissions expenses and fees for customers.
Check: Financial lessons you can learn from the COVID 19 crisis
Abu Dhabi Commercial Bank (ADCB)
Abu Dhabi Commercial Bank(ADCB) offers postponement of EMIs and also waives interest. Three months EMI (Equated Monthly Installments) relaxation of existing and new loans will be provided to the loan holders. Other relief measures include reduced interest charges, offers on down payments, service charges and school tuition plans, reduced minimum balance requirements issued by the Abu Dhabi Government.
His Highness Sheikh His Highness Sheikh Mohamed bin Zayed Al Nahyan, Crown Prince of Abu Dhabi and Deputy Supreme Commander of the UAE Armed Forces has ordered a package for individuals and small and medium-sized enterprises with Abu Dhabi based banks.

The measures will remain until the end of June 2020. ADCB said its customers whether business owners or individuals affected by coronavirus will be given deferred loan installments. Interest for a period of six months will be waived. This is subject to an appropriate level of scrutiny.
First Abu Dhabi Bank
First Abu Dhabi Bank (FAB) announced measures that are effective from the date of April 1, 2020. For individual customers who are impacted by COVID-19, banks will defer EMI payments for personal loans, mortgages, auto loans from between one to three months. FAB mortgage loans will get the reduction benefit of 5% towards their down payment, this is applicable for first-time property buyers.

FAB is working with its customers to understand the impact of the pandemic to provide support in the form of loan restructuring or deferment. They will not charge any loan deferment fees. The bank will continue to support customers by issuing loans based on existing policies. It will support them by providing a grace period for up to three months for the first installment by lowering the prices.
An EMI deferment is a temporary arrangement that provides a facility to postpone your EMI payments. It helps you to reduce your financial burden and increase your spendable income. Your postponed installments will be split over the remaining loan term. The loan maturity period will be extended by one month or two months according to the choice selected by the customer. The interest outstanding over the one or two months will be adjusted over the remaining loan tenure and thus the last monthly installment will increase marginally.
Read: How can you protect your finances in tough times
Conclusion

Visit your banks' website or use phone banking or call your relationship manager and request for EMI deferral and follow the instructions. You may be required to submit an application form online and provide some additional documents proofs to avail the benefits. However, the process may differ from bank to bank and it may also differ from individuals to business enterprises. It is best advised not to visit the branch, use the alternative ways and manage your EMI payments. Stay Safe and Stay Healthy.


Vinay Kumar Goguru is a finance professional with more than 8 years of diverse experience as a researcher, instructor and Industry work experience with both public and private entities. Prior to MyMoneySouq, he spent 6 years in Berkadia, It's a commercial mortgage banking company. He has a "Doctoral Degree in Commerce" and two master's degrees with a specialization in Finance, one as Master of Commerce and other as Master of Business Administration. He has written several articles on personal finance, published by different International journals. He loves traveling, reading and writing is his passion. He has a dream of writing a book on his favorite finance topics.