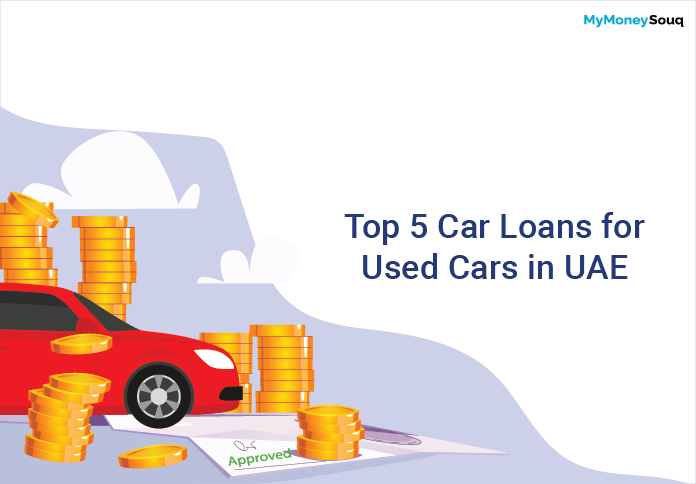 In the UAE, used cars are also a good market where the buyer and seller agree upon a price and close the deal. You can get a lot of benefits by purchasing the used cars. The buyer can do due diligence and buy the car which they want. The used cars for sale are well sorted, good marketable condition, well equipped and efficient. The sale price of used cars are reasonable and a finance facility is also provided for the buyer.
It is not difficult to get financing for used cars in the UAE. Banks in the UAE will issue loans for new cars and used cars. The interest rate charged by banks on new cars will be lesser than the used cars. The reason for charging higher interest rates are because of the risk associated with the used cars. Banks will issue loans for used cars up to a certain valuation. The difference of price between the sale price and the loan offered by the bank should be arranged by the buyer.

Banks in the UAE have introduced auto loans which are tailored to issue loans for the used cars. These loans help the borrowers to get their dream car. The buyer can select the best used cars and buy with the finance provided by the bank. The below listed are the car loans which are provided by the banks in the UAE.

1. ADIB Car loan
Abu Dhabi Islamic Bank (ADIB) car loan is provided with a quick approval process. The interest rates are very competitive. You do not transfer your salary transfer account with the bank, you will get a free ADIB Visa Cashback card. ADIB bank will provide you with the insurance which is takaful with lower contribution amount. It provides a free postponement facility. It also includes free job loss protection. Finance amounts provided are AED 500,000, a flexible repayment facility will be provided upto 60 months, first installment payment grace period will be 90 days, higher coverage with ADIB motor Takaful protection will be provided. The minimum salary for getting loan is AED 5,000 and interest rate charged is at flat 2.25%

You can call 600503033 if you are within UAE and if you are outside UAE, call +97126100600 to get more information on car loans.
Click here for Top 5 car loans can consider UAE
2. RAKBANK Rak Auto Loan
The RAKBANK provides loan facility for used cars with less documentation and few formalities. There are flexible repayment options which are suited best for individuals who take the loans. The flat interest rates and reducing rates are attractive for the borrowers. It provides the best options at a lower cost and there are charges associated with payment terms. RAKbank auto loans are offered for UAE nationals, GCC countries and expats holding valid visas. Loans are issued for individuals and company purchases.
The minimum salary is AED 5,000 for specific motor cars. Salary transfer is not mandatory to get finance from the bank. Full comprehensive insurance is required for loan amount for a period of 13 months. Customers should make 20% down payment and certain down payments should be which are specific to loans.

You can call +97142130000 if you are within UAE and if you are outside UAE, call +97172064444 to get more information on car loans.
3. Mashreq Car Loan
Mashreq bank provides car loans with competitive rates. The choice of financing is given to the customer. Customers can choose either Islamic or conventional financing. The borrowing limit is up to AED 500,000 this number does not exceed 80% of the total car value. The loan process is quick and easy and there are special rates available on vehicle insurance. You will not be required for a salary transfer account to apply for this loan. A free current account is provided with no minimum balance requirement. The interest rates are attractive starting at 3.45% per annum. It provides flexibility in repayment options for 12 to 60 months for new and used cars.

You can call +971 4 4244444 or visit your nearest branch for more details.
Click here for Ways to sell your car in the UAE
4. Al Hilal Used Car Finance
If you are thinking that you will be able to clear your loans before the agreed term period then Al Hilal bank finance is the best option for you. If your loan term is five years and you believe that you will clear the loan in less than five years then you can benefit from early settlement. Al Hilal bank provides finance for both new cars and used cars. Both the national and expats can get loans under the given scheme by the bank and buy cars. The process of applying for a loan is very quick and easy. The loans are according to the Shariah values. Auto finance is designed to be competitive and convenient to get. Used car finance is provided at an agreed profit rate through Murabaha or sale price through Musawamah. Minimum salary required is AED 5,000 and down payment requirement would be 20%.

You can contact the bank at any time 24 /7 at 600 522 229 for more details.
5. Emirates NBD – Auto Loans
Emirates NBD provides loans with best interest rates. The loans are provided to the small borrowers and also to the business vehicles. Borrowers can apply for loans who have a minimum salary requirement for AED 10,000 and have a good interest rate. It provides a flexible payments option, online recharge, 24/7 roadside assistance, free bank account, free yearly maintenance services, and many other services. It gives half day approvals and you no need to transfer your salary. Interest rates are starting from 2.99%. By applying for an auto loan you can get a voucher of AED 500.

You can Call on 600 54 0000 within UAE or +971 600 54 0000 for International for more details.
Minimum Amount for Car Loans in UAE
Banks specify the amount that they are willing to provide you which is around AED 20,000 depending on various factors. Banks will only agree to finance 80% of the price of vehicles. The remaining amount should be borne by the customer. The buyer should make sure that necessary funds are available before applying for a loan. For special customers, banks offer 0 down payment for cars. You can contact the bank and find more details about the minimum amount provided for car loans.

Benefits of Car Loan for used Cars in UAE

Cars will serve as collateral and you need not put any additional collateral to get the loan.
Car loans will help you to get credit history if you make your payment on time
Banks provide easy options for repayment of car loans so that you can control your expenses
Car loans can be negotiated and best price deals can be fixed, unlike home loans.
Car loans are a good option for the residents or expats working in the UAE as banks provide convenient ways to make payments on time.
In Car loans, you can make a choice of your model and then decide upon the loan. The best method to buy is to compare the interest rates in different banks and select the best which is suitable for repayment.

Vinay Kumar Goguru is a finance professional with more than 8 years of diverse experience as a researcher, instructor and Industry work experience with both public and private entities. Prior to MyMoneySouq, he spent 6 years in Berkadia, It's a commercial mortgage banking company. He has a "Doctoral Degree in Commerce" and two master's degrees with a specialization in Finance, one as Master of Commerce and other as Master of Business Administration. He has written several articles on personal finance, published by different International journals. He loves traveling, reading and writing is his passion. He has a dream of writing a book on his favorite finance topics.