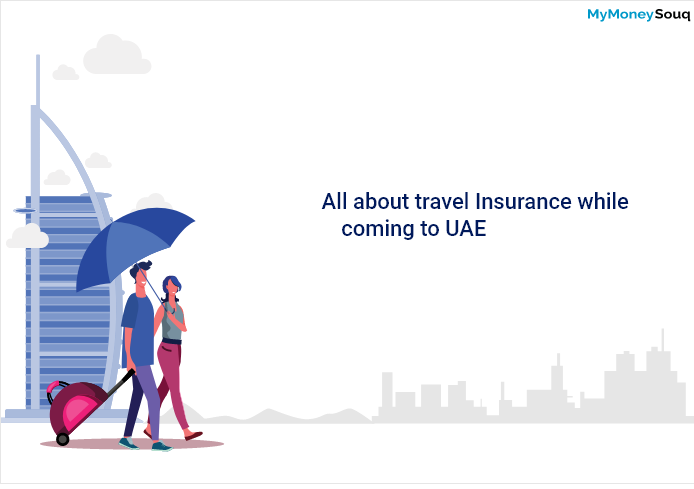 To enter UAE it is compulsory to have travel insurance. The government has passed a visa regulation which requires that all UAE tourists should have medical insurance during the visa application. During the visa application, external health insurance is not accepted. You must have travel insurance that provides medical expenses coverage. It will also provide coverage for flight delays, loss of passport, personal liability bonds, loss of luggage etc.

The UAE Government has made it mandatory to have travel insurance to enter their country. Travel insurance gives safety in all situations such as personal accidents, unexpected medical expenses, delay of checked-in luggage, cancelled flights, delayed flights and others.

Importance of Travel Insurance
Across the world, there are thirty-four countries where the travel insurance policy is mandatory primarily for the safety of the travellers. Travel insurance is important as it prevents tourists from falling into financial crises. Financial crises may come at any time due to medical emergencies, accidents, loss of baggage or passport, property damage and others. The expenses for treatment are very high. If you have travel insurance, you can save a lot of money and prevent financial crises, this is the reason that travel insurance is very important.

Travel Insurance for UAE Visit Visa
Travel insurance creates a positive impact while reviewing the visa application. In general requirements for the visa process in the UAE, travel insurance will be included as a mandatory requirement. In case of medical or any other emergencies, the authorities want to ensure that the applicant gets full coverage. Travel insurance provides coverage on physical injury or property. The embassy officials of the country will check travel policy and take necessary actions accordingly during the visa process. They do not want any inconvenience caused to the traveller so that is the reason the preference and allotment process will be efficient and smoother when you have travel insurance for UAE Visit Visa.     
Click here for Top travel insurance policies in UAE
What is covered in Travel Insurance for UAE?
During your trip to the UAE on Visit Visa, travel insurance provides coverage for various medical, travel-related or financial emergencies that you may require which are given as follows. 
Hospitalisation
Medical evacuation
Loss of passport
Accidental damages
loss/delay in luggage
Trip curtailment or cancellation
Delayed trips
Missed connecting flights and many others
Travel Insurance in the UAE
UAE is the most popular tourist destination in the world. Buying travel insurance is very common when someone is visiting UAE because of the extremely hot weather condition. Travellers are more prone to illness because of weather conditions and it could result in unaccounted expenses. There are water sporting activities and you can engage in desert safari activities. As a traveller, you are covered under protection with travel insurance. People from different countries visit the UAE and they need a visa to enter the country. Citizens of different countries visit the UAE for various reasons and they need a visa. Visa should be obtained in advance before arrival.    

Travel insurance policy is a policy for the UAE trip. An insurance policy protects you from any adversities during your travel in the UAE. It will take care of the traveller which will cover the unforeseen expenses.
Click here for Benefits of travel insurance
Travel insurance should be purchased before you start a trip to the UAE. There are various types of travel insurance which are available in the market. The traveller has to choose travel insurance based on the type of travel. There are other factors such as the age of the travellers, frequency of travel, number of travel trips and other factors before selecting the travel insurance. If a person is visiting UAE for medical treatment then the traveller should have medical insurance as well. Some travel insurance also covers medical treatments expenses.
There are various types of travel insurance available and some of them are listed below.

Domestic Travel Insurance
International Travel Insurance
Senior  Citizens Travel Insurance
Family Travel Insurance
Single Trip Travel Insurance
Corporate Travel Insurance
Group trip travel insurance
Multi Trip Travel Insurance
1. Domestic Travel Insurance-It covers medical emergencies, flight delays, accidents, loss of baggage and other coverages. Domestic travel insurance coverage is different from country to country.
2. International Travel Insurance-International travel insurance provides coverage against medical expenses, trip cancellation, trip delays, trip cancellation, cashless medical treatment in hospitals abroad, and others.
3. Senior Citizens Travel Insurance-Senior Citizens Travel Insurance refers to elderly travellers and the age limit is different from one company to another. It is also different from one country to another. Age-related and health-related risks are considered under this type of insurance.
4. Family Travel Insurance-It is one travel insurance policy that covers the entire family. The premium paid will be comparatively lesser than individual premium payments. Since age groups will be different in the family there will be an additional premium payable.
5. Single Trip Travel Insurance-Insurance is provided to a single trip which covers one domestic or international trip. This policy will remain effective until you return home. Insurance providers have a cap on the number of days as a single trip.
6. Corporate Travel Insurance-Corporate companies provide travel insurance to employees. On the basis of the requirements of the company, the travel insurance policy will be made available and travel depends on an official tour to the UAE.
7. Group Trip Travel Insurance-A group of people who are travelling together and want to visit UAE, this travel insurance can be purchased. Travelling members are protected against medical emergencies and other travel-related issues.
8. Multi-trip Travel Insurance-If you are visiting different countries and then planning to travel to the UAE, you can take Multi-trip travel insurance.

Vinay Kumar Goguru is a finance professional with more than 8 years of diverse experience as a researcher, instructor and Industry work experience with both public and private entities. Prior to MyMoneySouq, he spent 6 years in Berkadia, It's a commercial mortgage banking company. He has a "Doctoral Degree in Commerce" and two master's degrees with a specialization in Finance, one as Master of Commerce and other as Master of Business Administration. He has written several articles on personal finance, published by different International journals. He loves traveling, reading and writing is his passion. He has a dream of writing a book on his favorite finance topics.