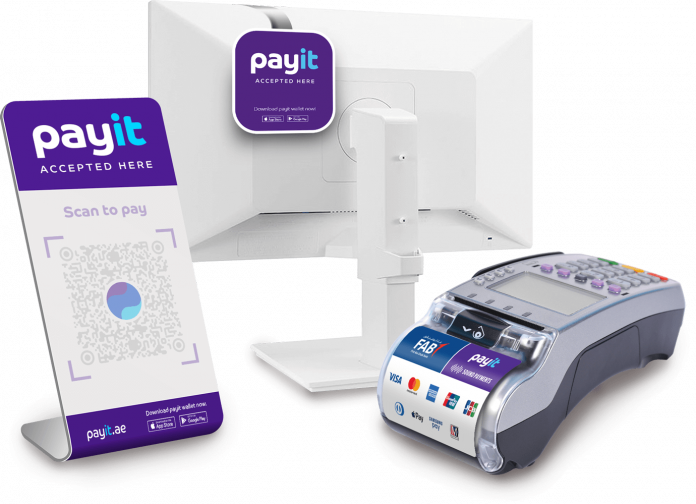 Payit is the UAE's first and foremost completely digitally featured digital wallet. It is sponsored and supported by First Abu Dhabi Bank. It is a digital wallet where you can manage payments on the go.
Payit is a mobile smart wallet app that provides the facility of real-time money settlement. With payit the payments for shopping, online payments, splitting the bill and cash management can be done effortlessly. The minimum age for registration for payit mobile app is 21 years.

Creating an account on payit
You can create payit account by downloading the payit app.

Open the payit app
Tap on the sign in button.
You will be directed to the next screen. On the next screen just click on the Ratibi card holder and then scan your emirates ID.
The screen will capture all your details and you have to confirm your details.
After successfully scanning the document, you should confirm your details. The screen will direct you to add card details. Add Ratibi card details with the last 2 digits of your card number. After that confirm your details such as card id, email id, mobile number and other details.
When can you use payit?

A great facility of payit is that you can immediately start using the app once you have entered your details and successfully registered. It just takes two minutes to create an account and you can begin with your transactions on your mobile phone. You just need to have an Emirates ID and mobile number to verify your details.

It is important to note that the registration is of two categories. Verified user and unverified user.
A verified user is an individual who has successfully submitted KYC documents for the verification. The advantage of verification is that the user can get access to more benefits than non verified users. The verified user can get access to AED 25000.

Non verified users are those who have registered on the app and have not submitted KYC documents. There are restrictions for these users, a non verified user cannot have cash out they have permission for smaller limits and this is only upto AED 3500.

Fast, Secure and Free
With the fast changing lives and to adapt to the changes of the today's generation payit stands as the first all in one digital wallet. It is powered by First Abu Dhabi Bank. Payit enables fast secure and free payment facility.

The payments made using the payit are quick and secured. Apart from these, you can split the bills with your friends, it enables you to send money to your friends, family, and you can do shopping through the online platform. Without a wallet in your pocket you can just go out and buy anything and come back using payit. It is designed in such a way that anyone can use it on their fingertips.
Click here for Yap Digital payments app
Ways to make the payment
Payit enables you to make digital payments, it is the UAE's first all in one digital payment wallet. You can send money, top up your mobile, pay bills and do many other payments. It allows you to securely handle payments without having to have any minimum balance or have any registration fees nor a bank account.

The following are the flexible ways in which you can make the payments.
QR code payment
Sound Payment
Online payment
Payit on delivery payment
The flexibility of making payments will make life easier for you and your family. You need not worry about cash to make payments.
Why should you use Payit?
It is safe, secured and you can get instant payment facility. 
It provides you all at competitive rates. 
You can get 24/7 service support. 
It enables you to make payments across the borders to more than 200 countries & territorial regions. 
You need not worry about sending money and waiting at the money exchange counters. 
You can withdraw cash using funds from your payit wallet 24/7 and securely, with a fee of AED 3.15.
Click here to know Cashless payments trending in the UAE
Pay friends and relatives
If you owe money to your friends and relatives then you can securely make the payment using the payit. It is the best method to transfer money from wallet to wallet. It helps you to keep your money secured and it is easy to track your monthly expenses. It helps you to send money swiftly and securely.

Utility payments and top up
You can make your bill payments using the payit. You need not waste your time and effort just paying monthly utility bills. All bills can be paid from your wallet hassle free. It also enables you to make payments and top up your prepaid Du, Etisalat, NOL, Mawaqif and Salik.

Transfer money
You can transfer money to anyone effortlessly without using your ATM card. Funds transfers are effective, effortless and quick. All fund transfers happen through real time settlement.

Payment request
Not just making the payments to the vendors. You can also request for payment using the payit. You can request for payment from wallet to wallet using the payit. You just need to provide the facility of scanning the QR code. You can also request for payment by selecting the contact name from the list of your contacts by using the app.

Instant eDirham
You just need to have a smart phone and payit app for making the payments. The facility of eDirham on payit app will allow you to make instant payments. The payments can be made at government centers, federal authorities, ministries, and government agencies across the country. You have to register for the eDirham and start using the facility on payit.

Customer support
You can get the customer support on the below helpline number.

Domestic Call at 600525500
International call at +971(2)6811511

Ratibi Service
Domestic call at 600522298
International call at +971(2)4996279

You can also reach through email and facebook pages.
Email- help@payit.ae
payitwallet. facebook.com/payitwallet.

Vinay Kumar Goguru is a finance professional with more than 8 years of diverse experience as a researcher, instructor and Industry work experience with both public and private entities. Prior to MyMoneySouq, he spent 6 years in Berkadia, It's a commercial mortgage banking company. He has a "Doctoral Degree in Commerce" and two master's degrees with a specialization in Finance, one as Master of Commerce and other as Master of Business Administration. He has written several articles on personal finance, published by different International journals. He loves traveling, reading and writing is his passion. He has a dream of writing a book on his favorite finance topics.