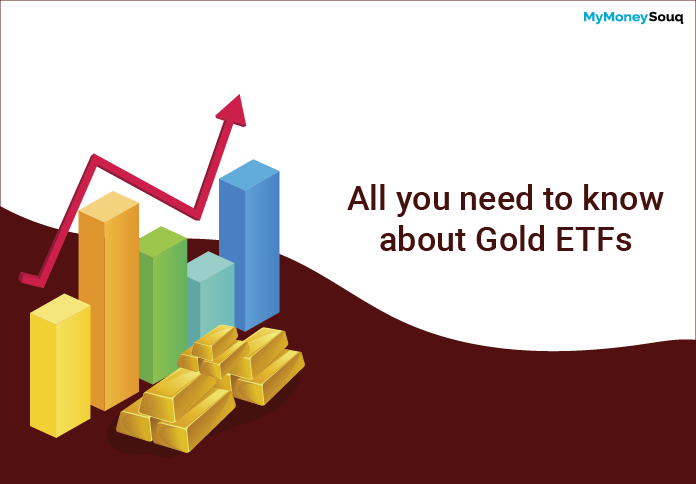 Gold Exchange-traded Fund (ETF) is an indirect investment that traces the cost of physical gold. In a simpler form, Gold ETF is just like buying Gold in an electronic form. One unit of Gold ETF is equal to one gram of Gold, the investors will get the units in dematerialised form. As it is the Gold ETF, the units are listed in the stock exchanges so that the investors can sell and buy the units on the exchange platform like any other equity instrument. Therefore, if an investor is interested in selling the Gold ETF they will get money not the physical Gold.

These are the exchange-traded funds that are purchased and later sold on the stock exchange. The intention is to earn income on the sale. The main advantage of investing in Gold ETF is you need not worry about keeping gold with you but still you are earning on investment in gold. When it comes to purchasing gold in the form of chains, gold bars, ornaments it is very expensive compared to Gold ETF. The selling price at which gold ETF are purchased is closer to the current gold rate in Dubai. 

Understanding Gold ETF

As everyone is aware that UAE is known for its Gold market across the world. The love and fascination of Gold make UAE a major consumer of Gold too. Instead of investing in physical Gold most of the people are investing in paper form of Gold that is Gold ETF, Gold stocks, Gold bonds, etc. Similar to stocks, an ETF (Exchange Traded Fund) is traded on an exchange. It is a security that involves various securities like stocks. ETFs are quite alike mutual funds. The only difference is ETFs are traded on the exchange of funds and the price of shares changes throughout the day. But mutual funds are not traded on an exchange.

Gold Exchange Funds work on the combination of gold investment and stock exchange. The current gold rate in UAE is considered and the investments are made in the form of bullions. As mentioned earlier, One gram of Gold is equal to one unit of Gold ETF. 
These Gold ETFs are sold at the stock exchange cash market same as company's stock. The stockbrokers carry out the trading and help you to buy gold at the current rate in the UAE. Investors can track their fund movements by checking the prices of the gold at hourly or daily basis.

There are no restrictions on the quantity of the Gold ETFs purchased, an investor can do trading with one ETF. The brokerage fee on Gold ETFs are very less compared to stock exchanges.

Gold ETFs are used as hedging instruments; it protects loss against political instability, war, inflation and change in domestic and international currency value. If there is a reduction in the price of international currency people tend to start investing in gold ETFs.
Who can invest in Gold ETF?
An investor who is interested in diversifying their portfolio can allot a certain amount towards buying Gold ETF. It is important to note that one cannot get physical gold but can get a certificate which is equivalent to gold during the redemption. An investor can hold a gold ETF for investment purposes but any investor who wants to invest in gold cannot get gold with an instrument.
Check: How profitable is the gold purchase a detailed analysis
Gold ETFs in the UAE
Investors who want to Nasdaq in a joint collaboration with the World Gold Council and Dubai Multi Commodities Centre initiated World's first Sharia-compliant Gold ETF which is called as Dubai Gold Securities investment. This product is being traded with international gold price which is accurate and with Sharia-compliant. It is backed by physical allocated gold where the gold custodian is in a London vault. The physical guarantee gold aspect removes risk of third party default.

Retail investors can get easy access to the gold. Compared to other asset classes gold is a safer investment. Gold ETF transparency has stringent regulations which are related to investments. The quality of gold the fund invests is transparent and gets the right market value which is being traded in units. There are no additional fees presently applicable to approved applicants who want to redeem Dubai Gold Securities. With normal brokerage charges Dubai Gold Securities on Nasdaq Dubai can be traded under the authorised channels.

Gold trade in Dubai is at an increasing demand and market players need an ETF market. Charging of interest is not done in the investment as the Dubai ETFs are compliant with Sharia law or Islamic law.
Click here for Different ways to invest in gold
Advantages of Gold ETF
Without thinking about the factors such as gold purity, price transparency, locker availability, making charges and many other factors an investor can safely invest in gold.
One unit represents one gram of gold and an investor can purchase as little as one gram of gold at a given period of time.
There is more flexibility in buying and selling the instruments and the price difference can be a benefit to the seller.
There is more liquidity and it is a liquid investment which can be purchased and sold at exchange rates.
In the UAE, the gold rates are fluctuating rates are very less than equities and this will lower the financial risk.
As an investment option gold ETF is considered a safe investment option.
Takeaway
Gold ETFs are the best investment options as it's an investment in gold. It is a safe investment as it can be a shield against inflation, providing protection against market insecurity. The investor's gold ETFs act as security for getting loans. Gold ETFs create stability in a portfolio and give strength to the investment pool. The risk of loss can be reduced by investing in the Gold ETFs.

UAE is the pioneer in the market of gold and it is also the leader in the gold market across the globe. For the investors who want to invest in paper form of gold, Gold ETFs are the best and with this UAE leads in all forms of gold trade and investments.


Vinay Kumar Goguru is a finance professional with more than 8 years of diverse experience as a researcher, instructor and Industry work experience with both public and private entities. Prior to MyMoneySouq, he spent 6 years in Berkadia, It's a commercial mortgage banking company. He has a "Doctoral Degree in Commerce" and two master's degrees with a specialization in Finance, one as Master of Commerce and other as Master of Business Administration. He has written several articles on personal finance, published by different International journals. He loves traveling, reading and writing is his passion. He has a dream of writing a book on his favorite finance topics.