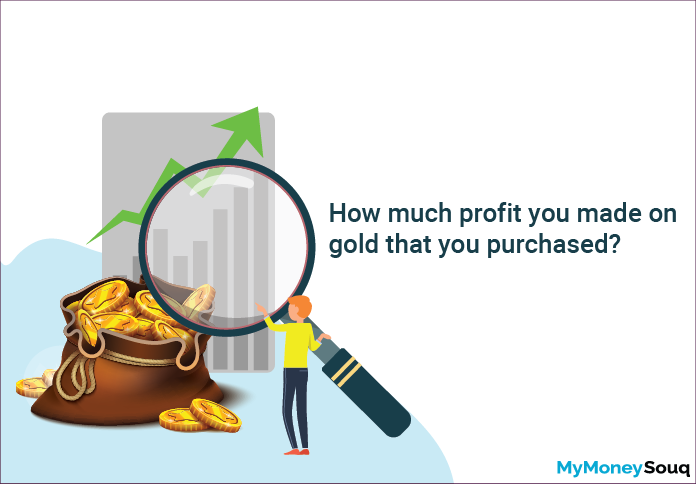 The purchase of gold will never disappoint you; perhaps the best savings one can have. There has always been a craze for buying gold jewelry in hooks and corners in UAE.
Many hold a belief that owning a jewelry piece is more secure than having cash stuffed in banks, a safeguard against inflation. A common tradition noticed among individuals hailing from the Philippines and India is stockpiling gold jewelry as a means of personal saving or investment.
Gold can rescue you in your hard times or dire emergencies, whether its unpaid bills, kid's school fees or any medical requirements, this precious metal will find its way to help you in the best possible manner.
Check: Todays Gold Rate in Dubai
As good as gold
Gold is attractive, appealing, and loved by most women over any other luxury product. It is known for its unique attributes like purity, perceived longevity, and value.
According to World Gold Council, as published in a report, there are few characteristics, which make gold unique in the crowd is its purity, perceived longevity, clear differentiation and its market value which sets it aside from other available luxury items.
Check: 6 Different ways to invest in Gold
Simultaneously, the aesthetic value of gold is appreciated as flexible and perfect for daily wear. In comparison to gold jewelry, which holds clear financial profit, other luxury items are considered of retaining short-term aesthetic attraction and therefore deprived of investment value.
Investing in gold is the best one can do in the long run
Think about a gold bracelet which you bought last week from your favorite store. Will it fetch you significant profits if you sell it once the gold prices have soared high?
Thumbs up!
Consider investing in gold among other investment options like real estate, when you are willing to preserve some wealth for future purpose, use your spare money and take a stake in gold jewelry; you will never lose your money!
For others, for whom gold is not a superior investment
Many think one can gain no income from gold, unlike other available assets like share investments, bank deposits, or property.
Also, additional charges are imposed on gold jewelry, bars, and coins, which make it more difficult for some people to buy initially. Even, some fear, that for these additional costs, one may not get hold of the actual capital put at stake even when there is a steep rise in the prices.
To recover the cost that went to fabricate a raw gold piece into a shiny bracelet, ring or necklace, jewelers put charges. In addition to these, there are charges for the waste which pertains to the melting, soldering or cutting the precious gold metal.
When the time for enchasing your best possession arrives, your jeweler may not repurchase it based on the current market rate of gold; because he may charge based on wholesale rate or it is natural, he will deduct the wastage and making charges from the price. Depreciation value like wear and tear may affect the final resale value.
Before finalizing gold jewelry as your investment tool, you might consider discussing some crucial aspects like whether your vendor will guarantee you of no deduction of wastage and making charges at the time of repurchasing the item. Choosing hallmarked gold may help you in fetching a good resale value.
Apart from these if anyone has noticed the graph of gold prices, one will follow a tremendous increase in the prices, and it is expected in future also it will rise too, and the best part about gold is it can be sold anytime; unlike trading with property selling gold is absolutely hassle-free, often no documentation is needed.
Gold – a better option for Investment?
As per a financial expert based in Dubai, it is an intelligent move to invest in gold assets, a safe harbor. The yellowish metal bears considerable store value when investors predict any trouble. Usually, gold prices hike up. It is almost similar to liquid cash, and it always has a market value somewhere or the other, and the prices are relatively stable, not as a cryptocurrency, for example.
Also, Check: 9 Golden rules for financial success
Deciding who's the winner
Regardless of the prices, gold shops in Dubai are always brimming with customers not only for jewelry purchases but to pave a path for investing thousands on gold's either in bars or coins.
For people of UAE, buying gold is always considered auspicious culturally and substantially the best way one can save for the betterment of the future or if necessary can utilize it later on. It adds a statement and a feeling too.
How gold markets in the Gulf region have seen a positive trend in the past weeks
In India, after the declaration of nearly 3% of goods and services tax, Indian travelers are more inclined towards purchasing gold jewelry from Dubai, and it's profitable as well.

Jewelers from the Gulf region and the United Arab Emirates witnessed a rise in jewelry purchases from various Indian expats, NRIs and Indian travelers after the establishment of the new tax regime.
Check More What you should know before investing in Gold
To the great surprise of Jewellers, the UAE government decided to exempt VAT on diamond and gold trade on a wholesale level but the retailers will continue to levy VAT 5% while selling it the consumers. Welcomed by all jewelers, this decision will surely help to flourish the industry. Previously there was 5% VAT on both wholesale and retail trade of jewelry and gold, which the government levied in 2018. It's the right decision for all segments linked directly or indirectly to the gold business, especially for wholesale traders.
Many had termed it as the most awaited positive news. Dubai, popular for jewelry and gold has put up an effort of more than 20 years to hold a position and to be recognized in the industry. This tax exemption will surely benefit consumers as well.
Buying jewelry is a lucrative option in Dubai. If you purchase jewelry worth of AED 500 and you keep it with you for years until you face any financial constraints or urgent need of money, if you take that same jewelry piece in your nearby shops you can expect a good ROI (return on investment) after considering the depreciation charges. That is how profitable gold is!
Gold has always enjoyed a spotlight, no matter what; demand will be there forever in UAE markets.

I'm a finance writer and solo-business blogger who loves to write about fin-tech tools and how to save money and keep a budget. With a passion for investing in equity and mutual funds. An alumnus of Magadh university, I am presently continuing my studies in Financial Management.