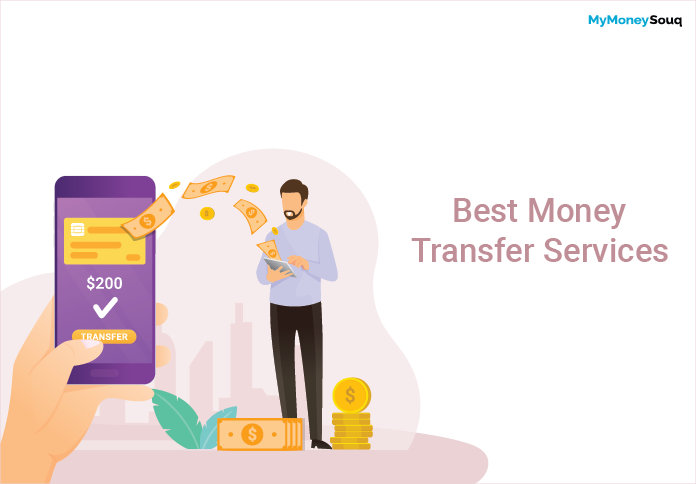 There are many ways to make international money transfers in the UAE. With a higher mix of expats the international transfers and remittances from the UAE are higher. According to the central bank of UAE, the beneficiary families are from India, the Philippines, UK and the US. The market for money transfers in UAE is highly developed. Online money transfer services like digital transfers, online banking, exchange houses function within the country. Here we provide you with a guide on making international transfers in the UAE. The following are the ways for international money transfer in the UAE.

International money transfers in UAE
Online money transfers services in UAE
International money transfers in UAE through banks
Wire transfers in UAE
Foreign exchange brokers in UAE
1. International money transfer services in UAE
In the UAE, nearly 90% of the total population comprises expats. There is no surprise that Middle Eastern countries are the second largest population where the remittances are higher to other countries. International money transfers from your bank account to the receiver party can be made through online payments through third-party services, cash services exchange over the counter. There are fees and services associated with the transfers. Consider the exchange rates, transfer fees and processing time when you are making international transfers.
Click here for Wire transfer in the UAE
2. Online money transfers services in UAE
There are a number of online services which provide international money transfers in the UAE. To encourage the transfer remittances the government launched a transfer wire in Abu Dhabi in 2019. However, there are other platforms that support online transfers such as PayPal, CurrencyFair or Moneycorp. These transfer services allow customers to transfer dirhams to overseas bank accounts. There are also domestic startup companies such as Now Money and Denarii Cash.
According to an estimate, using online services for international money transfer is more economical, this accounted for eight times cheaper than other services. There is a fee associated with the online transfer which is charged by the bank or the transfer company.
The currency fair offers money transfer facilities to more than 150 countries. You can avoid excessive bank fees when you transfer money online. The exchange rates are cheaper than banks which help you to avoid excess fees.
Money transfer facilities are also available through mobile banking. To make a through online you have to follow the below instructions.
Add the recipient details as given on account.
Bank name, address, account number and branch
SWIFT code or IBAN code
You can also visit the bank and ask for more details. If you are making international transfers for the first time, banks may also contact you and verify the details.
3. International transfers in UAE through banks
Licensed banks in the UAE provide money transfers services. Bank transfers are an easy and convenient way to transfer. For the expats bank transfers are the easiest method, the account holders can make transactions within minutes while using mobile banking or the internet. Banks predefine their exchange rates and this is different from the interbank rate which is shown on google. Money transfer services are expensive through the traditional method of bank transfer.
For any exchange remittance banks will charge a service fee for doing remittance. There are several banks in the UAE which do not charge an upfront service fee for transfer because of international relationships with the countries. Bank service fee may be from 0 to AED 100 which does not include VAT, for international bank transfers the maximum time would be 5 working days to transfer the money.
Click here for Emirates NBD direct remit and international transfer
4. Wire transfers in the UAE

When it is an international money transfer 75% of expats use wire transfer. Money exchange is done overseas through the 125 cash houses. This is done through the SWIFT banking network, through the international funds transfer companies such as MoneyGram or Western Union. These exchange companies are in Malls high streets throughout the UAE. Companies such as Al Fardan Exchange, Al Ansari, Al Rostamani Exchange, LuLu Exchange, UAE Exchange, GCC Exchange, and Wall St Exchange provide transfer services.
5. Foreign exchange brokers in UAE

There are many foreign exchange brokers that operate in the UAE. When you are making an international transfer foreign exchange brokers can assist you in sending money to your home country. The foreign exchange brokers are the regulatory authorities such as UAE Central Bank, Dubai International Financial Center or Abu Dhabi Global Market and other international regulators within the country. These foreign exchange brokers provide customer service, online tracking, create trustworthiness and provide transparency in their transactions.
Money Exchange Centers in Dubai
Money exchange houses are very famous platforms for sending money towards different areas across the globe. The Expats living in Dubai use them to send money back to their home.
UAE Exchange Flash remit:
This facility offers different and diversified solutions. This exchange has a leader in financial brands in UAE.
Flash remit services are used for transferring money to corporate bank accounts. The sender and the beneficiary both receive SMS notifications after the account has been credited with
GCC remit:
The GCC remit is a very well-known service provider for money transfer. It is present across different regions in the Emirates.
A facility of direct remittance is provided by the bank account in just a few minutes.
For sending money, provide your ID card. Fill out the complete details of currency, transfer amount and destination. Provide this form to the agent with the amount. Once the agent processes the payment a code is generated.
You need to share the code with the beneficiary. Once the process is done the funds are transferred in minutes. At the authorized center the recipient can collect money by showing valid identification proofs.
Al Ansari Exchange:
This payment network is connected with more than 250 banks and agents in more than 500,000 branch locations throughout the world. Al Ansari Exchange network empowers you with quick transfer of money in just a few minutes. Payments can be made to different countries like Nepal, India, Bangladesh, Sri Lanka, Pakistan, Philippines, and Bangladesh.
Sending money through Al Ansari Exchange is offered in instant ways like cash pick up, cash express, telephone transfer, door to door service, Instant cash transfer, and Bank transfers.
Orient Exchange:
It is the most reliable finance service provider in the UAE. It has good relationships with banks and financial institutions.
Transfer of money with Orient exchange can be done within 48 to 72 hours. When transferring funds to India they can be done in 24 to 48 hours using RTGs and NEFT.
There are different types of services when transferring money to the Philippines and other countries like direct credit pay and cash transfer and cash pick up.
Wall Street Exchange:
For all financial services Wall Street Exchange is the solution. In Dubai, all the reliable options for transferring money are done with this exchange company.
A wide range of services are offered by Wall Street Exchange.
Cash payouts, flash bank transfer, Western Union transfer, Swift fund transfer, Instant cash, mobile payouts and others.
Funds transfers can be done to India, Sri Lanka, Nepal, Philippines, Egypt.
Similarly, there are other platforms like Emirates NBD Direct Remit, Mashreq Bank quick remit and others. Not only this there are online platforms as well where you can transfer money back to your home.
The online platforms have increasingly become popular these days. The online money transfer platforms in Dubai Western Union, money gram and PayPal are the most popularly used methods.

Vinay Kumar Goguru is a finance professional with more than 8 years of diverse experience as a researcher, instructor and Industry work experience with both public and private entities. Prior to MyMoneySouq, he spent 6 years in Berkadia, It's a commercial mortgage banking company. He has a "Doctoral Degree in Commerce" and two master's degrees with a specialization in Finance, one as Master of Commerce and other as Master of Business Administration. He has written several articles on personal finance, published by different International journals. He loves traveling, reading and writing is his passion. He has a dream of writing a book on his favorite finance topics.