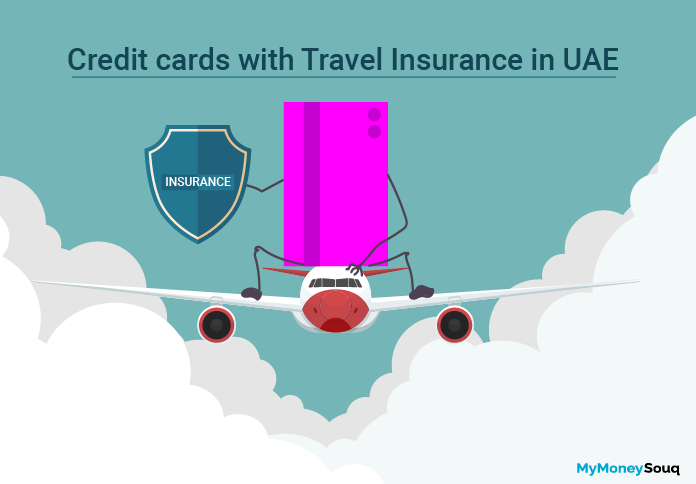 Travel Insurance ensures peace of mind no matter where you travel in the world. Everyone wants to have a pleasant experience in their travel.

Travel insurance gives you comfort and a great experience. It comes to rescue you in times of your emergencies.

Do not worry about travel insurance, your credit card can provide you travel insurance and it has a comprehensive policy of its own.
The most important travel insurance benefits can be categorized as Insurance on Multiple trips, travel Medical Insurance, insurance against travel inconvenience and overseas legal aid. These have been discussed below.
Coverage with Multiple trip Insurance

Multiple-trip Insurance is typically covered by popular credit cards in UAE.

This policy comes into effect from the date of travel and it is applicable for a limited duration of trips.

Generally, the duration is 90 days. It is more beneficial for Travellers who make multiple international trips for work.
Click here to know Low Cost Insurance Policy in UAE

Overseas Medical Assistance

In the event of traveling travel accident insurance is equal to life insurance.
In an unforeseen event of accident/loss of life, the credit card issuer provides financial support to beneficiaries.

If the credit card includes travel accident policy the credit card owner and beneficiaries are eligible for coverage.

The coverage may include serious injury or death.

Privately operated vehicles or planes are excluded from the policy.

The benefit of credit card travel insurance is to protect you medically in events of travel accidents, protect against the risk of diseases or illness.

Hospitalisation in foreign countries and medical expenses are covered by popular credit card issuers in UAE.

Some credit card issuers also provide daily hospital allowance to cardholders.
In the event of death card issuers bear the expense of repatriation of the remains to the family members.

Click here to know about Top Medical Insurance in UAE
Coverage on Travel Inconvenience
For unexpected delays in travel and for protecting your travel baggage, credit card issuers offer insurance to cover these which includes
Flight delay– If the flight is delayed by bad weather or any situation beyond control.
The cardholder has to bear additional charges for food, lodging or medical expenses.
The best credit card issuers in UAE compensate the cardholder for the expenses incurred on flight delays.
Missed Connecting Flight– If the cardholder missed connecting flight due to accident or weather conditions.
The expenses incurred to reach the destination will be compensated by the card issuer.
Cancelled Trip– This is the basic service provided by the credit card issuers.
It will cover any unexpected trip cancellations and cardholders are compensated for this.
Lost Baggage– In case if the baggage is lost, credit card issuers compensate up to a certain limit.
Delayed Baggage– Baggage gets delayed or misplaced or may not return even up to 12 hours of the outward journey.
Sometimes it may also happen that baggage gets routed to different destinations.
In these events, cardholders will be reimbursed for purchases on basic necessities like medicines, clothing and toiletries.
Click here to know Top Travel Insurance Policies in UAE
Overseas Legal Aid

If a cardholder lost his passport or travel documents, then credit card issuers provide legal assistance in getting the documents re-issued.

Sometimes legal hassles may be tricky due to language and cultural differences.

Card issuers provide service by connecting you to English speaking representatives and provide appropriate legal practitioners.

Over to you

The extent of travel insurance coverage will be different from bank to bank and it also depends on the type of credit card you hold.

Read Terms and Conditions of credit card issuers completely and carefully.

Understand benefits on your credit card and get the best out of travel insurance on credit cards.


Vinay Kumar Goguru is a finance professional with more than 8 years of diverse experience as a researcher, instructor and Industry work experience with both public and private entities. Prior to MyMoneySouq, he spent 6 years in Berkadia, It's a commercial mortgage banking company. He has a "Doctoral Degree in Commerce" and two master's degrees with a specialization in Finance, one as Master of Commerce and other as Master of Business Administration. He has written several articles on personal finance, published by different International journals. He loves traveling, reading and writing is his passion. He has a dream of writing a book on his favorite finance topics.