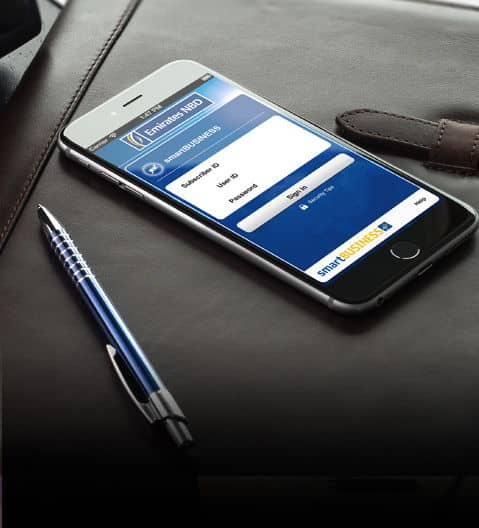 Emirates NBD pay is a service that is enabled for payment solutions using mobile phones. Customers can make purchases using their mobile phones. It works on Near Field Communication through Android devices.

Who can use it?
Emirates NBD Credit and Debit cardholders using Android KitKat 4.4 & above can use NBD pay.

To find out the version of the operating system. You can go to settings–>tap About–>Select Device–>Android version. If you are unable to find out contact your mobile phone manufacturer.
How Emirates NBD Pay works?

Once you update or download the app from the Play Store or App Store, the next step is to register your Credit and Debit cards in Emirates NBD pay. After you get registered you can start using it.

How to add Debit/Credit card to Emirates NBD pay?
From the home screen, open the mobile banking app and select Emirates NBD pay. 
Enter User id and password, then enter answers for the secret questions. You will be prompted for an authentication code which will be sent to your registered mobile, enter the authentication code.
Select debit and credit cards and enroll your card. Once you have enrolled your card, a tick mark appears. You can add more cards if you want by selecting "add this card". 
By default, the first enrolled card will be selected as the preferred card. You can select any card and set it as your preferred card.  
Click here to know How to open a Bank Account online in UAE?
Can Add-on/Supplementary Cards be enrolled for Emirates NBD Pay?

Yes, Add-on cards/Supplementary cards can be enrolled and Emirates NBD Pay can be used for making payments.
However Supplementary cardholders will not be able to check available balance/limit on their card. They do not have the option to add/delete any card unless they log into Mobile banking using user id and password.

How to use Emirates NBD Pay?

To use Emirates NBD pay, you need to have an Internet connection, mobile phone and Emirates NBD Pay app. Open the app on your phone and place it over the terminals to make payments.

To make payment at merchant locations for transactions above AED 300 you can hold your mobile device over the contactless terminals to complete transactions.

To make payments above AED 300, an additional level of security is set up. You need to enter the PIN number to complete the transaction.

Which Merchants accept NBD Pay?
All merchants who accept contactless terminal payments, payments can be made.
Look out for this symbol

and you can proceed for payment.
Since all merchants have not adopted this mode of payment, it is advised to carry physical cards along with you.
How Secure are your payments?
A virtual card number is issued once you enroll your debit or credit card for Emirates NBD Pay.

The virtual card number is a unique 16 digits number.

This number gets printed on the transactions slip. Thus it enables more security by not displaying debit and credit card numbers enrolled under Emirates NBD pay.

The last four digits on the transaction slips are virtual card numbers enabling more security to your transactions.

If your card is blocked, the transaction gets declined.

You can add/delete your card from Emirates NBD Pay any time you want. You can still continue to use your physical cards.

You can configure and use Emirates NBD Pay on multiple mobile devices but each time you need to login to mobile banking with user id and password.
Click here to Know all about prepaid cards in UAE
What should you do if your card is stolen?

If you realize that your card is stolen or lost, call Emirates NBD +971 600 54 0000 and report the loss of your card. Once you report, your card will be blocked to prevent any fraudulent transactions. You can reapply for the lost/stolen card.
Please read the terms and conditions of the bank and proceed accordingly.

Any charges for usage?

Currently, Emirates NBD Pay is free of charge. Depending on your data plan mobile charges may apply.

Free transaction alerts
Once the payment is made, you will receive a notification through SMS and email, this helps in tracking your transactions.

Rewards and Benefits
When you pay with Emirates NBD Pay, you will continue to get all the reward points and benefits that your credit card/debit card issuers offer to you.

Vinay Kumar Goguru is a finance professional with more than 8 years of diverse experience as a researcher, instructor and Industry work experience with both public and private entities. Prior to MyMoneySouq, he spent 6 years in Berkadia, It's a commercial mortgage banking company. He has a "Doctoral Degree in Commerce" and two master's degrees with a specialization in Finance, one as Master of Commerce and other as Master of Business Administration. He has written several articles on personal finance, published by different International journals. He loves traveling, reading and writing is his passion. He has a dream of writing a book on his favorite finance topics.