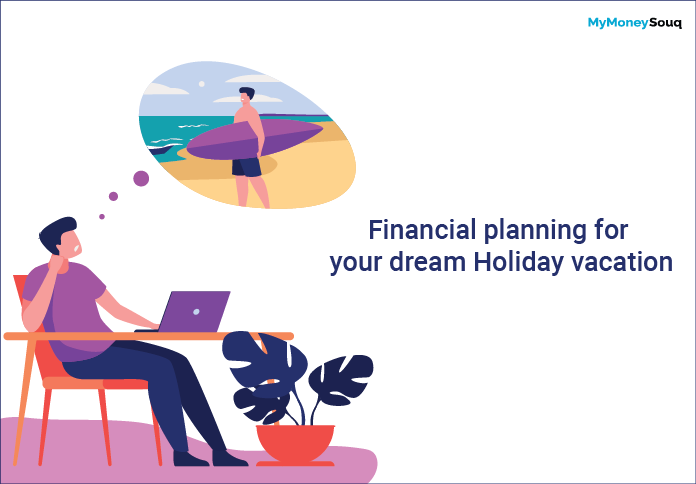 Everyone has a desire and a dream holiday vacation plan. It can be visiting a California beach or wandering on the streets of Paris or travelling to any exotic part of the world. A vacation holiday is a time to explore and create sweet memories that will remain for a long time in life. Travelling to new places is always exciting and filled with enthusiasm. Taking a break from your work life and travelling to your favorite places, rejuvenate your life will have a beautiful impact on your lifestyle. Here in this article, we focus on financial planning for your holiday vacation.

To make your travel exciting and enjoyable, you need money and to make your trip successful you should plan many activities to fit within your budget. The following are the things that you should do as part of your financial planning.

Research
Prepare a budget
Search for discounts
Prioritize your expenses
Analyse your budget
1. Research
Research well on your destination, the travel costs, travel time, hotel bookings, food expenses, air fares and other expenses. If you are planning for trekking or any adventurous activities include the expenses on the required equipment. Plan for getting them on a rental if possible, to reduce your expenses. Be realistic about the expenses, research and estimate your total budget amount.

2. Prepare a budget
The first step in financial planning is to set your budget for your holiday vacation. The amount that you set aside should include the travel expenses, accommodation, food expenses, shopping and other expenses. Also, consider the number of people that you are including in your travel trip based on that your budget amount should be estimated.
3. Search for discounts
Explore all the travel websites, apps, advertisements and other sources and find the best travel vacation deals. The tours and travels companies provide offers and vacation packages for your dream vacations. You can find the best deals at affordable prices.
Click here for 5 Best Credit Cards for travel in the UAE
4. Prioritize your expenses
You should prioritize your expenses where you should spend more and where you should spend less. What expenses can be postponed, what expenses can be reduced or adjusted. Analyse your budget and prioritize your expenses. After you have decided on your travel location, prioritize your expenses on hotel stay and accommodations. If you are running tight on your budget, book your hotel in a three-star hotel rather than a five-star hotel. You can even try to share lodging so that you can fit your expenses within the planned budget.
5. Analyse your budget
Spend your time by looking into each line item that you have allotted the funds. If you have allotted any extra amounts adjust your budget. Also include funds towards unanticipated expenses in your budget. You might face any expenses that were unexpected so prepare for that expense. It should not happen that you are stuck in a hotel room without cash available during the end of your vacation. The best practice is to plan and analyze your budget where you are spending too much, reduce it and reserve money till the last so that you can reach home back without any financial loss.

Apart from what has been mentioned above, you should make financial planning for the transport, accommodation, food expenses, sightseeing and shopping expenses by the following ways.

Choose sensible transportation
Reasonable accommodation
Reduce food expenses
Choose best sightseeing offers
Check your shopping expenses
1. Choose sensible transportation
When you are planning your holiday based on your destination choose your transportation sensibly. Do not make sudden plans when you're travelling abroad or planning for a long trip. Plan well in advance so that you can get flight tickets at cheaper rates. Travel in trains or prefer road transports wherever possible to reach your destinations at reasonable prices. There are many websites which compare the prices and provide you with the costs of expenses for travel.

If you have an air miles credit card then don't forget to make use of the air miles gained. You can also check if your credit card has travel offers or cashback which can save you in huge amounts.
Click here for Top travel insurance policies in UAE
2. Reasonable accommodation
Accommodation is another factor which will increase your travel expenses. Hotel room rents are high during the peak season. Plan and book your hotel accommodation well in advance so that you can get hotels at reasonable prices. If you want to take advantage of your weekend holidays then you can choose for home-stay accommodation which are less priced compared to hotels. Having an advance booking also provides you discounts and other advantages.
Some credit card in the UAE provide discounts on travel bookings at certain partnered hotels. Check and take advantage of it.
3. Reduce food expenses
Having outside food is always expensive and also you should be very careful where you are eating and what you are eating. To reduce your food expenses when you are staying in furnished apartments with kitchen amenities you can cook your food instead of ordering food from restaurants. Having street food instead of eating in restaurants will cost you little less and also you can experience the local cuisines. But remember that you should be very careful and particular about having street food. If you have any discomfort with your stomach your entire plan gets ruined. Eat healthy and lighter food to avoid any discomfort during your trip.
4. Choose the best sightseeing offers
Find and access the mode of transportation for your sightseeing. There are some sightseeing places where you can enjoy the nature space only through commuting. There are some adventure activities which are highly-priced. Select the best option according to your travel demand. There are many offers provided by private tour operators and the government. Tourists pass, daily and weekly passes for the public are offered to the people. You can choose the best sightseeing offers to enhance your travel experience.
5. Check your shopping expenses
Follow the budget tight schedules and do not extend your expenses. Shopping is exciting and shopping in a tourist destination is really attractive. Do not get carried away by impulsive buying and do not swipe credit cards according to your whims and fancies. While swiping your credit card just keep in mind that there can be international processing charges and currency exchange charges levied. So keep local currency in hand else it is recommended to carry travel cards or prepaid cards. Bargain the prices for which you want to buy the items. Bargaining is not wrong and you can ask for a better price if the product is highly-priced. 


Vinay Kumar Goguru is a finance professional with more than 8 years of diverse experience as a researcher, instructor and Industry work experience with both public and private entities. Prior to MyMoneySouq, he spent 6 years in Berkadia, It's a commercial mortgage banking company. He has a "Doctoral Degree in Commerce" and two master's degrees with a specialization in Finance, one as Master of Commerce and other as Master of Business Administration. He has written several articles on personal finance, published by different International journals. He loves traveling, reading and writing is his passion. He has a dream of writing a book on his favorite finance topics.