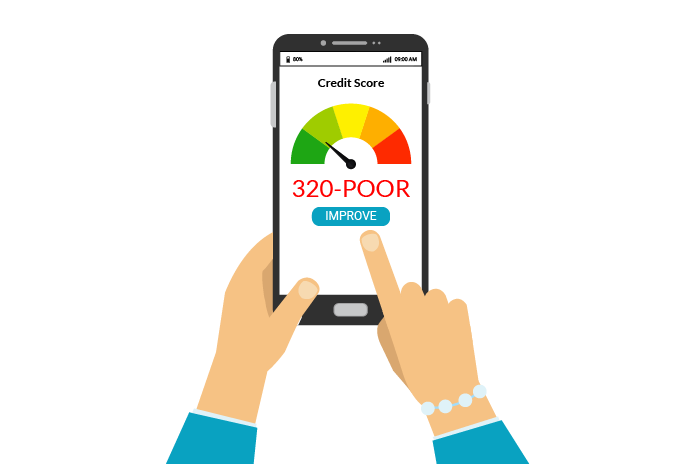 Banks get several loan applications on a daily basis. But not all the applications get approved. There are several factors that make financial institutions reject a loan application and one of the reason is the applicant's credit score. The first and foremost factor that would be reviewed on a loan application is the credit score. And if the credit score is bad, banks reject the application immediately.

What affects the credit score?
There can be various things that affect the credit score. Some of the main reasons are,
Irregular loan payments – Paying your existing debts installments after the due date will have a bad impact on the credit score.
Missed credit card installments – Skipping your credit card bill payments will also have a negative impact on the credit score. Utilizing more than the approved credit limit will also affect the credit score.
Too many credit cards – Even though you don't use all the credit cards having too many credit cards will also affect the credit score.
Several bank accounts – Opening too many accounts in less time can have an impact on the credit report which can affect the credit score slightly.
Applying for a loan repeatedly – When you apply for a loan and gets rejected each time, it can affect your credit history and negatively impact your credit score.
Improve Credit Score
Low credit score will have a bigger impact when you apply for a new loan/credit card. It is important for everyone to improve the credit score and maintain it thereafter. Here are some tips that can be followed to improve the credit score:
Getting a new credit card
If a person has not got any credit cards or loans till date, it doesn't mean his credit score is high. Credit score starts building only when a person gets a credit card or some loan. If you don't have a credit card and your credit score is low because of the irregular loan payments then try to get a credit card and pay bills on time. This may help in increasing the credit score.


Talking to banks
Talk to your bank and try to negotiate by clearing at least half of the credit card bill or other installments. Banks can talk to AECB regarding the partial clearance of the dues. This will increase the credit score. Even making some deposits in the bank will also give a positive outcome on the credit report and score as well.

Reviewing the AECB credit report
There are chances where the credit report has updated your details wrong. These mistakes will affect you in a long time. Get a credit report from AECB and review all the details and make sure everything is being updated rightly.
Paying bills on time
Don't delay in paying your credit card bills. Paying credit card bills on time will improve the credit score. Not only credit card bills but also never make late payments on your existing monthly payments on loans like personal loans, home loans, auto loans, etc. Even skipping monthly installments will drop the credit score.

Clearing existing loans
Try clearing your existing loans if possible. It will have a good impact on the credit score and the credit report as well.
Manage existing credit cards
If you have any credit card that is not being used then start using it and pay the bill on time. Getting too many credit cards is not advisable and if you have too many then make sure you don't leave any credit card account dormant. Closing an inactive credit card account will negatively impact credit score so if you have unused credit cards, make some payments using it and pay the bill without any delay.

Don't apply for a loan several times
If you are rejected by any bank on any loan, don't apply for it repeatedly and get rejected. Try understanding the reason behind the rejection and work on it. Usually, banks don't disclose the reason behind loan rejection, but try considering all the aspects like improving credit score, maintaining a good Debt Burden Ratio, providing right documents etc. and work on it. Getting rejected on a loan will be added to the credit report which will affect the credit score.

Don't open a new account
Don't open several bank accounts at the same time. Unless you have enough credit to maintain in the accounts, never open a bank account which will not help in increasing the credit score.

Everyone applies for a loan at least once in their lifetime. It is said that a bad credit score stays for 7 years in the credit report. Banks determine your eligibility to pay back the loan using the credit score. Make sure credit score won't be a reason behind your loan or credit card application rejection.

Nikitha is a Senior Analyst at MyMoneySouq.com. She has been writing about personal finance, credit cards, mortgage, and other personal finance products in the UAE. Her work on Mortgage loans has been featured by the GulfNews and other popular Financial Blogs in the UAE.