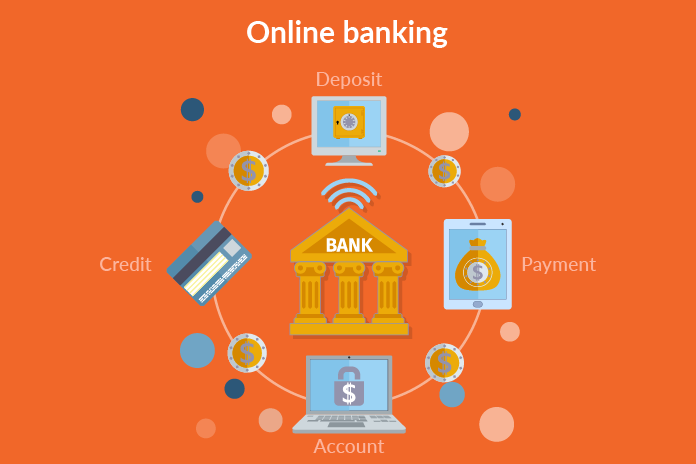 What is Online banking?

To cater the needs and requirements of the customers in a more convenient way, banks have designed and incorporated online banking where the customers can avail the banking services without the need to visit the branches on a regular basis. You can just sign in to your personal account that you have created for internet banking and carry on with your operations from anywhere anytime.

How to use Net Banking?

Since many banks are incorporating online banking, its essential and need of the hour to know how to use net banking

Open a bank account if you don't have one.
Get an account number as it is needed to open an online account
You can start your registration process after getting an account number
Registration process requires your contact information like Email ID, password, phone number etc.,
Don't provide the same password for all the accounts
Make sure that the information you provide matches with that of the information on the bank files.
Once the account is set up, login with your username and password to avail your services
If you have multiple accounts, check each account to know the details.
Services gained through online banking

You can get a variety of services generally by using online banking. Some of them are mentioned below

Opening an account

By using online or e-banking, you can open current, savings and other accounts online without the need to submit any documents. This reduces the hassle of waiting for hours in order to get the entire process done.

Payment of bills

Gone are the days where you have to write cheques to pay your bills. Now you can get your cheque printed and sent via mail from the banks to pay your bills. Most of the banks offer the bill payment services that include utility bill payments, credit card bill payments, telecommunication bills etc.

Transfer funds

You can transfer funds from one account to another account, say, current account to a savings account with the help of this service. Transfer of funds can also be done by adding funds to the account you wish for. Some of the banks also provide a facility for transferring funds outside the country just by using their e-banking services.

Apply for loans

Applying for loans offline is a tedious process of you having to deal with a lot of paperwork. This is made easy by online banking. Applying for a loan typically involves in filling all the required information after logging in to your online banking services and the bank will revert back with the required information and the process involved, later.

Deposit cheque

Generally, there are multiple ways available to deposit a cheque. Remote cheque deposit stands as one of the easiest ways among them. Just take a snapshot of your cheque and send it to your bank for payment. Doing this decreases the necessity of you visiting the branch or mailing the cheque. You can gain this service in some of the banks of the UAE.

View history

All your transactions, all the details of the savings and credit cards are available with all the information so vivid and informative. Also, it makes it easy for you to check all these online rather than going through the entire information offline.
Check : Top banks in the UAE
Is online banking secure?

In general, getting the banking services through online is safe and secure until you enter and submit all the valid and proper information during the transactions.

In order to make your online banking experience safe, follow the below-mentioned rules

Never fail to check your bank statements regularly and never be late to complain about any strange activity to your preferred bank.
Never revert back to any mail from the mail address claiming to be your bank's, asking you all the personal information like IDs and passwords.
Always use a secure Wi-Fi connection to proceed with your online banking transactions.
If you have mobile data on your phone, always go for using 3G or 4G connection while you are outside.
Never forget to logout of your banking session once you are done with it.
Always keep your operating system and software up to date.
Never use the same passwords for all the accounts and always maintain a good password strength while choosing your password.
Advantages of online banking

In this technology dominant era, we can say without a second thought that online banking is our savior that eases our transactions. There is a good count of benefits that you can gain through online banking as stated below

The convenience of the user

Online banking without a question or doubt makes the customers feel convenient and flexible with all their transactions they carry out. You can check all the details regarding your transaction clearance, bill payments etc., without any hurry anytime anywhere.

Fast and efficient

Obviously, the transactions that you carry out online are very fast when compared to those traditional banking transactions. You can experience the funds getting transferred from one account to another within minutes and can manage multiple accounts using online banking.
Clear idea about the transactions

Be it the transactions, accounts, bill payments or even the fraudulent activities that are taking place or going to take place with your accounts, everything can be tracked and can be made very transparent by means of e-banking. You can easily keep an eye on any activity that is happening with your account.
Less Fees

Not only can you get a hassle-free job done by using online banking services but you can also get your services done with less amount of fees when compared to that of offline. The fees charged for any of the online banking services is usually low when compared to that charged for traditional brick and mortar accounts.
Go through : How to choose the right bank account?
Banks that provide online banking in the UAE

Here are the few banks that provide online banking in the UAE
Emirates NBD
First Abu Dhabi Bank
Dubai Islamic Bank
HSBC
Standard Chartered Bank
ADCB
Mashreq Bank
Abu Dhabi Islamic Bank
RAK Bank
Conclusion

Online banking has made life simple to many customers by being flexible and by being accessible to the users 24/7. With the growing technology and development in the UAE, e-banking definitely plays a major role in everyone's life by making bank transactions easier for them.