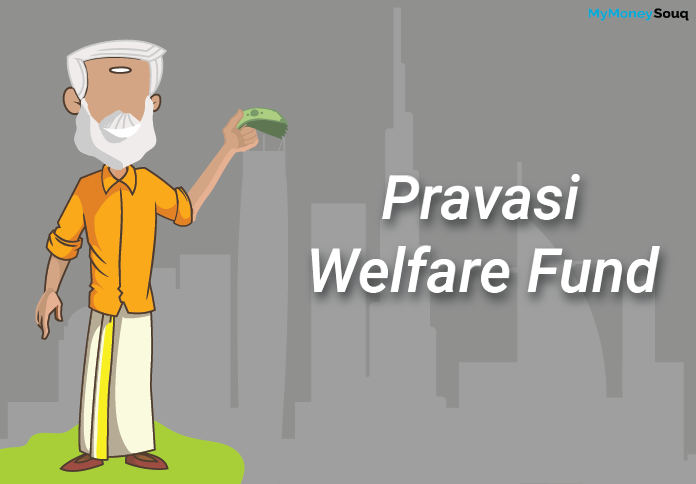 Pravasi Welfare Fund is a new initiative introduced by the Kerala government. This program is featured by Kerala State Financial Enterprise to support Non-resident Keralites. The aim of the Pravasi Welfare Fund is to ensure that non-resident Keralites get a monthly pension after they return to Kerala.
Thomas Isaac, Kerala Finance Minister (currently) announced the Pravasi Welfare Fund scheme to support Kerala Expats in UAE

Eligibility Conditions
Pravasi Welfare Fund Scheme is applicable only to the Non-Resident Keralites (NRK). The scheme benefits will be paid during retirement or completion of tenure.
This Scheme is not applicable to the citizens of Kerala who are covered under the Central/State government pension scheme.
Membership details
Non-Resident Keralite (NRK) who are between age 18 to 60 years can enroll for the welfare fund. Below are the categories of the welfare funds and Application forms.
Form No. 1A- for Non-Resident Keralite working abroad.
Form No.1B- Non-Resident Keralite who returned back to Kerala to get a permanent settlement after working in foreign for less than two years.
Form No.2A- Non-Resident Keralite who are working in India but outside Kerala
Form No. 2B- Deemed NRK who returned to Kerala for settlement in India from above category (3)
The membership forms are available online in the website www.pravasiwelfarefund.org
What is the registration fee?
Rs. 200 is the registration fee. The fee can be paid in Indian Bank/State Bank of Travancore.
Click here to find out the list of Indian Banks in UAE, Dubai
How does welfare fund work?
Kerala State Financial Enterprise (KSFE) pays a monthly premium for the complete five years throughout the scheme.
The condition is that the person should remain a member of Pravasi Chitty for the whole period.
KSFE remits monthly premiums for the pension scheme which is given by the Pravasi Welfare Board for subscribers of Pravasi Chitty.
Non-resident Kerala would get a sum total amount of two thousand rupees, the monthly contribution is a hundred rupees.
The pension amount is available at 60 years, the condition is contribution should be regularly made. Suppose if the member stops making a contribution for a period of 1 year the membership exits.
If a continuous consistent contribution is made a three percent hike is provided for uninterrupted payment for the entire five year periods.
Benefits of the Pravasi welfare fund
The benefits of the Pravasi welfare fund are not just for the members but they are extended to the family members as well. The following are the benefits that are discussed briefly.
1. Pension Scheme
(A). NRK who contributed to the welfare fund till age 60 will get a pension of Rs.2,000 after 60 years. If the contribution is not made regularly memberships will be canceled.
(B).Those members who contributed regularly for five years and more get an additional pension which equals 3% of minimum pension given in 1. (A) for every completed year of membership above 5 years minimum period. The total pension amount will not exceed twice the amount of minimum pension amount.
2. Pension for family
If an eligible member attains superannuation and becomes deceased then anyone from their family member becomes eligible for pension amount.
The pension amount shall be equal to 50% of the total eligible pension of a deceased person.
3. Pension for Invalids
Members who remitted payments regularly for a period of 3 years and if they become incapable of employment or unable to work due to physical conditions shall be eligible for an invalid pension.
To get an invalid pension the member has to submit a doctor certificate who treated the member.
The member should also produce a certificate from the medical board.
4. Financial assistance scheme for dependents of a deceased member
If a member according to Form 1A, deceases due to an accident or illness then one of their dependents is eligible for maximum financial assistance of fifty thousand rupees.
If member Non-Resident of Kerala according to Form 1B deceases one of his family members is eligible to get maximum financial assistance of thirty thousand rupees.
5. Medical treatment
A member with critical illness is eligible for getting fifty thousand rupees during the term of membership.
If the central government or state government of India or Norka Roots or Local Self Department of India provides any financial assistance for the same then he or she is eligible for any financial assistance from the scheme.
6. Health Insurance Scheme and Accident/ Death
Pravasi Welfare board implements subject to sufficiency of funds. This scheme provides assistance for accidental deaths. It also provides medical treatment for members.
7. Assistance for marriage
Members who contributed for at least 3 years are eligible to get ten thousand rupees for marriage expenses. Marriage assistance is provided for member's two daughters which is subject to below conditions.
Financial assistance is paid for a maximum of two times.
Only one Non-Resident Kerala from a family is eligible for marriage assistance.
8. Maternity financial assistance
Female members who have contributed for two years are eligible for three thousand rupees for maternity expenses.
In the case of abortions, they are eligible for two thousand rupees of financial assistance.
Maternity assistance and abortion are paid only two times during the membership period.
9. Education Grant facility
Non-Resident Kerala who paid contributions for a minimum period of 2 years shall be eligible for a higher education educational grant.
The eligible courses include ITC/ITI/Degree/Post Graduation
10. Loan for housing and Self-employment
Relief fund created by a board is used for payment of loans to members. Members who made contributions for a period of five years the board may decide to pay housing loans to members.
The purpose is for construction of houses, purchase of land along with building, purchase of land for purpose of construction of a house, maintenance of existing building etc. The board shall decide if loans are sanctioned with or without interest.
Members who are self-employed or got loans through other schemes are not eligible under this scheme.
11. Other benefits
Medical assistance for common diseases up to a maximum of Rs 10,000 and critical diseases up to Rs 25,000.
Old age assistance as decided by the board
Financial assistance of Rs 10,000 is provided for deceased NRK who has not attained the age of 60 years and also not a member of the fund. The dependants of the deceased shall get a maximum amount of Rs 10,000

Vinay Kumar Goguru is a finance professional with more than 8 years of diverse experience as a researcher, instructor and Industry work experience with both public and private entities. Prior to MyMoneySouq, he spent 6 years in Berkadia, It's a commercial mortgage banking company. He has a "Doctoral Degree in Commerce" and two master's degrees with a specialization in Finance, one as Master of Commerce and other as Master of Business Administration. He has written several articles on personal finance, published by different International journals. He loves traveling, reading and writing is his passion. He has a dream of writing a book on his favorite finance topics.