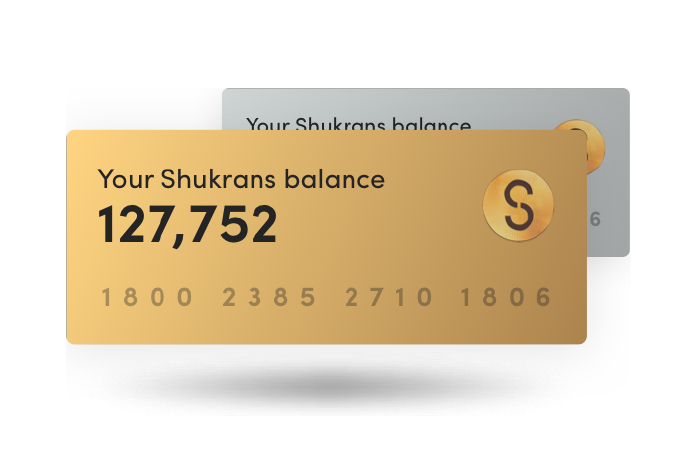 Shukran Card is a profitable reward scheme in the middle-east for trustworthy customers provided by Landmark group and its partners. It's a retail loyalty programme where you can shop and experience maximum rewards which are known as Shukrans. You can shop/purchase across any of the landmark group brands/outlets or the associated partners to enjoy the freedom of earning and spending the rewards through your transactions. This retail customer loyalty programme is operated by landmark retail limited, its branches and group of companies(called as "landmark" or "landmark group").
Check: Best Shopping websites in UAE
What are Shukrans?
Shukrans are loyalty points. They are the indirect currency which can be earned and spent by shopping at landmark group brands or the associated partner brands, online or in-store.
Presently, shukrans are available for over a million products for several brands.
Shukran Earning Rate is mentioned in their website and the earning rate varies depending upon the membership status.
Steps to earn Shukrans

You can earn shukrans by showing shukran membership card at the purchase time Kuwait, the Kingdom of Saudi Arabia, Oman, Bahrain, Jordan, Egypt, Qatar, Lebanon, and the UAE

Offline/Outlet shopping

They are obtained by making licensed purchase of products and services at landmark and its partner outlets.
The Shukran app has digital card which can be presented while paying at any of the outlets like landmark group outlet or partner group outlet.

Online shopping
Shukran app can be downloaded on a smartphone which consists of a virtual membership card useful for online shopping.
They are obtained by making licensed purchase of products and services at online portal
If you shop at Shukrans/other partnered online website, you will have to link your shukran account with that particular website account for earning shukrans
Steps to spend Shukrans
Offline/Outlet
A photo id and a Shukran digital card should be presented at the cash counter.
After this, the Shukrans can be spent on any of the landmark group brands.
Online
You will have to link your account in the first place.
Later, you will have to check out a slider "pay with shukrans" to spend the rewards online.
Redemption details
Members can visit partnering outlets to redeem the points in the account.
A minimum of 200 points must be there in a member's account for redemption.
Points that are earned will be accessible for redemption for 14 days from the date of transaction and are valid for 24-months.
Shukran Standard Chartered Credit Cards

Few banks in UAE have partnered with Shukran in order to provide benefits on the credit cards.
Standard Chartered Bank is one of those and it offers Shukran benefits on:

Benefits on Standard Chartered Shukran Credit Cards
Standard Chartered Shukran World Credit Card or Standard Chartered Shukran Titanium Credit Card are used to earn and redeem shukrans at shukran participating partner
If purchases are made at participating partners you will earn 5 times more shukrans.
Benefit huge savings whenever you like to travel using this card.
Shop among several products like footwear,apparel, kids wear etc and get rewarded with shukrans.Also these shukrans can be spent at more than 500 stores and on several brands.
Using these credit cards to obtain a complimentary lounge access.
Shukran member benefits
Basically, there are two tiers of membership base and gold. Benefits provided depends on the tier.
Offers will be notified through SMS and email.
Points can be earned during promotions and sales.
Members will receive Invites for events at participating/landmark group outlets.
Easily manage balance points, preferences and profile updating through the online account.
Points to be noted while using Shukran card
The membership can be canceled if involved in any of the fraud act by landmark group and this group announces facilities for members.
For any modifications, additions, cancellations, terms, and conditions you can visit the Shukran website.
There are no charges for membership programme
A person has to be at least 18 years old to be eligible for this membership programme.
You cannot transfer the membership to another member for using the card.
To keep the account active you will have to transact at least once in 12-months
Only one valid membership card is available per person.
Shukrans are earned at any participating outlet which has an earning rate based on the outlet.
Earning rate is published on the Shukran website.
While purchasing, if you present a valid subscription card Shukrans will be credited in your account.
Once the Shukrans are redeemed they can't be credited again
In case you return the purchase, the Shukrans will not be deducted, instead, those Shukrans be invalid for usage/redeeming.
One Shukran account balance cannot be linked to another.
Shukrans redeemed once are not used again.
Shukran points cannot be interchanged for cash
The remaining amount has to be paid if the purchase cost is more than available Shukran points.
The points are valid only for 24 months for redemption.
The name on valid id should match the POS system, then points are redeemed.
Members can redeem points in whole or parts. If in parts, then the account must have a minimum of 200 points for redemption.
The Shukran card can be utilized in an effective way which will be beneficial for the members. Also, the terms and conditions have to be followed strictly to avoid any discrepancies while receiving the facilities, benefits, rewards etc. Customers can have an outstanding shopping experience. Shukran card programme is the largest and most successful programme of the landmark group.
Anala is a young and spunky guru on financial matters, who tells you like it is; everything from managing debt to managing savings accounts. While books and movies keep her brain ticking, Anala pursues swimming and dancing to keep fit. A lifelong explorer and learner, Anala believes in giving back, and volunteers with the Bright Spark Education program at the NGO Youngistaan Foundation, where she opens up children's minds to the innumerable possibilities of a happy and successful life!