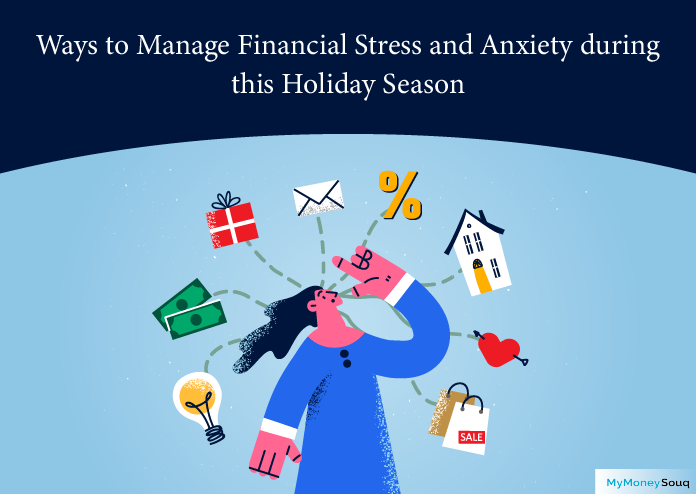 Inflation is rising day by day and the increase has created many waves in the lives of the common man. Managing financial expenses and living at a low cost has become a challenge in today's environment. The impact of Covid has been lasting as the price rise which shook the market is continuing even today. The prices which increased during the covid period even today continue to be the same and this is stressful during the holiday season.

When you are buying anything, if the prices are higher than last year then it will create anxiety because you are comparing the past prices with the present prices. It is not guaranteed that your income has increased or it is not guaranteed that prices will come down in the future. The future is uncertain and price rise is a phenomenon that will continue and we have to co-exist with it. We have to learn ways for managing financial stress and during the holiday the financial stress is even higher. Here in this article, we discuss ways of managing financial stress.

Discuss with family and friends about ways to celebrate at a low cost
Say no to additional spending
Set a realistic holiday budget
Stay organized
Use technology 
Practice mindfulness
Do Self-care
1. Discuss with family and friends about ways to celebrate at a low cost
During the holiday season if you are feeling stressed and anxious then talk to your loved ones. By discussion, you will find out an alternative and this will take away the pressure. When you find support from your family or friends you will really be surprised to know that it will ease your pressure. You can follow the below ideas as well.

Set spending limits and reduce spending
Skip the practice of exchanging gifts, and spend time with friends and family
These ideas may make you feel bad but your loved one will understand you and be a support for you as you are in financial hardship. You are not the only one who is having financial problems. There are many people like you but they manage not to come up. When you express yourself they will come up and support you. 
2. Say no to additional spending
The holiday season is a time to express generosity. It does not mean that you can forget about your self-esteemed needs. Just tell no when you are put in a situation to spend more on year-end parties and lavish dinners.
True and faithful conversations will result in a good way. Explain to yourself the financial boundaries that are keeping you in a limit. Keep following it and stick to it, no one can understand you better than yourself. You are the best advocate of yourself, think about the money you have and what you are willing to spend. Reduce your unwanted expenses and see the ways in which you can spend your resources. 
Click here for Top 5 Unexpected expenses to plan
3. Set a realistic holiday budget
The holiday season is a time for celebrating the last days of the year. When everyone around you is partying and spending time happily you will feel bad about your financial situation. It is best that you plan and set a realistic budget within your limits for a certain amount of money. This amount that you set aside can be used to celebrate your year-end holiday time.

Setting a realistic budget can help you know how much money you can allocate for your holidays. This amount will vary from person to person and there is no fixed amount that is suitable as best for everyone. Look back at your past and analyze how much you have spent. Based on your past spending numbers you can estimate how much you can afford to spend this year and set a realistic budget.
4. Stay organized
If you are organized and keep track of your expenses then it is very easy to manage financial stress. Prepare the list of expenses for shopping strictly following the budget and do not override. Where you are planning to spend and how much you are willing to spend all these are important in staying organized. Consider buying things ahead of time as buying during the peak rush hours the prices will be higher. 
Click here for How to start end of life planning?
5. Use technology
Use technology for managing financial stress. You can download apps for rewards, and discounts and also get cash backs on your purchases. Cashback offers, discounts, and other promotional offers will not only help you to save money but also help you to save time and effort. All you have to do is crack the best deal.
Find out the big deals which provide discounts on groceries, offer loyalty accounts, free gift packs, and much more. Using the technology by convenience of your mobile you can check out the great deals of the holiday season.
6. Practice mindfulness
If you are worried about financial pressure then be sure to give grace and spend time to understand your feelings. It will help you to understand yourself, reset and reframe the situations. If you are feeling overwhelmed then sit back and practice mindfulness and this can be done by thinking about the present moment. Calm down your senses it will help you to manage stress and make you more productive. 
7. Do self-care
Treat yourself, it does not always mean buying something for yourself. Spend time with yourself. Go alone on a walk with yourself and talk to yourself. You are the best friend of yourself. No one can understand you better than you yourself. Indulge yourself in your passion that gives your peace. Maybe drawing an artwork, riding a bicycle or gardening or anything that eases your pressure. After all, holiday time is the best time to relax and spend time with the people you love.

Takeaway

The year end holiday season can be a stressful time of the year. With the recession and price rise, the feelings of stress and anxiety are even more. Give yourself some grace and do not feel bad that you cannot celebrate like others. With whatever limited means you have, just celebrate the year end happily with your loved ones.


Vinay Kumar Goguru is a finance professional with more than 8 years of diverse experience as a researcher, instructor and Industry work experience with both public and private entities. Prior to MyMoneySouq, he spent 6 years in Berkadia, It's a commercial mortgage banking company. He has a "Doctoral Degree in Commerce" and two master's degrees with a specialization in Finance, one as Master of Commerce and other as Master of Business Administration. He has written several articles on personal finance, published by different International journals. He loves traveling, reading and writing is his passion. He has a dream of writing a book on his favorite finance topics.