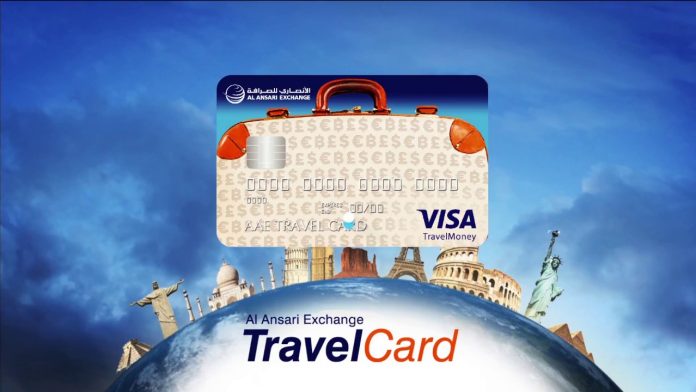 Al Ansari Exchange Travel Card(AAE Travel Card) is the smartest and comfortable way to travel. It is a rechargeable prepaid card which is every traveler's dream where payments can be made in different currencies wherever Visa cards are accepted.
Since Al Ansari Exchange travel card has restricted limits, it is one of the best ways to stay within the budget and restrict purchases. With this travel card, you can select interest rates and the currency you want to purchase before you get to travel. This is one feature that a usual credit card does not have.
Check: 5 Best Credit Cards for Travel in UAE
Currencies available on the AAE Travel Card:
Al Ansari Travel Card can be used to pay for goods and services with any foreign currency. It can hold up to 14 different currencies. The currencies available in AAE Travel Card are US Dollar USD, Singapore Dollar SGD, Canadian Dollar CAD, Hong Kong Dollar HKD, Thai Baht THB, Indian Rupee INR, Arab Emirates Dirham AED, Japanese Yen YEN, Omani Rial OMR, EUROS EUR, Pound Sterling GBP, Bahraini Dinar BHD, Qatari Riyal QAR and Australian Dollar AUD.
Fees and Charges of Al Ansari Exchange Travel Card:
The costs corresponding with AAE Travel Card are very few. You just have to pay card insurance fee which is AED 30, minimum initial load which is AED 100 and supplementary card fee is AED 30. There is no need to pay for services like mobile app and online account, all these services are free of cost along with this card.
Few benefits of AAE Travel Card over Debit and Credit Cards:
By using this card, expenses can be managed easily. As soon as the amount loaded in the card gets over, you cannot use AAE travel card for further payments unless you refill the amount in your travel card. This feature is only for spendthrift people, who tend to drain out their cards by doing high-value impulse purchases.

In case your card gets stolen you will be allotted with a supplementary card 

There is a special feature in this card- You can suspend this card after one trip and can reactivate it before your next trip. This can be done for upto a period of 5 years. In this way you can ensure that the given card cannot be used in between trips and you don't stand liable for inactivity fees.

You are allowed to load multiple currencies in a single card with a great exchange rates as you spend in any of the foreign currency.

You can use the unspent fund in your next trip or you can also withdraw your card.

These cards are way more safer than debit and credit cards, if the card is lost or stolen, hackers will only be able to use the amount present on the card.

You can refill your AAE travel card from any of the Al Ansari Exchange branches all over the UAE.

You can use it in store, online or to withdraw local currency from the ATMs that accepts VISA cards.

Travel cards can be used by students who are travelling or going for international summer camps. These cards don't have minimum age requirement unlike credit cards.

Travel cards can have multiple users. It is possible to remit money to friends and family members living overseas.
Also, check: Zero Installment Plan in UAE
With these benefits Al Ansari Exchange Travel Card becomes a better option than credit cards and debit cards, while going abroad to travel or for work purpose.