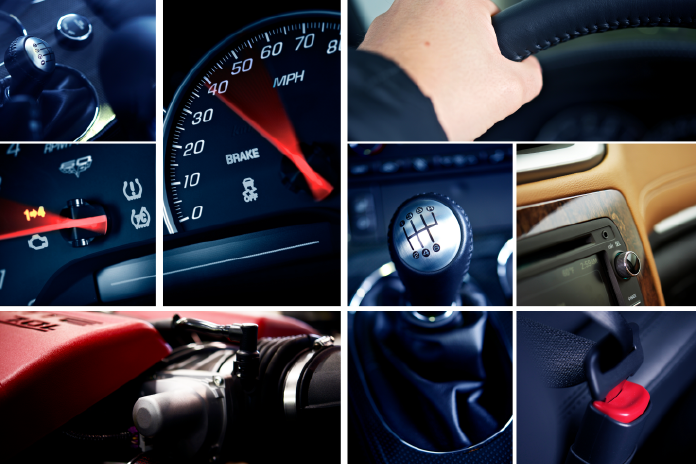 Car accessories enhance the beauty of your car and make it move with look and quality. On the other hand, car accessories save the car from external wear and tear that may occur to your car at any point in time. Here are the few good showrooms for car accessories in Dubai where you can get products of good quality.
Go through: Best time to buy a car in Dubai
1) Al Taif Car Accessories
Al Taif car accessories was established in 1965 with its headquarters in Dubai, UAE and branches extended all over the UAE. Al Taif is one of the well-known companies of car accessories in Dubai since the time it came into existence.

Al Taif primarily develops auto paints, car alarms, car parking sensors, car multimedia items, DVD systems etc.,

It generally provides products like multimedia and navigations systems, security and engine start system, tinting accessories, polishes, air fresheners etc.,

Al Taif deals with brands like Roadrover, Easyone, Clayton, Blazer, Diamond, Tamarack, Plasma etc.
Phone number:

97142712001

Address:

Opposite Hyatt Regency, Al musalla Road, Deira, Dubai, UAE.
2) Bab Al Satwa Car Accessories
Known for its delivery of car services for 10 years, Bab Al Satwa always tries to meet the requirements of the customers.

With the expert team in hand, Bab Al Satwa renders products and services related to a car like a battery, radiators, tires, amplifier, steerings, car seats etc.,
Phone number:

971508983890

Address:

D90, Dubai, UAE
3) Car Mart
Car-Mart was established in 1984 with a motto to supply good quality products at reasonable and competitive prices to the customers.Car-Mart exports goals to GCC, Russia, Africa etc.,
Being in the business for 26 years now, Car-Mart provides products and services related to vehicles that includes

Car mats, cushions, car pads, steering covers, sun shades, booster cables, mirrors, air compressors etc.,
Car-Mart deals with brands like Carall, GetF1, J and T Beaven, Soft99 etc.,
Phone number:

9714271333

Address: 8th Street, Deira, Al Murar

, Dubai
4) Delta Plus
Delta Plus Auto accessories have been excelling in the Dubai market for 4 years providing committed and innovative services to the customers. They concentrate mainly on comfort, safety, style, and enhanced performance for all the cars and vehicles with the products they provide.

With an aim to offer products and services of international standards, Delta Plus offers various products that might include well-defined car audio and video systems, decorative products, headlight designs, speaker wires, and other interior and exterior car accessories in Dubai.
Phone number:+971 6 557 5572
Address:

Shop number: 6, Hala Building, Damascus Street, Al – Quasis-2, Dubai, UAE.
5) Al Mushrif Auto Accessories
If you are keen to find and explore all that you need for your car, Al Mushrif is one of the right places for you in giving you all the quality products every time.

Established in 1978, Al Mushrif offers products and services with prices that meet the budget of the customers. Their products generally include both interior and exterior accessories of a car like a bumper, headlights, chrome fines, tire covers, car roof, car sound system, battery etc.,
Phone number:

97142639590

Address:

Damascus road, Shop number : 9,10,11, Al Quasis, Dubai, UAE.
6) Fawaz Al-Khateeb
Fawaz Al-Khateeb is one of the largest providers of car accessories both locally and internationally. It has 40 years of experience in the automobile industry and has spread its wing in places like the Middle East, Asia, Africa, Russia and other places of the world.

With a mission to be the premier supplier of car accessories, Fawaz Al-Khateeb provides diversifying products and services like high-quality car alarms, air fresheners, lighting etc., with a good quality of service.
Phone number:

600 550 004
Address:

Port Saeed Dubai National Insurance Building, 10th floor, Dubai, UAE.
7) Directed Auto
Directed Auto is one of the leading suppliers and developers of automotive products established with its headquarters in Dubai.

With a knowledgeable staff, Directed Auto always strives to offer professional services to the people who approach them.
The products and services offered by Directed Auto might include GPS navigation, car electronic accessories, speakers, subwoofers, car HD radio, amplifiers etc.,
Phone number:

971529798935

Address:

No 14-A, Sajaya 7 building, behind ENOC pump, Manama St, Dubai, UAE
8) Top Star trading LLC
Top Star is a privately held company established in 1997 in UAE. It is well known for its retail and wholesale sectors.

Top Star distributes various car accessories and automotive accessories.

With a mission to provide high-quality products to the customers, Top Star renders products and services like air fresheners, car care products, upholsteries like car mats, seat covers, window tinting films etc.,
Phone number:

97142711330

Address:

4th Street, Al Murar, Deira, Dubai.
9) Car Care Auto Accessories
Known to be one of the leading companies in the market, Car Care Auto Accessories has been delivering export, import, and wholesale trading of car accessories.

It was established in 2001 and provides products and services at reasonable prices to the customers.

With a mission to deliver top-notch products, it always tests all the products before handing them on to the people who approached them.

The products offered by Car Care Auto Accessories generally include steering cover, car body covers, booster cable, car cleaning items, air freshener, seat cushion, car mat, head pillow, sun shield etc.,
Phone number:

97142971355

Address:

Opposite Nasser Abdullah Mosque, Al Nakhal Road, Dubai
Also check: Top places to get your car washed in Dubai
You can get a good variety of car accessories in the showrooms that are mentioned above in Dubai.