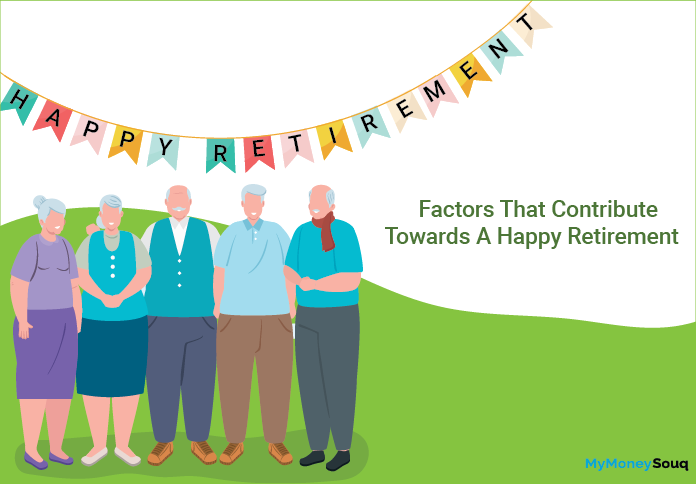 The main reason for UAE taking the spot among the top career destinations in the world is its overall earning potential. Additionally, employers offer various attractive benefits to their employees. These benefits comprise of: flight tickets to their home country or some tremendous medical benefits too. But proper planning for life after retirement tops the agenda among many working in UAE. The working population in UAE wants is a healthy and comfortable nest be it in dirhams or dollars and healthy life after they retire from their jobs. A happy post-work life is what everyone dreams of.
Check: Why a retirement plan is essential for expats in the UAE?
Steps To Ensure A Happy Retirement
It is essential to have a pre-retirement plan so that your financial life can be kept in control and healthy.
Know how much money you will need for a peaceful Retirement
If you are not aware of how much to save for your retirement, it will only cause anxiety and stress. This will simultaneously make it more and more difficult to make proper financial decisions. When you know how much money you will need (based on your expected expenses), you can very efficiently set more precise goals. That is why it is essential to come to a clear point of conclusion on how much money you need. You can even make use of a retirement planning calculator to plan your retirement goals. It will guide you to be on the right track, after all.
Set your Goal
This is the first and foremost step towards retirement planning. You need to set your retirement savings goal and make all efforts to make sure that you reach those goals. All you need to do is to set a specific amount of money each year that you try to achieve so that your retirement goal is fulfilled. In case you are unsure about this, consult a financial planner in UAE who can guide you on how to start. You can set a weekly goal, a monthly goal, or an annual goal for yourself. Work religiously towards achieving it!
Read: How possible is an Early Retirement?
Make most of the saving tools
There are various matching programs like pension funds, which offer the employee to contribute the exact amount to it which the employer contributes. This way you can double the amount which you can very well save for the time of retirement.
Save
It is always a good idea to save for your future. Cut down unnecessary expenses and make an emergency fund to which you contribute a fixed amount every month. Never pull anything out from that emergency fund unnecessarily. Cut down on expensive eating outs, or unnecessary gym expenses. Think of it as a measure to confirm a healthy and comfortable future free of any stress.
Let that money grow
Traditional ways to save money and knowledge tell you to remain aloof from taking any risk in your retirement portfolio. You should try and invest solely in safe assets. However, providing retirement years is drawn-out, the result of inflation, failing health, and different changes in life can take a toll on the corpus. That is why it is imperative to invest in a realistic plan which yields higher returns and benefits. You need to start doing this to ensure that you start getting these benefits right from the start of your retirement.
Monitor your progress regularly
If you have automated your retirement contributions and you know that the amount is growing each month, you should also keep a check on how you are performing investment-wise. If you are managing your portfolio yourself or you have a dedicated financial advisor to handle it for you, ensure to have a proper look at your performance after a few months to see the accounts growing.
Extra income source should be good
Apart from your regular job if you have time then take up any part-time job or a second job. If you are unable to work extra, then rent out your property or an extra room in your home to contribute more to your retirement fund. This will make your retirement goal be fulfilled a lot before the retirement time.
Maybe interested: Why you should plan for your Retirement now?
Invest in Stocks, Mutual funds
If you do not fall under the high net worth segment, then stocks would be the best investment option for you. Stocks are quite affordable as many stocks are for less than Dh100. Invest in different types of stocks but a minimum of 5. This enables you to have a diversified portfolio. Get as much information that you can and open an account with a brokerage firm or buy stocks directly from the company.
Like stocks, even mutual funds offer high returns, consult your fund manager or financial planner about buying mutual funds which are a less cheap option than stocks.
Pay off the Debts
Before retirement, it becomes very crucial to pay off any outstanding debt. By paying off the debt, you avoid burdening yourself from unnecessary stress and the obligation of a loan post-retirement.
Conclusion
The crux is that you do not need loads and loads of cash to start saving for a peaceful and healthy retirement. Moreover, you don't even need to be an expert in investments with just a little planning and your comprehensive partnership with it. Just keep making regular contributions to your savings account.
Be patient, have a staunch strategy with little initiative lead yourself and your life towards a bright and happy retired life because life begins after retirement !!

I'm a finance writer and solo-business blogger who loves to write about fin-tech tools and how to save money and keep a budget. With a passion for investing in equity and mutual funds. An alumnus of Magadh university, I am presently continuing my studies in Financial Management.