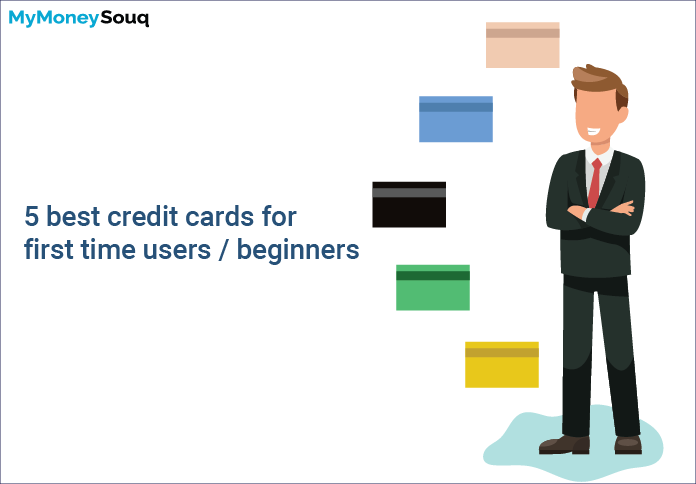 Credit cards today have become an essential and necessary part of life for people all over the world. The same goes for people in the UAE who are counted amongst the top credit card users. With this enhanced usage of credit cards, to stay in healthy competition, many banks are offering loads of benefits and offers in UAE on acquiring their credit cards.
Some of the popular credit cards which are appropriate for starters and first-time card users in UAE are :
Minimum Salary Required: AED 5000
Annual Fee: AED 0
Offers: Discounts on domestic and international transactions
Key Features:
Up to 1.5% off on transactions made using the card.
Get 30% off on dining at selected restaurants
10% off on bookings amde at hotels.com
20% off on 3 Careem rides per month
But to avail the discount, a minimum spending of AED 1000 is needed.
Minimum Salary Required: AED 5000
Annual Fee: First year free. AED 1000 is charged from the second year
Offers: Cashback on every spending
Key Features:
Get 1% flat cashback on every purchase at anywhere
Free access to airport lounges
Free roadside assistance
Free supplementary cards
Minimum Salary Required: AED 8000
Annual Fees: AED 0
Offers: Touchpoints, Free movie tickets,
Key Features:
Can earn 0.5 touchpoints on every 1 AED spent
Can redeem touchpoints for Skyward miles, Etihad guest miles, shopping and dining vouchers
Buy 1 – Get 1 free on movie tickets at Vox cinemas
Get 25% off on dining at selected restaurants
Free airport lounge access
20% off on Careem rides through Mastercard
Minimum Salary Required: AED 5000
Annual fees: AED 0
Offers: Rewards on domestic and international expenses
Key Features:
Get 1 reward point per AED spent in the UAE and 2 rewards points per AED spent on international expenses
Reward points can be redeemed for travel tickets, shopping vouchers
Dining discounts at selected restaurants, airport lounge access
Discount on cash withdrawals.
Minimum Salary: AED 10,000
Annual Fees: AED 0
Offers: Cashback
Key Features:
0.5% cashback on every local purchase and 1% cashback on international expenses
8% cashback at selected merchants
So now when you are all ready to join the credit card club, keep the below mentioned little things/tips in your mind :
How to choose just the right credit card?
Before applying for any credit card that looks good to you and entices you, it is imperative that you figure out that one thing that you are most likely to spend on frequently. It can be fuel, dining, movies, could be shopping, figure out that store or hypermarket from which you shop the most or if you just love to shop.
So now choose the card which offers you the maximum benefit according to your frequent spendings. It should give you air miles, reward points, or cashback. Just figure out your preference and then apply for a credit card.
Find out the annual fee or the enrolment fee of the card
Not every credit card out there needs to possess a joining/enrolment fee or a yearly fee. There are several No Annual fees Credit Cards in UAE. But if the credit card which you are eyeing for or is the perfect one for you, has a joining fee or an annual fee, make sure it also has adequate rewards that can be air miles, reward points, cash backs and so on.
So very carefully compare the fee chargeable on your card with the rewards and privileges it offers you, before making the final decision. If you think that your salary or monthly income does not allow you to own it or the annual fee or enrolment fee exceeds your expectations, then never opt for a credit card.
Find about the credit limit offered
The credit limit is the maximum amount that you can spend on your credit card. The bank assigns this limit, totally decided based on your income, credit score and other factors. That is why this limit is different for every individual. So when you use your card a lot but always pay the outstanding back on time, the card company or bank may intend to increase this credit limit of yours. But what is advised is always to keep a low credit limit as it keeps you within your repayment boundaries. The more the credit limit, the more you will be attracted to use the credit card. And if you are unable to repay the outstanding, more and more interest would be charged.
Check: Advantages and disadvantages of increasing your credit limit
Know about you cash advance and withdrawal limit
Well, this is one beneficial feature in times of urgent cash requirement. With the Credit Card cash withdrawal feature, you are allowed to make cash withdrawals from the ATM by making use of the credit card. But the credit card company or the bank puts a limit on how much you can withdraw which is lesser than your credit limit. Although this privilege should be used as the last option because of the fees and the high rate of interest chargeable. Credit card cash withdrawals are costly.
Get proper information regarding the minimum amount due to repayment
It is always advised that you always pay the total outstanding on your card before the due date to avoid paying any interest charges. But if you pay only the minimum amount due, you will inevitably be charged interest for the whole amount utilized. That is why it is always better to pay off the outstanding amount within the interest-free credit period only.
Read: Are you paying the minimum balance on your credit card
Tips For Beginners:
Keep a check on your card spending and set up a budget.
Always make full payment of the outstanding every month.
Remember to stay within the allowed credit limit.
Be vigilant and check your credit card statements every month to notice any suspicious charges.
Never give your card number or security code to others.
Set up automatic card usage alerts; this will alert you whenever your credit card is used.
Do not make use of public computers or public wi-fi to use your credit card for whichever purpose.
Be diligent about the credit card terms and conditions.
Conclusion
The above mentioned are some of the credit cards which beginners can own in UAE. Owning credit cards can be exciting and fun. When you own a credit card, everything becomes extremely convenient for you. You get the plastic freedom of buying whatever you want, use the card for eating, travelling, and what not? But with this extreme convenience comes great responsibility, the responsibility to use the credit card wisely. If you fail to take proper care, you may end up in a lot of debt, and it would be difficult to get out of that vicious cycle.
The way you use your credit card will impact your credit score. So make sure that you use it appropriately to build a strong credit report and build for yourself a staunch financial future. When you are getting your first credit card, make sure you do as much inquiry as you can to remove all the doubts.

I'm a finance writer and solo-business blogger who loves to write about fin-tech tools and how to save money and keep a budget. With a passion for investing in equity and mutual funds. An alumnus of Magadh university, I am presently continuing my studies in Financial Management.