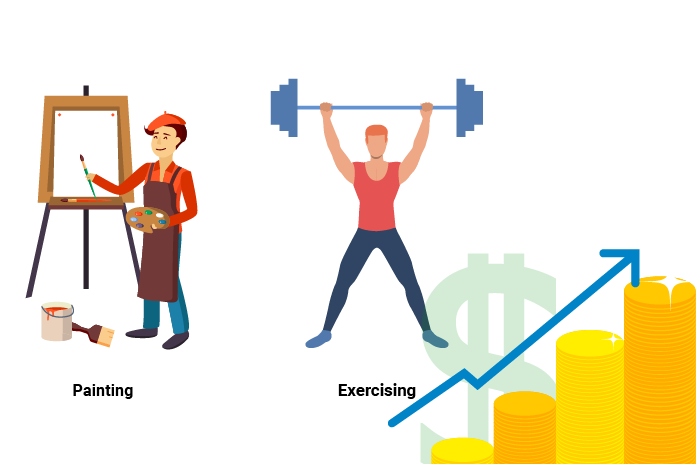 It is very difficult to find something you love and even rare that something you like doing will help you earn money. Hobbies play an important to keep us mentally fit as these are usually things that give us happiness when we are tired of our monotonous schedules.
Have you ever thought that these hobbies can actually help you someday? We do not realize that these hobbies can be a money-making tool. In the dynamically changing world, where man is fast being replaced by machine it is becoming painfully easy to lose jobs. Some hobbies can help you overcome these bad times by keeping you financially healthy and also giving one a chance to ignite the entrepreneur spirit.
The hobbies that will be your best friend during bad times are:
1. Exercising
Are you a Fitness Freak? Do you hit the gym regularly? If the answer to the questions is yes, then you have the most amazing opportunity to become a trainer. All you need is good knowledge about fitness and wellness, and a fit body. Getting paid to make people exercise is a great way to make money. You can later get certified as a gym instructor and earn much more than what you started.
Check Out: 17 Ways to make money Online in Dubai, UAE
2. Teaching
If you are keen on teaching and good at a subject, you can start home tuition where you can release your inner teacher and help students with the subjects while earning money for it. The fees purely depend on your qualifications and skills.
3. Writing
Writing is a fervent hobby; one needs skills along with a dedication to pursue it. With the advent of digital marketing, there has been an increase in the requirement for freelance content writers. You can either work for someone or start your own blog.
4. Painting
Painting is a hobby which gives you free will to express yourself and becomes a great money minting hobby when you can teach it to others. You can provide tutorials online, or start a home painting class and wait for the fun to unroll. If you are really good at it, you can sell your painting in exhibitions to earn money.
5. Cooking
If you love to cook, you can definitely make money as a freelance caterer. You can start small by covering kids' parties and later expand your horizon after an adequate amount of experience. Thus, you will be making money by doing what you love and by hanging out at the best parties.
6. Designing
If you love to design and have expertise in graphic designing you can start making designs and getting them printed on t-shirts, bags, coasters. You can sell these designs on various websites; thus, it becomes the perfect way to earn money in your bad times.
Check Out: 23 ideas to make extra cash in Dubai
7. Playing an Instrument
Do you love music and love to play an instrument? If yes, then you have the opportunity to teach it to other people and earn money in the process. You can do this by either starting your own YouTube channel or by making a paid tutorial on Udemy. It will fetch you money along with assisting you in following your heart.
8. Swimming
Swimming is a great way to burn fat and keep fit. This is considered as one of the most essential skills one must posses. If you are really passionate about swimming you can earn money by becoming a swimming coach. Coaches earn substantial amount of money if embarked with the right certifications and skills.
9. Crafting
If you are creative and really love making your own little craftwork creations. It is time that you realize that it can be of great financial importance as it can assist you in making money. Handmade goods are adored and cherished, it shows a certain uniqueness and quality of the products. Therefore, people pay a lot more for handmade goods.
10. Event Planner
There are people who have a natural inclination toward organizing and planning things. Are you the one who is responsible for organizing all family functions? Do you know the right flowers, caterers, etc? If yes, then you can utilize these skills to become an event planner, you can start small and later expand with expertise and knowledge in that area.
11. Photography
Photography as a hobby can also be used to earn money if you have expertise in it. One can become a freelance photographer, sell photographs on the website for a fee, become a wedding photographer. The choices are ample you just need to find your inclination and get to work.

12. Gaming
Gaming is always seen as wastage of precious time, and some may not agree that it is possible to earn money while playing games. Professional gaming is on the rise with the advent of new tech games. You can be a professional gamer or just a tester for a game company. If you are a passionate gamer, it is the career path for you.

13. Traveling
Traveling is a passion pursued by many. It is often many times ignored that traveling can be a supplement tool to many other passions like photography, writing etc. You can also visit places and help other people make plans for the trip by becoming there trip planner and guide, which can be a great way to earn money.
Check Out: Best ways to Manage your Personal Finances
Conclusion
Bad times can strike anytime, and one cannot be prepared for it. These times offer, the opportunity to think outside the box and what better way than to follow your dreams and passions.
The best part of hobbies is that you enjoy doing it, hence what can be a better way to earn money than doing things you love. If you do not have a hobby yet it is time you start cultivating one as can be really useful in times of need.

Anandita Sood traveled across various cities to complete her education along with the non-stop urge to follow her passion of exploring and visiting new cities. Apart from writing, you will find her engaged in photography, reading and culinary arts.