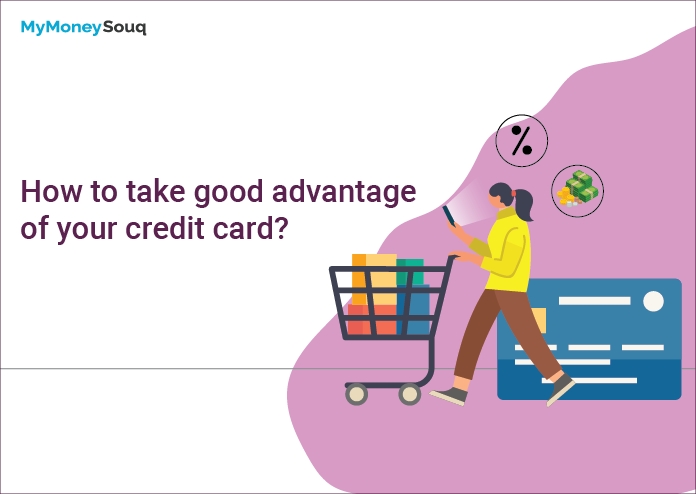 In today's world, for any individual owning a credit card means having the most exceptional financial assistant. In the UAE, people use this financial assistant like the one which they can easily carry in their wallet. To use a credit card to your full advantage, you will for sure be required to make some decisions. With appropriate guidance, you can make those decisions and have that credit card(s) work wonders for you !!
But what is essential to understand is the fact that dealing with credit cards involves several different things which you should be aware of. It is incredibly crucial for you to understand and grasp the advantages and disadvantages which you may face while you handle a credit card. As your finances are one of the most critical areas of your life, it stands very important that you get the most out of it.
The best feature of credit card in UAE is that if you choose the most appropriate ones, then they can add the right amount of money to your annual budget through discounts, rewards, bonuses, etc. All you need to do is to choose it strategically and use it responsibly. Otherwise, a bad credit card can cost you hundreds or thousands in the additional charges, which are a result of using the credit cards without proper discretion.
To start with, go through the following points which will help you in taking good advantage of your credit card that can make your financial life more comfortable and not keep you entangled in any credit card debts.
1. Choose the right credit card
Taking the right benefit of a credit card in UAE begins with finding the best one that suits you perfectly. The best way to find a credit card which is perfect for its keeps is by choosing the one which matches your requirements. Well! This does not only mean the amount which you spend on your credit card but also where are you spending. This is something that matters big in the case of credit cards. So in a case where you spend the highest in a month on your grocery and daily essentials, then you should opt for a credit card that rewards you well and provides you superb offers on grocery shopping. These days many big stores have tied up with popular banks and started to offer their own branded credit cards. Owning branded credit cards of different stores in the UAE is very interesting and rewarding.
But also remember that when you are opting for a store's reward program, you should be aware of the points system as well. You should know that after collecting points when you can use them, what is the minimum bill amount to be paid via points, the expiry date of points, etc.
Through the rewards program, you get cashback, travel rewards or other credit card offers as well. So use the points fully to your advantage and save some dirhams.
The fastest way through which you bring the value of rewards down is by increasing the spending on your card to earn more and more points on the credit card.

2. Paying credit card balance in full
Additionally, you make things worse for you when you fail to pay off your balance in full and start accumulating interest on the unpaid amount. Most of the credit cards today have high interest chargeable, around an average interest rate of 19.99%. It is recommended to make your credit card payment in full on time rather than paying late or paying the minimum balance which can add additional fees and charges.
Check: Credit Card Charges in UAE
3. Manage your credit limit
Getting a 5000 dirham credit limit on your credit card does not mean that it is all flowery for you. When you get a new credit card, before accepting the offered credit limit, make sure that you question yourself whether you need that credit limit or not? And do not forget to ask yourself one more thing: will I be able to manage that limit or not? Now, to find out how much credit you need, figure out your monthly spending on the card and make it a target to pay it off as per the payment date. Never think of a high credit limit as an advantage, take up the one that aligns with your spending.
4. Make most of the Credit Card Offers
The rewards and sign-up bonuses are some good lucrative ways to get the highest possible out of your credit cards in UAE, mostly at the time of choosing a new credit card. With huge rewards points which you earn on your credit card and some exciting cashback, you can easily fund your weekly grocery or movie tickets or avail discounts on travel tickets as well. But before you take the plunge, make sure that you check the details of the offers provided.
5. Maintain good credit history
There are many credit cards that offer users unsecured personal loans. But as advised, keep it limited only to your emergencies as they charge a very high rate of interest. But in some instances where an emergency arises, make sure to read all the terms and conditions properly as the charges on those loans can be huge! Although getting loans on credit cards is one massive advantage in times of emergency as it requires the shortest disbursal time, yet it can be a little tricky when availed without any urgent requirement.
6. Easy Payment Plans(EPP)
Now, with the credit card, one can buy anything like furniture, household items, jewelry etc. and pay the amount later in easy monthly installments or easy payment plans(EPP). There is no need to do any down payments or provide any additional documents to the bank. Also, the processing fee is very less for credit cards. Credit cardholders can convert their regular payment method to EPP on a lesser rate or even at 0% at some merchants.
7. Purchase Protection
This is one significant advantage to get yourself with your credit card in UAE. Most of the banks in the UAE provide purchase protection on items and products which you purchase with their credit card. What is more remarkable is that in some cases, it results in doubling the manufacturer's warranties. That is one exciting thing to own a credit card for your advantage.
Conclusion
Credit cards and its usage has increased a lot in recent times, especially in the UAE. Credit Cards, no doubt, eases your life as you feel a considerable amount of financial assistance extended to you, but it doesn't mean that you can use the credit cards freely. You need to be extra cautious and extra careful when you own credit cards. All you need to do is use a little planning, and with that little amount of planning, you can very well use the credit cards to your own advantage.
I'm a finance writer and solo-business blogger who loves to write about fin-tech tools and how to save money and keep a budget. With a passion for investing in equity and mutual funds. An alumnus of Magadh university, I am presently continuing my studies in Financial Management.