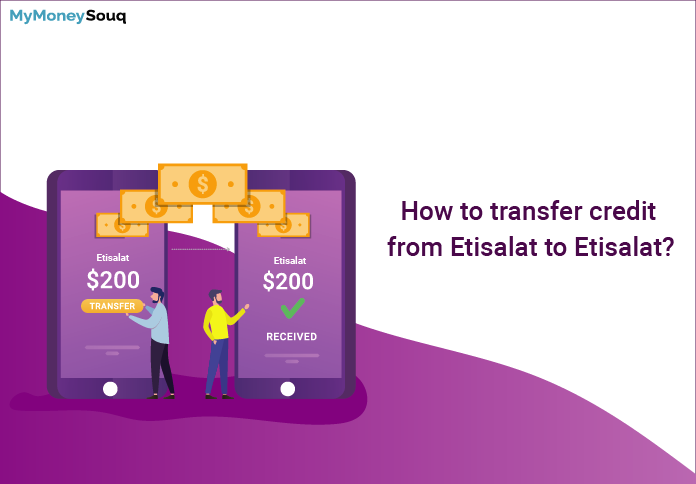 If you have Etisalat company's postpaid or prepaid mobile phone, you can avail Etisalat Balance Transfer facility, transfer credit from your Etisalat to your friends or family members using the same network. The condition is both the transferor and the transferee should have Etisalat mobile plan. There are a couple of methods in which transfer of balance in Etisalat can be made such as through the mobile app and by mobile code numbers. Here in this article, we discuss the ways to transfer credit and the charges associated with it.

Balance Transfer through Etisalat mobile App
My Etisalat UAE mobile app from Etisalat service provider. This app provides the facility to customers to check data usage, make bill payments, and do shopping. The app also provides a facility to balance transfer credit and data with your loved ones. All you need to do is download the app from the Google play store or apple app store as per your phone device requirement.
Transfer credit through Mobile keypad numbers
You can also make Etisalat balance transfer even without downloading the app using mobile keypad numbers. There is no special registration that is required for credit transfer. If a customer of Etisalat has pre-paid or postpaid Etisalat mobile then transferring credit from one Etisalat to another Etisalat is made possible.
On your phone keypad type *100*mobilenumber*amount# you want to transfer #.

For example, if you want to send AED 5, you have to simply dial *100*05XXXXXXXX*5#.
After you have transferred the credit to another Etisalat customer, you will be asked for a confirmation for your transfer. You have to give your acknowledgement regarding the message from Etisalat. You will be asked to press number 1 to confirm the transfer transaction and number 2 to cancel the transfer transaction. Select number 1 and your transfer will get completed.

The process for transferring credit remains the same for pre-paid and postpaid.
For postpaid accounts, the minimum amount of credit transfer is AED 2 and the maximum daily amount of credit transfer is AED 150. There is a monthly threshold limit on credit transfers. For postpaid customers, AED 500 is the monthly maximum amount of credit that can be transferred.
However, for prepaid account customers, the minimum amount of transfer credit is AED 2 and the maximum daily amount of credit transfer is AED 150. AED 1500 is the monthly maximum amount that can be transferred for prepaid customers.
Click here to know How to Transfer credit from Etisalat to DU
Etisalat Transfer Fee
Prepaid and the Postpaid Etisalat customers are charged for transfer credit. 5.25% of the fee is charged. It includes a 5% Value added Tax (VAT). The charges will be deducted from the sender as a payment charge.
For example- If an Etisalat customer 'A' transferred AED 10 to another Etisalat customer 'B'. Then the total amount of AED 10.5 (AED 10+AED 0.5) will be deducted from customer A. Customer B, the receiver will receive an amount of AED 10.
Click here to know about How to transfer money from your credit card
Etisalat International Credit Transfer
Etisalat provides a facility for its customers to transfer credit to their home country. A customer who is having an Etisalat prepaid account can credit using their unused prepaid credit towards recharging any prepaid account of their home country.

International credit transfer can be done by using either My Etisalat UAE app or by texting the international number to 1700.
For example, if the sender wants to transfer credit then he has to type 9198XXXXXXXX to 1700 (this is free). Follow the instructions, once the prepaid number has been sent to 1700, you will receive the message in denominations of the destination country and check the related charges in AED before confirmation. There will not be any additional charges and the receiver will get the credit immediately. Also, a text message will be sent regarding the transaction.
To do this international credit transfer transaction a customer should have sufficient balance on wasel account or have a valid postpaid account. Wasel account is a prepaid account on Etisalat.

International credit transfers are useful for the following reasons.
For Expats, it provides an assurance to stay with their family members by sending a gift of air time.
Tourists & Business travelers can stay in touch with their family members and business partners and keep foreign prepaid accounts active while traveling in the country.
The receivers need not visit any outlet to top up any air time, it will be credited to their account along with the message.
Quick cross border transfers are made easy with international credit transfers
Click here for Etisalat smiles and programs
Credit Request
A customer who is having Etisalat prepaid account can ask for credit from other customers. This service can be enabled by typing *107*05mobilenumber*amount of credit request# and follow the instructions. A message that you are requesting for credit will be sent to the customer you have requested credit. This message also contains instructions for completing the transaction. This service is free and can be availed 2 times in a day. This service is available only for prepaid customers.
Etisalat Data Balance Transfer
Apart from balance transfer, Etisalat customers can transfer their data as well.
A minimum data of 100 MB can be shared
Prepaid customers can transfer unlimited data while postpaid customers can transfer a maximum of 5GB per transaction
Maximum 5 transfers can be made per month
AED 3 per 100MB is charged as data transfer fee on Etisalat
How to Transfer Data from Etisalat to Etisalat?
Through Etisalat App
Dial #100*ReceiverNumber*DataInMB#. Example, dial #100*05XXXXXXXX*2000# to transfer 2GB data
Or Dial #100# and follow the instructions
About Etisalat
Etisalat is one of the world's leading telecommunications providers. It is a multinational Emirati based telecommunications service provider. It is operated in sixteen countries across the Middle East, Asia, Africa. It provides internet, Wi-Fi, and electronic payment services to millions of customers. Etisalat has its headquarters in Abu Dhabi. It was established four decades ago and then it was the first telecommunications service provider in the UAE. Etisalat is famous for its most valuable portfolio brand in the Middle East and North Africa.


Vinay Kumar Goguru is a finance professional with more than 8 years of diverse experience as a researcher, instructor and Industry work experience with both public and private entities. Prior to MyMoneySouq, he spent 6 years in Berkadia, It's a commercial mortgage banking company. He has a "Doctoral Degree in Commerce" and two master's degrees with a specialization in Finance, one as Master of Commerce and other as Master of Business Administration. He has written several articles on personal finance, published by different International journals. He loves traveling, reading and writing is his passion. He has a dream of writing a book on his favorite finance topics.