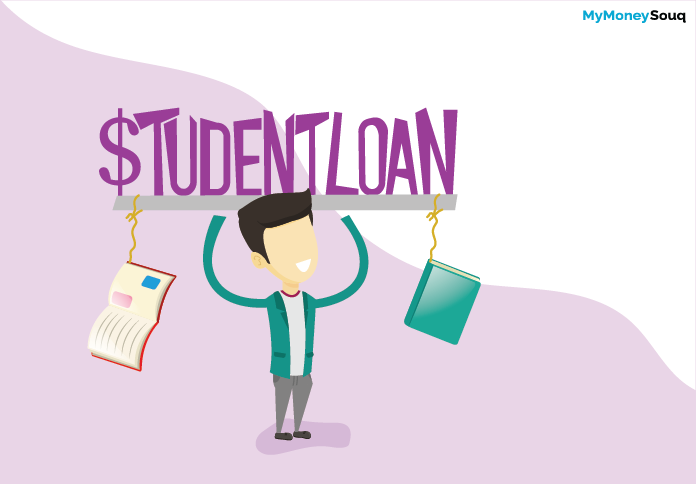 Education has become expensive these days be it at your residing country or overseas. Scholarships are a well-known way to pay college fees. Apart from scholarships, to meet the college fees and cost of living people either turn towards their savings or approach banks or financial institutions for loans like student loans.

Education loans which are also known as student loans have people extremely popular these days. It is a loan provided to students to fulfil their dreams of higher education. Banks or financial institutions offer loans exclusively for a student for further studies. Using this assistance students can pay their college tuition fees.
Check: How to pay for your education without getting into too much Debt
How does an Education Loan work?

As the same suggests, a student loan will help a student get financial assistance for higher studies. It is similar to other loans provided by banks and financial institutions. In the UAE, student loans work slightly differently. Though the loan is provided for the education, the parent of the student acts as the main borrower and the loan is provided if the parent meets the eligibility.

The repayment period differs with each bank. Some banks charge a simple interest rate until the course completion or a specific time.

What does Loan for student in UAE cover?

The loan provided for students will not just cover academic fees but also other expenses that are made during the academic period. The other expenses should be related to education like books, examination fees, library fees, practical fees, and much more.
Also, Read: What to consider when you are funding your child education?
What is the eligibility for loans for students?

The eligibility for loans for students varies with each bank. The basic eligibility at any bank is,

The minimum salary required for loans for students in UAE is AED 10,000
The applicant needs to be a UAE resident
Documents required for Loan for a student in the UAE

Similar to eligibility the documents required for loans for students varies with the applicant's profile. The basic documents required are,

Emirates ID of the applicant and student
Passport of the applicant and student
Residence Visa (for expats) of the applicant and student
Income proofs of the applicant
Student ID or University Enrolment form
Relationship proof of applicant and student
Fee Quotation from the educational institution
Banks in UAE providing Loan for students

There are a few banks in UAE that provide loans for students like,

The maximum tenure of 48 months is provided
Interest rates start from 5.99% per annum
Top-up loan facility is provided
No need to pay extra for Credit Life Insurance
A minimum salary of AED 10,000 per month is needed
Must have a current account with HSBC
Salary transfer is required
Interest rates start at 2.65%
Upto AED 300,000 finance is provided. Maximum 125% of the course fee is provided as the loan amount
Free international Cash card
Loan protection is provided
No Early Settlement Fee is charged
The maximum tenure of 48 months is provided
Interest rates start at 4.99%
Upto AED 300,000 finance is provided.
The maximum tenure of 48 months is provided
Free credit card for the applicant and a supplementary card for the student (if the student is above 15 years)
A dual-currency prepaid card is provided
A minimum salary of AED 10,000 is required for the applicant
A maximum loan amount of AED 250,000 is provided 
Competitive interest rates are charged 
The maximum tenure of 48 months is provided 
Can defer two instalments for free per annum
No processing fee is charged 
First instalment grace period is after 90 days 
Provides comprehensive personal finance takaful coverage 
A minimum salary of AED 10000 is needed 
Salary transfer to ADIB account is mandatory 
Applicant's company must be listed at ADIB's approved list of companies
Student Loans or Personal Loans?

The features and working of the education loan and personal loan are almost similar. The interest rate is an important factor for any loan, the borrowers must check if the interest rate charged on a loan for a student is less or the personal loan. Student loans can also come with several benefits like prepaid card, ATM card, etc. along with some exclusive benefits for students. The loan applicant must check the eligibility, features and benefits and pick the right option that suits their requirements.

Nikitha is a Senior Analyst at MyMoneySouq.com. She has been writing about personal finance, credit cards, mortgage, and other personal finance products in the UAE. Her work on Mortgage loans has been featured by the GulfNews and other popular Financial Blogs in the UAE.