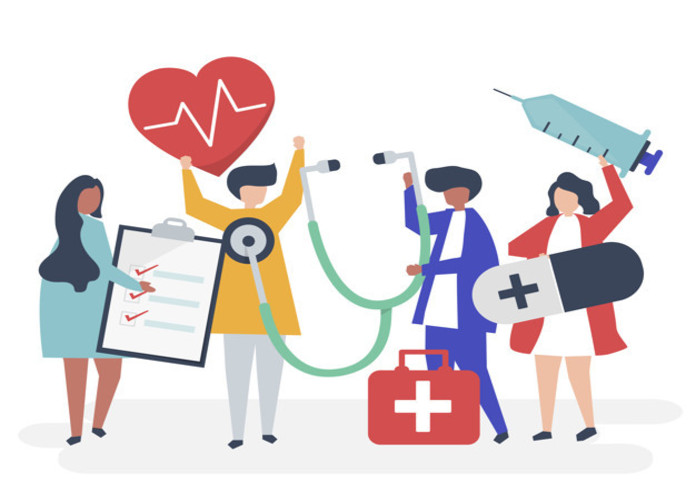 Medical Insurance is a must for the people who stay in Dubai. There are two ways or options to avail medical insurance in Dubai. One is to have a government-issued health insurance card and the other is private medical insurance card.

From the year of 2014, it has become compulsory to have minimum medical insurance for the expat workers working in Dubai.

In January 2014, health insurance took its place in Dubai and became compulsory as mentioned below

Companies having a count of 1000 employees has to provide insurance coverage from October 31, 2014.
Companies with 100-999 employees should provide insurance coverage from July 31, 2015.
Companies with employee count less than 100 should offer insurance from June 30, 2016.

Go through: Top medical insurance providers in UAE
How to get medical insurance in Dubai as an expat?

If you are someone who is in the plan of moving to Dubai, then here are the ways through which you can get secured medical insurance in Dubai

Buying it online

Nowadays with technology gaining importance in our day to day lives, buying medical insurance has become easy. A quick and processed search will display you the details of well-known expat insurance providers in Dubai from which you can compare the plans and buy the one that best suits your requirements.

But this process cannot completely secure the medical insurance for you online in Dubai. Since securing medical insurance is linked with Visa and as getting the medical insurance requires your medical history, you have to contact the sales advisor to complete the entire process.

Reliable websites have the comparison tools built within them so that if you need a quote from the site, you can directly be contacted by the sales advisor.

Approaching the insurer directly

This is the second way to go with in order to secure your medical insurance. Dubai has a considerable number of insurers that provide you with the best medical insurance legally.

This might sound like a good way to get your medical insurance but is time-consuming at the same time if you have to find out the best insurance for you and your family from a number of plans that are available.
Consulting an intermediary

You can also get your medical insurance from Dubai by going to the intermediaries. In Dubai, most of the intermediaries you find are the brokers who can either offer you a good deal of medical insurers that suits you.

The main gain of approaching a broker to get medical insurance is that they usually have contacts with more than one insurer and almost with every insurer in Dubai. This implies that they are able to expose you to the market depending on your coverage needs and help you in discovering the insurers that might not be found if you search the insurer on your own.

If you are an employee of an organization

If you work under an employer in Dubai, it is the responsibility of the employee to get the insurance for the families and dependencies. This implies that even though the health card is provided to the employee, additional coverage has to applied in order to get the insurance for the family and dependents.

Some employers may insure the families and dependents while others don't.
Insurance by Private insurers

Most of the companies in Dubai offer Health insurance to the workers of the organization. If you find that the insurance is not up to expectations, then you go with top up of the premium account in order to get services from a broader network of hospitals and clinics.

You can find the private insurers by contacting health insurance brokers like UMD (UAE Medical Insurance) that lends a helping hand to you in choosing the personal, family or group insurance plan according to the needs and necessities you have for the moment.
As health card is mandatory for medical insurance in Dubai, here is the way to get it in Dubai.
Getting a health card in Dubai
Dubai Health Authority provides Health card and in order to get the Health card, you need to apply for the same at DHA(Dubai Health Authority). In order to get treatment in Dubai's hospitals, you need to have the health card issued by DHA and you can get the treatment from Rashid hospital, Latifa hospital and all the other hospitals and government clinics in Dubai. You can visit the DHA health centers in order to apply for the health card.
Documents you need to carry

A copy of valid residence Visa
Emirates ID
Two passport photos
Tenancy contract
Registration form for the application of new health card
How to use your medical health card in Dubai?

If the usage of the medical card is confined to your network, then the process is simple as it only includes you approaching the reception area of the hospital and filling up an application form and present the medical card.
If there are any treatments that need pre-approval, then the clinic will help you with that. Once you are done with the treatment, you will get a printed record of the treatment and your entire visit to the hospital.
If in case the insurance you have requires you to pay the deductible and coinsurance fees, that can be paid by the time you finish your visit.

If you seek the medical help outside your network, then you ought to pay the treatment fees according to the terms of that clinic followed by getting an application for the reimbursement.
This might not be an issue as you can get an application form from the major insurance and submit it online as soon as you fill it.
Emergency Medical treatment in Dubai

If anyone is in need of emergency medical treatment, they should contact 999. The ambulance will arrive at your location and head you to the preferred hospital or to the government hospital. Once your condition comes to a balanced state, you can move to the other hospital based on the necessity of the situation.
Why medical insurance is needed in Dubai?

There have been multiple cases in the past where people ended by paying a huge amount on their treatments. Hospitals and other clinics in Dubai will not usually turn down anyone who approaches them for medical treatments and they also let them stay in the hospital until the bill got paid.

This is the reason why it is essential and useful for you to renew your medical insurance to escape from the huge payment of medical bills or staying in the hospital after treatment for long hours.

All the residents of Dubai including the expats should have compulsory medical insurance as the absence of medical insurance may result in not issuing Visa or renewal of Visa if you are already staying in Dubai.
Check : Medical coverage for everyone in Abu Dhabi
Things to know while having medical insurance in Dubai

Always make sure that the medical insurance you get is applicable not only in Dubai but also in other emirates.
Have certainty that the clinics that are included in the network are comfortable for you to visit and have treatment.
If you visit the clinics that are outside your network, then you might have to pay the full cost of treatment and can claim back up to 80%.
Childhood vaccinations are usually included in the general medical coverage you get with the insurance.
If you have any plans to visit places on vacations outside Dubai, keep it in mind that having a global or international medical insurance is mandatory.
When it comes to dental or optical medical coverage, that depends on the options that you and employer should sign up for.
If you are under the situation of having delivery in Dubai, then you should also have maternity insurance coverage with you.
If you have enhanced medical coverage your coverage features might include LASIK medical surgery, vitamins, cosmetic procedures, infertility treatment, psychiatric treatment and also other treatments homeopathy, acupuncture, etc.,
You will also be given access to 24/7 English speaking call centers when you are abroad with the enhanced medical coverage.
If you are going to a broker to get your medical insurance, they always go with the licensed broker as an unlicensed broker may not fetch you a good insurer who fits your needs.
Conclusion
If you are an expat looking for the medical insurance in Dubai, following the above-mentioned procedures and rules will guide you in having good knowledge about the same.