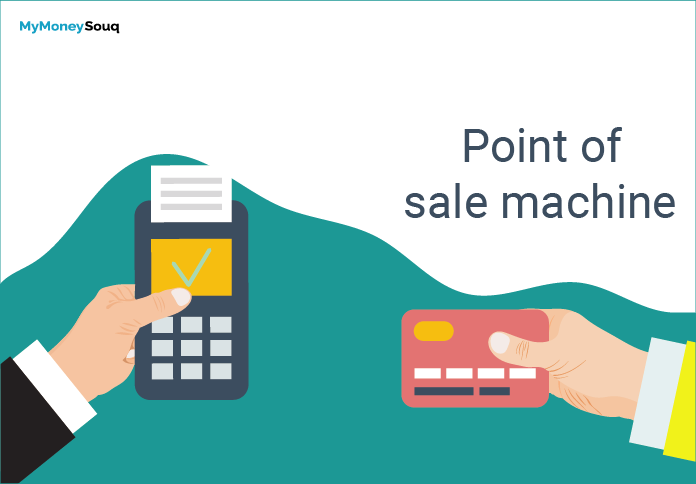 The POS machines that is, Point of Sale machines are also called a point of purchase. It is a device through which a retail transaction is completed. The Point of sale machine calculates the amount owed by the customer, it shows the amount payable, it prepares the invoice for the customer. The invoice generated by the Point of sale machine is an indication for making the payment. The customer uses his debit or credit card for making payments. To complete the transaction, the customer needs to enter their Personal Identification Number (PIN). Once the payment is received the merchant will issue a receipt for the successful completion of the transaction. The receipt will be usually in the printed form and it can also be in electronic format.
Here in this article, we bring you the aspects of point of sale machines provided by some of the banks in the UAE.
Mashreq Bank Point of Sale Terminal
ADIB Bank Point of Sale Terminal
ADCB Bank Point of Sale Terminal
RAK Bank Point of Sale Terminal
Federal Bank Point of Sale Terminal
1. Mashreq Bank Point of Sale Terminal
Mashreq Bank provides POS Machines. With cards becoming deeply ingrained in people's lives, it is important to have a fast, secure, convenient, and flexible point of sale terminal. Mashreq offers the latest technology of Point of sale terminals to provide seamless services. This enhances the customer experience and sales through various add on services, Easy payment plans, and salaam redemptions, etc. Below is the point of sale terminals provided by the Mashreq bank.
Dial-up point of sale Terminals – This point of sale terminal is connected to the dial-up connection, these terminals provide fast processing in a safe environment.
GPRS Point of sale Terminals –GPRS terminals provide wireless service where businesses can offer their customers a convenient way to make payments. It provides a flexible method of payment through any location. It gives a point of sale terminals a wide range of geographical access. Mashreq's point of sale terminals are the most advanced encrypted. The security systems are high and encrypted with the chip and pin facility. Mashreq ensures the utmost security for customers and the merchant's experience.
Mashreq Point of sale terminals works on PSTN/GPRS line
It is easy to deploy and fast for doing transactions approvals
It provides wireless connectivity through GPRS or WiFi or Bluetooth combo or 3G for meeting the environmental requirement
It provides support for contactless payment
It works in compliance with end to end encryption
It is approved with PCI PED 2.0 and PCI PTS 3.0
Mashreq's point of sale terminals accept major cards including VISA, MasterCard, China, Union Pay, American Express, JCB (Japan Credit Bureau), and Diners.
To get your point of sale machine you can contact the bank or call at 800 4700 for any inquiries.
2. ADIB Point of sale Terminal
ADIB provides POS machines which help payments through cards in their business outlets. ADIB provides business owners with ADIB POS Finance as well. ADIB business merchant accounts are required for business owners. Against point of sales receivables, ADIB offers merchants finance with optimum rates. ADIB has become the first Islamic bank to combine the POS machine, current account, and business finance with one offer to merchants. Any business that uses ADIB point of sale machines and settles payments using the ADIB merchant account needs to open the ADIB merchant account.
ADIB Point of Sale Finance– The ADIB Business Merchant Account provides benefits to merchants to get finance on Point of sale machines. The following are eligible merchants to apply for Point of sale finance.
Business entities registered in UAE and have been in the market for at least one year.
Yearly sales turnover is between AED 1 million and AED 100 million.
Manufacturing/trading or service entities with Shari'a Compliant
Merchants who use POS machines for receiving payments
Merchants who transfer POS receivables to ADIB Merchant account
For more details visit the nearest branch or call 02 6578777 for more information.
Click here to know about Cash Withdrawals using a credit card
3. ADCB point of sale Terminal
ADCB provides the seamless in-store point of sale payment platform that is convenient and secure for both merchants and customers. ADCB provides guidelines to merchants on the POS machine. It provides the point of sale training manuals to merchants. ADCB point of sale terminal provides the following.
Fast 3G and 4G Point of sale terminals
Best transaction approval systems
NFC or Contactless solutions
Highly encryption with security and compliance
It is available with MasterCard, Visa, Maestro, Union pay international, American Express, Diners payment cards and JCB (Japan Credit Bureau)
It allows the Dynamic Currency Conversion facility where users can pay in their preferred currency
Visit the nearest branch or call +97126210090 for more information.
Click here for How banks use credit score reports
4. RAK Bank Point of Sale Terminal
RAKBANK offers a unique point of sale terminal device. It performs the function of the cash register and also functions as an electronic point of sale terminal. It has a feature of linking with your business bank account. The point of sale devices are cost-effective, handy, small, lightweight, and easy to carry.
RAK Bank point of sale Finance– RAK Bank also provides a point of sale finance. Retail business entrepreneurs who seek to increase their working capital and expand their business can get finance against point of sale receivables through RAKBANK.
Retailers can get higher loan eligibility for business with repayment options that are up to 60 months.
Competitive interest rates which are collateral-free
POS receivables of other POS service providers can also be assigned.
Visit the nearest branch or call 042130000 for more information.
5. Federal Bank Point of Sale Terminal
Federal Bank provides a POS machine and to avail this, the merchants should have a valid business with a track of 6 months or more. The business should furnish their documents. The merchant should have a current account with a federal bank. The following are the features provided by the Federal bank POS machine.
All Visa or Mastercard or Maestro Cards are accepted
A choice of fixed terminals and wireless terminals are available
There are no installation charges
Customized MIS reports
Transaction data can be retrieved according to customer requirements
No hidden charges
It avoids the risk of handling cash
It has a flexibility rate structure
Provides loans facility against sales
Provides call center support
The federal bank also provides e-POS where the merchant does not need to have a point of sale machine to receive payments. The federal bank presents a new Fed e-POS and electronic point of sale. It is a self-service portal where merchants can accept cashless payment. In order to receive the payment, the merchant has to key in the mobile number and enter the bill amount in the E-POS portal. The customer receives an SMS with the payment details in the URL. The customer completes the payment and the transaction is successful.
For more details, you can visit the branch or call +971 4282 6422.
Take away
The point of sale terminal is a replacement for cash, it processes through the credit card, debit cards, and PIN number. Since there are no charges applicable to end customers for making payment through the Point of sale machines, it is more comfortable and increases the ease of business. If you are a merchant and you need a POS machine you can request the bank where you have an account. The bank will provide you with the point of sale machine at your establishment.


MyMoneySouq helps the visitors to find the right financial product by comparing different products provided by various banks in UAE. It compares different loans, insurance, accounts, credit cards. It works with a goal to give the users a clear idea of what to expect out of their funds and what they can get from those.