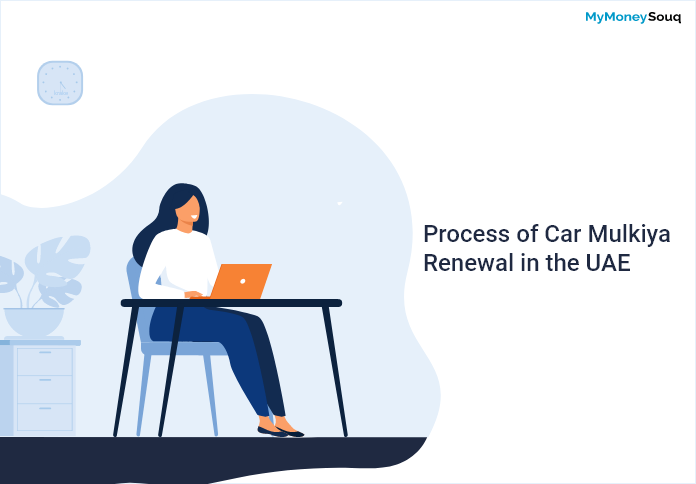 The process of Car Mulkiya renewal is very simple. You have to get your vehicle tested at the test centres and have all your dues cleared by the authorities. In this article, we provide you with the details of car mulkiya renewal in the UAE and also how to get Mulkiya copy online in Dubai.

How to get a Mulkiya copy online in Dubai?
Mulkiya is an important document for car drivers. Mulkiya is usually provided as a physical card which is handed over to the vehicle. Apart from the physical card, you can get Mulkiya copy online in Dubai by visiting RTA website or Dubai Police App.
Login to the RTA website or Dubai Police App
Go to the vehicle details section
You get the details of the Mulkiya including the expiry date
Renew Mulkiya Online
You need the following documents to renew your Car Mulkiya in the UAE.
Your old Mulkiya
Driving License
Emirates Id
Valid residence visa
Apart from the above,
You should also have valid insurance for the next year.
You should pass all your vehicle mandatory tests and
Pay all related fines.
Get Car Insurance
Once you have the required documents you have to purchase the car insurance online in UAE. There are various insurance companies that provide the service. There is also a facility for taking car insurance in advance, you can select the date of your choice for car insurance. The car insurance companies will set the date according to your requirement. You can get the quotations from the car insurance companies and according to your requirements, you can select the best plan. If your vehicle registration expires you get a grace period of 30 days from the date of expiry. The grace period is issued to maintenance work for the vehicle.
Moreover, it is illegal to drive with expired insurance. If you are caught then you will be penalised hefty fines minimum of AED 500. There will be four black points added to the violator and the vehicle will be impounded for 7 days.
Prepare your Car
Prepare your car ready for the test. You have to wash your car and have all the safety equipment like triangle signs, fire extinguisher, cylinder pressure and expiry date should be correct. Check the air pressure of tyres and make sure that it is accurate.
Click here for Tasjeel auto services in the UAE
Pay all pending penalties
Motor insurance is valid for twelve months. You have to pay all your pending fines. If you have any black points or blocked fines you should also clear all penalties. The black points can be paid only at the vehicle registration centres. Before you go for mulkiya renewal you have to clear all your pending fines and only then mulkiya renewal is possible.

Car Testing
If your car is new there is no need for testing for the first two years. If your vehicle is older than three years you have to get the car tested. You have to get your car tested at the testing centre. For testing your car you can visit RTA vehicle testing centers or Tasjeel Center and get it done. The car inspector will inspect your car at the testing bay. You have to show your emirates id and driving licence to pay the testing fee of AED 170. It approximately takes 20 to 40 minutes to complete the test and the test is valid for 30 days. If the test fails then the owner should have the required repairs done and have the test completed again. If there are any fines they have to be paid and get it cleared.
Click here for 24 hours car registration and testing services in Dubai
RTA Vehicle testing Centres
Taman
Tasjeel
Shamil
Wasel
Mumayaz
Shirawi
Car Mulkiya Renewal – Steps
Once you have completed the car test and have all documents ready then you can go renew the online or in-person by visiting RTA.

Mulkiya Renewal Online
If you are choosing to get it done online then it's comfortable as
You can visit the RTA website or Download the Police App of your Emirates
Log in or Register with Emirates ID
Enter your Emirates id number to get registration with the application. 
You will get the option for renewing the registration card. 
The fees for the renewal of the Vehicle license is AED 350. After you pay the fee you have to submit the relevant documents, give your address, contact number and other details for shipment of your document.

Document Delivery
After you have paid the registration fee and all the process is completed. You will get the document in 3 to 5 working days by post.

Vinay Kumar Goguru is a finance professional with more than 8 years of diverse experience as a researcher, instructor and Industry work experience with both public and private entities. Prior to MyMoneySouq, he spent 6 years in Berkadia, It's a commercial mortgage banking company. He has a "Doctoral Degree in Commerce" and two master's degrees with a specialization in Finance, one as Master of Commerce and other as Master of Business Administration. He has written several articles on personal finance, published by different International journals. He loves traveling, reading and writing is his passion. He has a dream of writing a book on his favorite finance topics.