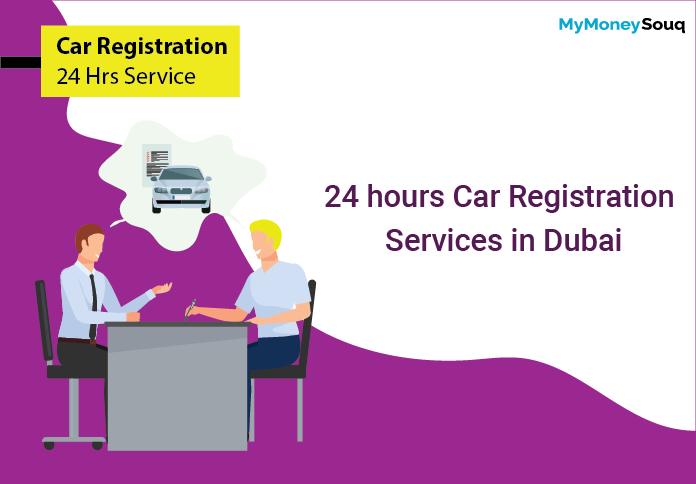 Thousands of people move to Dubai every year to make their livelihood and to travel around the city most of them prefer their car. Having a license is not sufficient but having your car registered is also very important. Using a simple and efficient process you can register your car. The Road Transport Authority (RTA) has facilitated car registration services to the customers round the clock. To make this convenient to the motorists the RTA operates four centers in Dubai. The services include vehicle registration and testing which is done at any time in these centers. The statistical data by RTA shows that there is a huge increase in the registration of new vehicles. As there is a huge waiting time to get vehicles registered, to reduce the burden night working hours have been started by the authorities.

24/7 Car registration service centers in Dubai

The service centers in Dubai are
Tasjeel Centre Al Barsha,
Tasjeel Centre Al Twar,
Tamam Vehicle Testing Centre in Ras Al Khor,
Al Ghusais,
Shamil,
AG Cars Services
Among these, three centers will be facilitating services for light vehicles. Tamas Ras Al Khor will be providing services for heavy and light vehicles. This was done because of the increase in demand from the customers and also to provide seamless services to the customers.

The RTA has introduced an electronic kiosk to endeavor registration services. There are a total of eight partner firms that provide registration services and twenty-two centers in Dubai provide Car examining services.

Smart solutions are provided through mobile and the internet and other physical office services are provided after regular working hours. Motorists can avoid day time rush as they can get their vehicles tested and registered at any time.

Click here for Top Car Insurance Brokers in the UAE
Car Testing services and Registration

To register your car you have to first get your car inspected at authorized testing centers. For this, the RTA also provides 24/7 vehicle testing services. Vehicle testing can be skipped if the car is manufactured in the past three years prior to the registration date. Registration is possible if only the test result comes positive.

You need to have the car insurance and clear any penalties if applicable. You have to apply for the car registration and pay the fees. You can get your number plate expiry sticker with the date and Mulkiya card.
TASJEEL Vehicle Testing Centres in Dubai
TASJEEL is the most established vehicle testing and registration service in Dubai and the Northern Emirates. It provides its services across the UAE from Sharjah, Al Dhaid, Dubai, Ras al Khaimah, Khor Fakkan, Kalba, and Hatta.
All the add-on services or special services may not be available in all the branches, it is important to contact the service providers first and get your request processed. It is better to contact the Tasjeel branch for more information.
TASJEEL AL AWEER
Contact: +971-4-333-1510
Opening hours: 07:00 am to 10:00 pm
TASJEEL AL WARSAN
Contact: +971-4-333-6679
Opening hours: 06:00 am to 12:00 am | Closed on Friday
TASJEEL AL BARSHA
Contact: +971-4-347-3619
Opening hours: 07:00 am to 12:00 am (Saturday to Thursday) |04:00 pm to 12:00 pm (Friday)
TASJEEL JAFZA
Contact: +971-4-883-0067
Opening hours: 07:00 am to 05:00 pm
TASJEEL AL TWAR
Contact: +971-4-257-3778
Opening hours: 07:00 am to 10:00 pm
Wasel Vehicle Testing
Wasel Vehicle Testing is a part of Saif Belhasa Holding. It is a strategic partner of RTA Dubai. It offers vehicle testing services along with car repairs. For a speedy testing service for your vehicle get your vehicle to the counter. Initial simple checks are done at the center which can extend the vehicle's life. This will help you to keep your vehicle in good condition and also in compliance with road safety regulations in Dubai. The branches of Wasel Vehicle Testing are the Wasel Vehicle testing center in Dubai and Wasel Vehicle testing Al Jaddaf. Below are the contact details.
Wasel Vehicle Testing Centre in Dubai
WASEL VEHICLE TESTING Al JADDAF
Contact: +971-4-324-5524
Opening hours: 07:00 am to 09:30 pm | Closed on Friday
TAMAM Vehicle Testing Centre
Tamam is the vehicle testing center that is licensed by the Dubai Road and Transport Authority. Tamam specializes in car inspection and registration of heavy and light vehicles. It is a verified wing of Dubai Municipality in relation to the inspection of food transport vehicles and this is according to the guidelines of the Dubai Municipality Food Control Dept.
The technical testing facility will do the following types of tests on the vehicles.
Motorcycles: Tamam provides a separate motorcycle lane for testing & which ensures safety for all motorcycles
Heavy vehicles: 50 heavy vehicles can be accommodated at Tamam.
Buses: The buses which are brought are ensured that they are driven safely on the road.
Light vehicles: A team of qualified inspectors and multiple lanes will facilitate many light vehicles at a time.
Contact Details
Location: OTE Complex, Ras Al Khor Road, Al Aweer, Dubai
Contact: +971-4-706-9900
Opening hours: 08:00 am to 10:00 pm
Al Qusais
Al Qusais Service Center is an auto repair shop in UAE. It is situated near Mission fire fighting and safety services and mediclinic qusais.
Address: Qusais – Beirut St – Dubai – United Arab Emirates
Opening Hours: 7:00 AM to 10:30 PM;
Friday 7:00 AM to 12:00 PM & 3:00 PM to 10.30 PM; Sunday Holiday
Phone: +971 800 3662
Shamil
Shamil in coordination with MOI and RTA offers services in vehicle testing, registration, renewal, insurance, and much more. It operates with six branches in the UAE. It provides VIP services by collecting the car from the residence and delivering it back to customers.
Address: AL Qarayen 1, Umm Al Quwain, Umm al-Quwain, Umm al-Quwain Emirate, 59224 22214
Opening Hours: 7:00 AM to 10:00 PM;
Friday 4:00 PM to 10:00 PM; Saturday Holiday
Call +971 4 343 4444.
AG Cars Services
AG Car services are one of the largest multi-brand car service providers in the UAE. It offers services for car repairs and maintenance. It is authorized by auto insurance operators to provide accident-related repairs and car body repair services.
Address: Opposite Hamrain Centre, Behind Commerical Bank of Dubai – 8 8th St – Dubai – United Arab Emirates
Opening Hours: 8:00 AM to 8:00 PM, all days of the week
Phone: +971 600 540045
24/7 Vehicle testing services in Dubai

If you purchased a new car or you want to transfer the ownership of your car inspection is done at authorized centers. This is done to make sure that vehicles that move on the road are in good condition and car registration is mandatory prior to registration.

There are four centers for car examining services in Dubai: Tasjeel Centre Al Barsha,, Wasel Belhasa Vehicle Testing Centre in Al Jaddaf, Tasjeel Centre Al Twar and Al Ghusais.
Car owners can select testing their vehicles in any of these places at any time of their choice. They can avoid long queues and save time. The RTA provided this facility as there was a huge demand from the customers. To provide efficient service and convenience to customers, 24 hours Car Registration was provided by the authorities.

If the car testing result comes negative then the defect must be repaired in 30 days and get tested again. During this one month time period, one retest is allowed. After this test, if your car does not pass the test you will not be allowed to register and the penalty for each day will be levied as the car is not registered.
Click here for Car registration renewal Dubai
Charges for vehicle testing
The charges for vehicle testing are AED 170. The average time for vehicle testing is 30 to 45 minutes. If a vehicle gets a negative remark in the test then the car owner should resolve the issue. It is best advised to resolve all the car issues prior to going to the test center.

Documents required for car registration
The following are the documents required for registration of a car in Dubai are
Car ownership documents and vehicle clearance certificate.
Emirates ID, copy of Passport and visa (if required)
Car insurance
Mortgage documents(if required)
Diplomats should provide a valid diplomatic ID. A supporting letter from the ministry of foreign affairs should be provided in Arabic and signature endorsement with an authorization letter with a trade license certificate.
The validity of car registration
The car registration is valid for twelve months and a 30 days grace period will be provided after twelve months. Car inspection, repairs, and maintenance should be done within this period. For thirteen months, all insurance policies are valid. When you purchase your car, the first registration of the car is done by the dealer and later on the following annual car registration should be done by the car owner.

Conclusion

Car registration is mandatory in Dubai. The RTA facilitates providing SMS services and reminding customers about the vehicle registration expiry date so that they can register on time and avoid penalties. There is a 30 days grace period for renewal of registration without any penalty. After 30 days there will be a late fee and an additional monthly fee which will be charged from the date of expiry of vehicle registration. Car testing and registration facilities are provided round the clock. If your car registration renewal is nearing then get your vehicle tested. Register your vehicle, avoid penalties, and have a safe drive.

Vinay Kumar Goguru is a finance professional with more than 8 years of diverse experience as a researcher, instructor and Industry work experience with both public and private entities. Prior to MyMoneySouq, he spent 6 years in Berkadia, It's a commercial mortgage banking company. He has a "Doctoral Degree in Commerce" and two master's degrees with a specialization in Finance, one as Master of Commerce and other as Master of Business Administration. He has written several articles on personal finance, published by different International journals. He loves traveling, reading and writing is his passion. He has a dream of writing a book on his favorite finance topics.