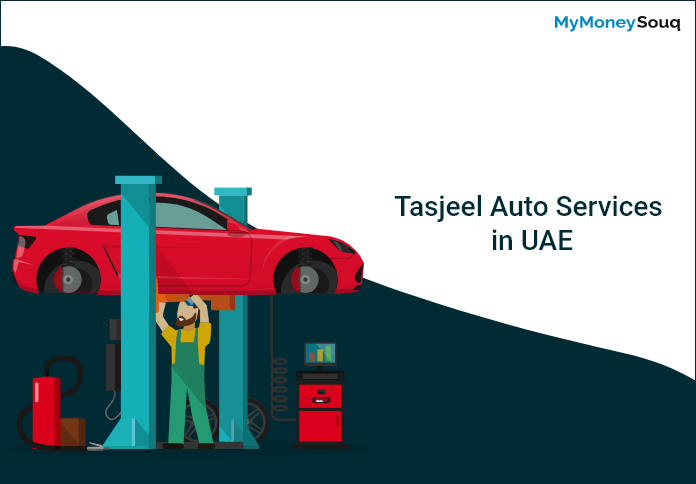 The authorities in the UAE are always striving to make life comfortable for residents by bringing advanced techniques and making them easy access. Under vehicle services, Tasjeel is the best source of auto services in the UAE. Multiple services are available from the Tasjeel such as vehicle testing, license services, registration and others. Here in this article, we give you details on services provided by the Tasjeel in the UAE.

Services Provided by Tasjeel
There are a number of services available from Tasjeel in Dubai and Sharjah. These services make a comfortable life for the residents. The services and their charges of Tasjeel are listed below.
Vehicle Testing Services
Renewal services
Comprehensive Test
Car evaluation services
Chassis Inspection
VIP Services
Number Plate service
Dubai Municipality test
Civil Defence Test
Accessory shop
TypeScript Services
Battery Testing Services
Alignment of Wheel service
International driving license service
Gulf Specification Test

1. Vehicle Testing Services
Vehicle testing services are provided across all Tasjeel service centres. The renewal test is the most popular test which makes all vehicles get qualified for registration renewal. It is a forty-five minutes inspection service which is compulsory to get it done. Without the vehicle inspection, registration is not done unless the car is manufactured three years prior to the registration. Get your vehicle tested at any centres in the UAE. The charges for testing are different at different centres. You can contact the service centres to get the exact amounts. Import and Export testing is also provided by Tasjeel auto services. The service center certifies vehicles according to its import and export.
2. Renewal Services
The vehicle owners can get the registration done at Tasjeel centers in Dubai and Sharjah. Renewal is done only after the vehicle testing. The Renewal service can be availed through online. Before processing for online registration it is advisable to have all the documents prior to applying for Tasjeel car-renewal registration. The fee charged for car registration is around AED 380.
Click here for Car registration renewal Dubai
3. Comprehensive Test
For the service of used car sellers and buyers, there is a Comprehensive test service provided by the Tasjeel Auto services. The test will provide an appropriate condition of the vehicle on which you can rely and make your decisions. The decision of purchasing a new vehicle or selling the used vehicle can be done with a comprehensive test. The time that is taken for the test is one hour and fifteen minutes along with the test drive. This service is provided only in selected centers AED 350 is charged at any centre in Dubai and Sharjah.

4. Car evaluation service
It is sometimes difficult to access the true market price of used cars. If you are planning to purchase a used car just ask for a Tasjeel car valuation certificate, you will get an accurate estimate of car value. As a car owner, if you want to get this certificate, you should first get a Comprehensive Test completed and then apply for a valuation certificate. Comprehensive Tests may be done at any centres but car valuation services are done only in specific locations like Tasjeel Qusais. The location is Al Barsha, Al Qusais and the fee charged is AED 250.

5. Chassis Inspection
For a complete check on the base frame, carriage, frame, structure of vehicle condition you can have a Chassis Inspection done at Tasjeel Qusais. The Tasjeel fees are different for light vehicles is AED 475 and it is different for heavy vehicles.

6. VIP Services
If you are a busy person having a hectic work schedule then you can get the VIP services that are provided in Sharjah and Dubai. The fee for VIP services is AED 150 along with other charges that you select. The service locations are Dubai- Al Barhsa, Al Quaisais, JAFZA, Al Warsan and in Sharjah, the location is in Auto village.

7. Number plate services
At Tasjeel Centres you can have number plates fixed in Dubai and Sharjah. In the first time registration fees the expenses related to number plate fixing are included. There is an additional expense for replacing and fixing the number plate. The fee charged is AED 120.

8. Dubai Municipality Test
For Food transport vehicles Tasjeel provides vehicle testing according to the conditions and health guidelines given by Dubai Municipality. This test is required for all the vehicles that deal with transporting food items. The Tasjeel centres are in Al warsan and Jafza.

9. Civil Defence Test
Vehicles that transport dangerous goods according to Civil Defense, Tasjeel provide services to these vehicles. Civil Defense Test is done at Tasjeel centres in Alwarasan and Jafza.

10. Accessory shopping services
A range of products are available at Tasjeel auto services like salik cards, WCNP stickers, fire extinguishers, number plate frames, first aid kits, reflective sign boards, precautionary safety stickers and others.

11. TypeScript service
Tasjeel also provides typing the document services at its service centers that are necessary according to the RTA.

12. Battery testing Services
This service is introduced to help the customers to get to know the condition of the car battery within very less time.

13. Alignment of Wheel Service
This service helps the vehicle owners in wheel alignment. The test will help the customers to get to know the issues and resolve them on time. This can save them from any mishappenings. Generally, issues may arise in tyres due to wear and tear of continuous usage of your vehicle.
Click here for Roadside assistance cover in car Insurance
14. International driving license service
Applying and getting an international driving license at Tasjeel centres is very easy. The Tasjeel Dubai and Sharjah centres provide these services at a small fee. You need to submit the below documents to get your license.
Driving license
Emirates ID
Passport size photos
Any other document as required by authorities
Once you pay the fee AED 200 and submit the required documents you will receive your international driving license.

15. Gulf Specification Test
For the vehicles which are imported into the UAE, this test is performed. By performing the test vehicles are checked if they are compatible with the conditions specified by GCC in the UAE. The charges for this test are AED 330. There are other services that are provided such as battery testing, vehicle diagnosis and find out any problems in the vehicle for which AED 330 is charged.
Tasjeel Location, Timings and Contact details


Tasjeel Location
Vehicle testing centers are in Dubai, Sharjah and Northern Emirates. Look out for the nearest tasjeel centre and get the services.

Tasjeel Timings
The work timings are different across different locations. You can find out the centre timings by contacting them. To provide more convenience to customers there are few centres providing 24/7 services at some locations.

Tasjeel Dubai Contact Numbers
Tasjeel Al Barsha: +971-4-347-3619
Tasjeel Al Qusais: +971-4-267-0290
Tasjeel Al Aweer: +971-4-333-1510
Tasjeel Al Warsan: +971-4-333-6679
Tasjeel JAFZA: +971-4-883-0067
Tasjeel Hatta: +971-4-852-8121
Tasjeel Al Twar: +971-4-257-3778
Tasjeel Discovery Gardens: 800-3662

Tasjeel Sharjah Contact Numbers
Tasjeel Sharjah Auto Village (06-548-7117)
Al Dhaid (06 539 9040)
Abu Shagara (800-3662)
Khor Fakkan 09-238-3480.

Takeaway

Tasjeel network services provide testing the vehicles and their registration. If you are looking for new vehicle registration or renew your car registration or get a car inspection prior to purchasing used cars, Tasjeel provides you with authorized services at your location. The authorization is provided by the RTA and these are in compliance with federal traffic regulations. Get the advantage of Tasjeel auto services as they provide the best services for you and your vehicle.

Vinay Kumar Goguru is a finance professional with more than 8 years of diverse experience as a researcher, instructor and Industry work experience with both public and private entities. Prior to MyMoneySouq, he spent 6 years in Berkadia, It's a commercial mortgage banking company. He has a "Doctoral Degree in Commerce" and two master's degrees with a specialization in Finance, one as Master of Commerce and other as Master of Business Administration. He has written several articles on personal finance, published by different International journals. He loves traveling, reading and writing is his passion. He has a dream of writing a book on his favorite finance topics.