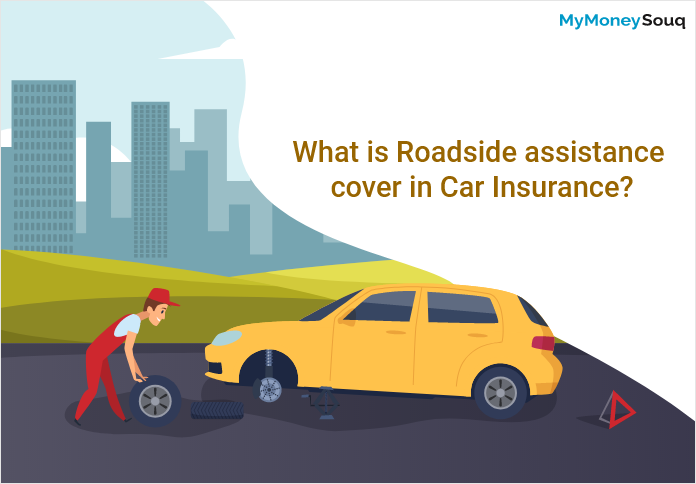 Roadside assistance is a service that provides assistance when you are in the event of problems such as tyre puncture, out of fuel or any other situation. It provides towing services in UAE in emergencies as well. Some insurance companies provide this service along with car insurance policy while other companies provide a standalone product.
How does Roadside Assistance in Dubai & UAE work?
When there is an emergency, you can call your car insurance company and they will come to rescue you quickly. These services are free as part of insurance, however, you will have to pay for some expenses. Suppose if your car is out of fuel and the insurance company providing you with fuel then you have to pay for refueling.
If your vehicle is towed then you will be charged for the towing. Some insurance companies provide cab services and hotel accommodation in case of any emergencies. When you are a long drive or when your vehicle is susceptible to breakdown this service will be more useful.
Roadside Emergency Services
Various advantages are available to the policyholder. Below is a list of benefits.
Emergency car fueling
Towing services
Battery replacement
On-call services
Flat tyre
Alternative transportation
Alternative keys
Accommodation facility
Repairing services
Other services
1. Emergency car fueling
When your fuel tank is empty and you have no sources to reach the petrol bunk for refueling. You can call your service provider and they will come to your rescue and provide refueling your vehicle so that you can reach your destination.

2. Towing Services
Towing services are most useful when the car cannot be moved due to breakdown or damages or other reasons. The insurance company provides a facility for taking care of the nearest approved garage. This service is free until fifty kilometers however this depends on the insurance companies and it is different from company to company.
Click here for Abu Dhabi Traffic fines 2019
3. Battery replacement
If the battery fails then you can call the service provider and fix the problem. Battery inspection service and battery replacement service is provided by the company. The service provider will reach you quickly and provide the service.
4. On-call services
While you are driving, on the way if you need any assistance you can call your service provider to get information on the nearest garages, petrol bunks, towing services, battery failures, and others. On-call services are provided by the service providers to assist the insurance policyholder.
5. Flat Tyre
When you are on the way to your destination if you have a flat tyre do not panic. The team of experts is available to assist you from the insurance company and repair or replace the flat tyre so that you can travel comfortably.
6. Alternative transportation
This facility is provided when your car is not in a position to move due to any incident. Alternative transportation may be provided by ridesharing services, carpooling, or providing cars on rent or public transportation. The services are different from one company to another company.
7. Alternative keys
If you have lost your keys or you have kept your keys in your car and locked it by mistake or your keys are stolen then the service provider will send a professional to help you out. The charges will depend on the insurance provider and they are different from company to company.
8. Accommodation facility
If your car has a major breakdown and it will take a lot of time to get repaired then based on the situation the service provider will offer an accommodation facility at a hotel.
Click here for How to pick the right car insurance in Dubai
9. Repairing services
If there are any mechanical problems with your car, you can call the insurance company service provider they will provide technicians to get the car repaired so that you can keep moving on.
10. Other services
If your car is trapped in mud or sand and you need someone to pull your car out of it, then you can call the service provider. They will come to your rescue and pull the car with cable or chain and you can drive back on the road.

Important aspects that you should consider before taking roadside assistance
The following are the aspects that you should consider before going for roadside assistance.
Vehicle age
Number of available services
Travel route
1. Vehicle age
As all the mechanical assets have depreciation so too your car has depreciation over the years of usage. As the car becomes older the risk of mechanical problems increases. Most of the car insurance companies are unwilling to provide the offer to cover roadside assistance for cars which are aged. The yearly charges will also increase and they will be very high for aged cars. As the vehicle age grows, the annual charges for roadside assistance service also increase.

2. Number of available services
The service coverage has a cap on the number of times that service can be taken. Different companies offer different services based on packages. Some companies offer six times in a year and some offer more than twelve times in a year. The best package you select, the higher assistance you will receive from the insurance companies.
3. Travel route
The amount charged for roadside assistance mostly depends on the age of the car and service coverage selected by the policyholder. There is another most important factor that should be considered is your travel route. If you are a frequent traveler in the city your policy plan may have some variances. If you are a frequent highway traveler there is a different plan offered by the insurance company. According to your requirements, you can select the packages and get the best benefit on roadside assistance.
Conclusion
In the event of any unfortunate happenings, roadside assistance can provide you protection. If your car insurance provides roadside assistance as add on then it is wise that you select the option. If your car insurance provider does not provide an add on facility then you have to opt for a standalone policy. Having roadside assistance in your car insurance pack can be of great help to you. Your smooth car journey can be disrupted because of a flat tyre, mechanical issue, electrical fault, or any other issue. In these circumstances when someone comes to the rescue, it is of great help.
Vinay Kumar Goguru is a finance professional with more than 8 years of diverse experience as a researcher, instructor and Industry work experience with both public and private entities. Prior to MyMoneySouq, he spent 6 years in Berkadia, It's a commercial mortgage banking company. He has a "Doctoral Degree in Commerce" and two master's degrees with a specialization in Finance, one as Master of Commerce and other as Master of Business Administration. He has written several articles on personal finance, published by different International journals. He loves traveling, reading and writing is his passion. He has a dream of writing a book on his favorite finance topics.