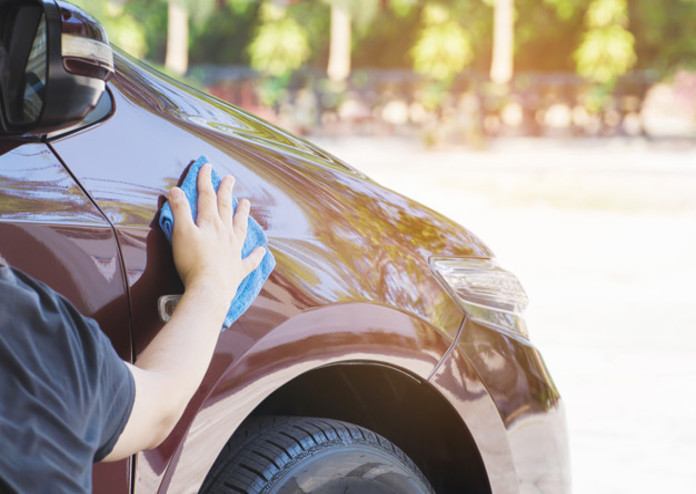 A car no matter how trendy it looks needs car polish to protect the exterior of the car from airborne contaminants. Car polish also safeguards the car from sun damage and oxidation. Here are the places where you can get your car polished in Dubai.
Check : Top 10 places to get your car washed in Dubai
1. VOne Car Polish and Oil LLC
Vone Car polish and oil LLC was started in 2015 with an outlook to provide better and useful products to the customers who approach them. After intensive research performed on various car care products, Vone provides high-quality car wash and car polish products and service to the customers.
Services
Their services might include a car wash, tire polish, body polish, leather care, dashboard care, rim cleaner, glass care, engine cleaner etc.,
Location: Po Box 93350, Dubai, UAE
Phone number : +917142827878, +9142828232
Go through : Car loans in UAE
2. Radiant Car
Radiant Car is a car repair and services workshop that was established in Dubai in 1998. With the periodical updating of the diagnostic tools and equipment, Radiant Car strives to provide its best to the customers. You can expect reliability and performance with reasonable prices with Radiant Car.
Services
Their services consist of car painting, mechanic repair, body polishing, paint code removal, bumper repairs etc.,
Location: Umm Ramool Road, Al Rashidiya Road, Dubai, UAE
Phone number: +9171506563664
3. Deutsches Auto service center
Deutsches is the most well-equipped auto service center in Dubai which is known for its high level of service and maintenance.
With an aim to provide personal service and care to the customers, Deutsches are updated with latest technology hardware and software.
Services
The services provided by Deutsches might include car tuning, a/c repair, car dent removal, valeting and detailing, car polish etc.,
Location: Unit 2-3, corner of 15th and 22nd street, Dubai

Phone number: 97143232832
4. GT Auto center
GT Auto Centre has been one of the best car service centers in Dubai offering a full range of car services right from oil change, engine repair and AC conditioning to full body repair of a car. Customer care and excellence of service are the main mottos of GT Auto Centre team.
Services
With transparency with regard to costs and anticipated bills, GT Auto Centre offers services related to oil change, brakes, tires, battery, full valeting, car polish etc.,
Location: Near the Great Garden Centre, Street 17 A, Sheikh Zayed Road, Dubai, UAE.
Phone number: +97143237106
5. Zain car care
Zain car care was established in 2010 and is a British owned and managed company.
Having a reputation for delivering good quality workmanship with healthy competitive prices, Zain Car Care always tries to meet or requirements of the customers.
Services
Services delivered by Zain Car Care might include paint protection, exterior polishing, and wax, window clean and shine restoration, interior deep cleaning, upholstery services etc.,
Location: Zain Car Care, Warehouse No.1, Street 23, Ras Al Khor, Industrial Area 2, Dubai
Phone number: 056-125856/04-3200868
6.Ditec
Ditec was started in Sweden with its main aim to provide long-lasting protection to the vehicles. With a mission to offer the highest professional services to the customers exceeding their expectations, Ditec has branches spread over Sweden, Germany, Finland, England, Japan, USA, UAE etc.,
Services
Ditec provides a variety of services to customers like car polishing, paint protection, window tinting, interior services, dent removal etc.,
Location: Al Manara Street, Dubai, UAE
Phone number: +97143233676
7. Crystal Shine
Crystal Shine has been offering a variety of services for 10 years now in UAE when it comes to car appearance and preparation. They deal with both private clients as well as large dealerships.
Crystal Shine grew as the best car service provider offering genuine services to the customers who wish to keep their cars in good condition.
Services
Services offered by Crystal Shine include paint protection, headlight polishing, detailing services, polishing of both interior and exteriors of a car, oil change, under car wash etc.,
Location: Exit 45, Sheikh Zayed Road, Near The Oasis Central Mall, Dubai, UAE.
Phone number: +971503409665
8. Evo Wash
Evo wash provides some of the best car washing and detailing products that not only safeguards your car from the acid rain, UV radiations, and other harmful things but also gives it a shine and glow just like a brand new car.
Services
With a mission to deliver revolutionary car care to the customers, Evo Wash's services include a car wash, car interior cleaning, engine bay cleaning, and polishing, full interior cleaning and polishing, cleaning and polishing, wheels cleaning and polishing, paint protection etc.,
Location: 1, Jebel Ali, Evo Wash warehouse, Dubai, UAE.
Phone number: +971503005725
9. Max Garage
Since its establishment in 1980, Max Garage had been providing a variety of solutions regarding repairs and services of the cars. Max Garage has developed a loyal customer base with its most affordable and reliable services over nearly three decades in the Middle East.
Services
With the mission to be the most reliable, dependable and best independent workshop in the UAE, Max Garage delivers the services like Car wash, exterior polishing, tire polishing, headlight rejuvenation, and polishing, rim cleaning etc.,
Location: Umm Suqeim Street, Dubai, UAE.
Phone number: +97143408200
10. ARM Motors
ARM Motors was founded in 2008 and since then they got excelled in-car services with the collaboration and communication they maintain with the customers always.
In 2011 since its movement to Dubai Investment Park, ARM Motors stood as the biggest independent workshop providing trustworthy services to the people who approach them.
Services
The services provided by ARM Motors include window tinting, interior refurbishment, dent removal, full polish and interior cleaning etc.,
Location: Dubai Investment Park-2, Dubai, UAE.
Phone number: +97148841470
Go through : Top 10 car detailing services in Dubai
Car polishing recreates the look of the car and the above mentioned are some of the reliable and best car polishing services available in Dubai that makes your car shine like never before.