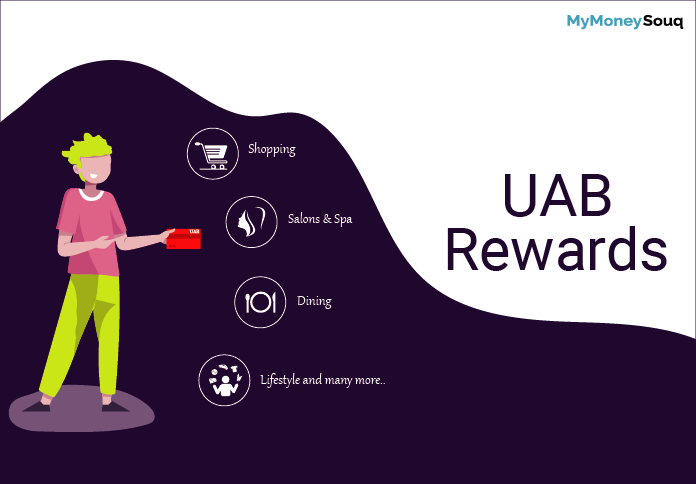 UAB (United Arab Bank) rewards is a loyalty program from United Arab Bank which was serving in UAE from the year 1975.

UAB rewards are the first comprehensive bank rewards program where you can earn reward points for transactions from United Arab Bank products.

UAB rewards are offered to all existing and new customers. It covers eligible conventional and Islamic products such as
Salary Transfer Accounts
Fixed Deposit
Range of Credit Cards
Range of Debit Cards
How to activate membership on UAB rewards?

UAB customers get access to the UAB rewards program by default. You need to login www.uabrewards.ae and activate membership.

Enter your details such as six-digit UAB customer id number which is available on UAB account statement, your email id, your mother's maiden name and your mobile number.

The details that you give should match with your bank records and only then you access your account. Your access shall be denied if your details do not match.

Once you get registered you will receive a confirmation access password on your phone and email id. You can login and start enjoying the benefits

If you need any assistance contact your nearest UAB branch or call helpline 800474
How to Earn UAB reward points?

You can earn reward points on UAB banking products as shown in the table below.

Salary Transfer– Earn one point or every AED 200 salary credited to your account.

Fixed Deposits– Below are the reward points as per the tenure
| | |
| --- | --- |
| Tenure | Points per AED 10,000 |
| 1 month | 10 |
| 2 months | 25 |
| 3 months | 50 |
| 6 months | 100 |
| 9 months | 150 |
| 12 months | 200 |
Credit and Debit card
The following are the reward points earning table per 1 USD.
| | | | | | | |
| --- | --- | --- | --- | --- | --- | --- |
| Product | Sub Product | Point | Domestic POS | International POS | Domestic ATM | International ATM |
| Credit Cards | Platinum | Spend | 1.5 | 2.5 | 1.5 | 2.5 |
| | Gold | Spend | 1 | 1.5 | 1 | 1.5 |
| | Classic | Spend | 0.5 | 1 | 0.5 | 1 |
| Debit Cards | Sadara | Spend | 1.5 | 2.5 | Nil | 1.5 |
| | Normal | Spend | 0.5 | 1 | Nil | 1 |
UAB rewards is not a cashback program, it offers rewards for all its UAB products from time to time.
UAB reward points are valid for thirty-six months from the date of earning the points.
Click here to know about Personal loans in UAB Bank
How to redeem points?

To redeem points you need to login on www.uabrewards.ae. You will get access to the reward points which allows you to redeem points.

UAB reward points can be used to book airline tickets, hotels or book a car or redeem by purchasing electronic goods or shop at Infi online store.

For more than 900 airlines, 250,000 hotels worldwide and 2,000 electronic products you have the option to redeem UAB rewards.

Once you redeem your points, the receipts and items purchased details will be sent to your registered email id.

You can view the account summary of UAB rewards in "My Account Section" alternatively you can call UAB rewards 24/7 call center at 800 474.

Airlines Booking with UAB Rewards

You can book an e-ticket with your UAB rewards. After booking, you will receive an e-ticket on your registered email within 30 minutes.

Through UAB rewards you can book tickets for one infant per adult. The infant is not provided a seat, they should be accompanied by the adult.

Maximum nine seats can be booked at one time, for booking more than 9 seats you have to restart the booking process for remaining travelers. Some airlines will allow only four (adult+Children) passengers at one time.

Cabin and check-in baggage limits vary from airline to airline. Some airlines have baggage limits and others do not. Contact airlines directly and get accurate information on baggage limits.

Hotel Booking with UAB Rewards

Hotel booking with UAB rewards and booking confirmation depends on specific hotels and arrival dates.

Hotel reservation information will be received in 12 hours of the time you made the booking. However, while booking at night time or weekends or holidays, the timings may differ.

Hotel check-in time will be after 2:00 pm, you can check with the hotel for early or late check-in timings.

If you want to cancel your booking, login to your UAB rewards select "Manage Bookings" click on cancel link related to your booking and your booking gets canceled.

For more on Hotel bookings and cancelation refer to the respective hotel booking policy that is listed on their web page. You cannot cancel your booking on the check-in date.
Click here to know about 5 best travel credit cards in UAE
Shopping using UAB rewards

You can do online shopping using UAB rewards. The items will be delivered in 4-5 working days.

The cost of shipping will be included in the redemption and it would differ according to the product selected. There are no delivery/ shipping charges levied.

Since UAB rewards are used only for domestic transactions, items are delivered only within the UAE.

You can call 800 474 UAB customer care number and get assistance on the following.

If you did not receive your merchandise within 21 days
Incorrect item was delivered
Any Damaged item was delivered
To check the status of your order
To cancel any of your booking transaction
Booking a Car with UAB Rewards

You can book a car with UAB rewards. To book a car you need to make a security deposit, the deposit is collected for any possible damage to the rental car.

The deposit will be charged by the car hire company. If the car is according to the car rental policy and fuel policy then the amount will be refunded once the car is returned back.

Once you book a car there is no immediate confirmation. It takes a minimum of 24 to 72 hours for confirmation.

If your booking is canceled then the points will be added to your UAB rewards account. Then again you can start booking a car using the rewards.

Once you booked a car it cannot be changed nor a cancelation is allowed if it is initiated by you. In this situation, reward points are not refunded.

The age requirement for renting a car is between 25 to 70. If your age is above 70 and you are booking a car then the additional fee is collected. The additional fee depends on the city or the type of car.

Car insurance provided by the rental company is very limited. In case of any unforeseen event, the amount has to be paid by the customer.

Vinay Kumar Goguru is a finance professional with more than 8 years of diverse experience as a researcher, instructor and Industry work experience with both public and private entities. Prior to MyMoneySouq, he spent 6 years in Berkadia, It's a commercial mortgage banking company. He has a "Doctoral Degree in Commerce" and two master's degrees with a specialization in Finance, one as Master of Commerce and other as Master of Business Administration. He has written several articles on personal finance, published by different International journals. He loves traveling, reading and writing is his passion. He has a dream of writing a book on his favorite finance topics.