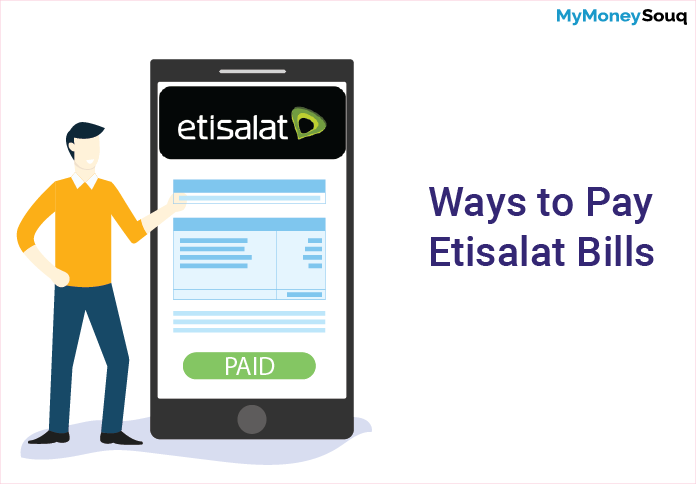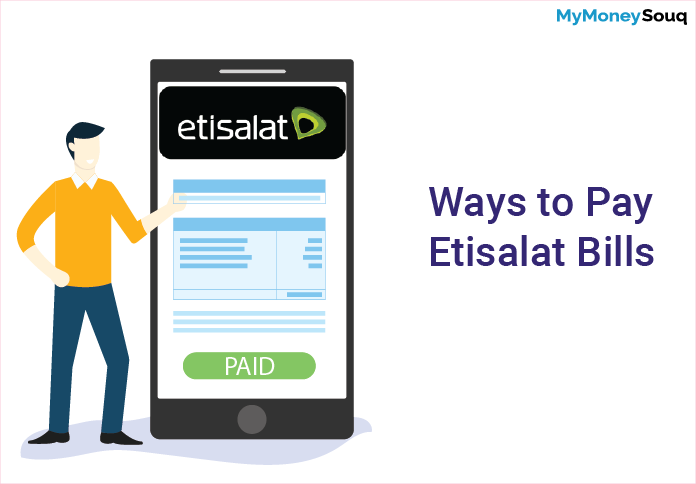 Etisalat has the vision of driving a digital future which has the potential for economic growth and development in all markets. With these development plans and potentiality Etisalat aims to provide convenient services to its customers and easy bill payment is one of the customer convenient services.

The following are the convenient ways to pay Etisalat bills
Online payments
Phone payments
In-person payment
1. Online payments
Online payment methods are the most popular methods of payment. Etisalat telecommunication corporation provides convenient Online payments services to the customers such as

A. My Etisalat UAE App
B. Online quick pay
C. Autopay
D. eBill
E. eWallet
A. My Etisalat UAE App
For customers who want to make payments using the app, you have to download the My Etisalat UAE app. You can download from the Appstore and also from the Google Playstore. Create your account and access your details. You can view your bill amounts and pay your bills.

B. Etisalat Easy Pay
Using the online quick pay method you can pay your bills. You can connect through the etisalat.ae or Quickpay. You can pay mobile bills, landline bills, elife bills using a debit card or credit card. Etisalat Easy Pay service is very simple, quick and effective.
Click here for Top payment gateways in UAE
C. Autopay
Autopay service is a facility provided by the Etisalat group which gives you the opportunity to not miss any bill payments. Automatic payments are quick, easy and convenient methods of payments. You have to give your instructions on payments and register your payment details.
Visit www.etisalat.ae/online and give instructions for the payments. On the due date, the bill amounts will be auto-debited from your account as per the instructions.
D. ebill
You can send your email id which is linked to your bills. As all the bills are on the email you need not worry about losing them. You have to send a text message of your email id to "1997" number and you will receive eBills from next following month.

E. ewallet
You can pay your bills, transfer your money internationally and pay bills at stores with ewallet. You have to download the Etisalat app and start using it. There are no registration fees or the bank account required.
2. Phone Payments
You can make the payments by calling at the number 101 or 125. This is a toll-free automatic payment service system. You have to select the option of bill payment once you connect to the toll-free number for mobile payments, landline bills and elife bills. The payments can be made through the credit card or debit cards.
Click here for ADDC bill payment
3. In-Person Payments
Payments can be made by visiting Etisalat centers in-person. The following are the ways in which the payments can be made through in person.

Banks
You can visit the bank and pay Etisalat bills. You can use your bank ATM channel to make payments. You can also use an online banking system, phone banking and mobile banking methods.

Etisalat Payment Machines
At the Etisalat payment machines, you can pay bills using a debit or credit card or you can also make payments using your cash. Etisalat payment machines are available at the Etisalat stores and other Etisalat prime locations in the UAE.

Exchange Houses
The bills can also be paid at the following exchange house partners.

Al Ansari Exchange
Al Fardan Exchange
Index Exchange Co
JoyAlukkas Exchange
Lari Exchange
LULU Exchange
Redha Al Ansari Exchange
UAE Exchange
Wall Street Exchange
Among the GCC countries, Etisalat is the largest telecommunications corporation. It has its headquarters in Abu Dhabi, UAE. It provides its services to the 11.6 million customers and also more than 300,000 customers who are spread across the small, medium, large enterprises and government entities. Etisalat is the leading group in the fast-growing market. It has the net revenues of AED 52.2 billion and has the total highest net profits.

Vinay Kumar Goguru is a finance professional with more than 8 years of diverse experience as a researcher, instructor and Industry work experience with both public and private entities. Prior to MyMoneySouq, he spent 6 years in Berkadia, It's a commercial mortgage banking company. He has a "Doctoral Degree in Commerce" and two master's degrees with a specialization in Finance, one as Master of Commerce and other as Master of Business Administration. He has written several articles on personal finance, published by different International journals. He loves traveling, reading and writing is his passion. He has a dream of writing a book on his favorite finance topics.