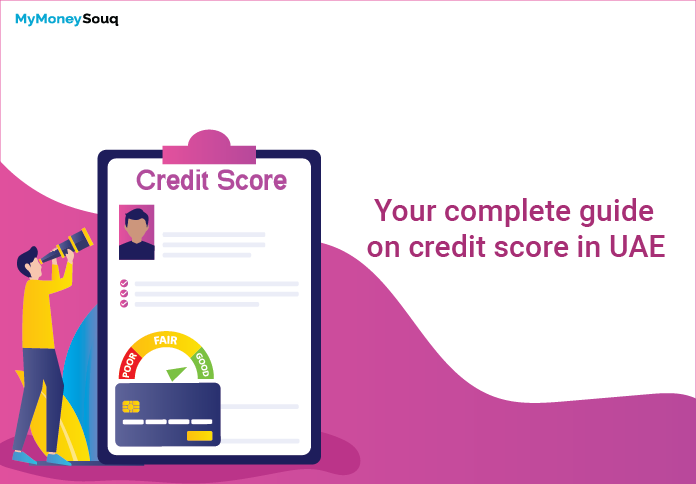 Credit score is an indicator of your debt paying capability. It ranges from 300 to 900. This '3' digits number can decide about the creditworthiness of the customer and the lending institution issues a loan or a credit card based on the credit score. A credit score gives information about customer's debt payment behavior, associated risk, history of repayments and defaults if any. The lower credit score shows that there is a higher risk associated with the customer, whereas a higher credit score indicates a lower credit risk with the customer.

With the help of credit score, lending institutions like banks can get information about the customer's debt paying ability. Better decisions can be taken while issuing credit cards, processing loan applications, providing financial assistance to customers. If a customer has higher credit score loan approvals and processing is faster compared to customers having lower credit scores. Credit scores are based on timely payments of debt and the number of accounts that are in a good and non-default position.

How is the credit score generated?
Finance companies, lending institutions, government bodies, telecom companies and credit information from multiple sources are collected to calculate the credit score. Payment behaviour and credit utilisation are the two most important factors which help in generating the credit score. Credit score will not be permanent, it keeps changing according to the payments made by the user. Any delay in making payments, non payments of credit card dues or monthly loan payments, applying for credit cards and loans multiple times, applying for additional loans or credit, using credit limits frequently to the maximum amount will result in reduced credit score. On the other hand making payments on time or before the due date, reducing outstanding balances will generate a good credit score.
Click here for How to improve credit score
Credit score for individuals
In the UAE, Al Etihad Credit Bureau (AECB) provides credit scores for individuals and companies separately. It provides detailed information and analysis on the credit score. Individuals can get credit scores at any time and at any place using the online services facility. The user should register, create an account and login to the portal. Prescribed fee payment should be made and once it is done, a credit score report will be sent to the registered email address.

You can download AECB app from the google play store at https://play.google.com/store/apps/details?id=com.aecb.app

Apple users can download at https://apps.apple.com/ae/app/aecb/id1375991737
Credit score for Companies
Al Etihad Credit Bureau provides credit score for companies. Lending institutions look into the credit score of companies before issuing loans to these companies. A business organization can know their credit score by visiting Al Etihad Credit Bureau. A copy of the trade licence, signature from the authorised bank and a letter signed by the partner of business or manager or owner of business are required to get the credit score from the credit bureau. By visiting the Al Etihad Credit Bureau centres and presenting the required documents credit score for the company can be obtained.

Due to COVID-19 under precautionary measures, the customer experience services are operating online. You just need to submit all the information and documents to reportrequest@aecb.gov.ae. A representative of the team shall contact you and provide you with the required information.

Fee structure for Credit Score
The fee for credit score is AED 31.50 and the fee for credit report with credit score is AED 105.00. For Companies, credit report with credit score is AED 178.5.00.
You can access the online facilities and get the credit score. Payment can be made through credit card or debit card or e-dirham cards.
Documentation required for Credit Score in the UAE
Individuals
Original valid Emirates ID card
Passport copy
Email id
Other documents as requested by authorities
Companies
Trade license
Authorized signatory from bank
Authorized letter from partner/owner/manager
Other documents as required by authorities
How to access Credit Score if you are not living in UAE?
If you are not living in the UAE and want to know your credit score, it is possible to access through online. You can access your credit score from anywhere. You have to purchase the credit score online. To purchase the credit score you need to have Emirates ID, passport and registered mobile number.

Credit report can be obtained from the website at https://aecb.gov.ae or you can either download the Al Etihad Credit Bureau app from google play store or apple play store.

What does a Credit report include?
Al Etihad Credit Bureau collects information from lending institutions like banks and telecom companies and includes all the information in the credit report. Credit score includes the details of the number of loans approved with amounts, credit cards in use, frequency of credit card payments, delayed payments, due dates of the payments, any missed payments, usage of credit cards limit, cheque bounces, the total number of debit cards and others.
Al Etihad Credit Bureau gets information about the customers from the banks and it updates the credit profile of the customers. The customers can be individuals or companies. The details of previous loans, rejected loans, accepted/issued loans or credit cards, the number of credit enquiries, credit application status and other information is also included in the credit score report.

All the above information gathered together will form a report and this will generate a score which is called a credit score.
Click here for Al Etihad credit bureau report
How to increase your credit score?
A good credit score is that which is above 700 points. If you have a lower credit score there are higher chances of rejecting your loan application. Hence it is very important to have a high credit score for quick and easy credit approvals. The following are the factors that help in increasing your credit score.
Credit card bill payments
Utilisation of Credit limit
Pay bills in full
Debt management
Number of credit card accounts
1. Credit card bill payments
The most common method of increasing credit score is paying your credit card bills on time. If credit card payment is missed even by one day it can have a direct impact on your credit score.
2. Utilisation of credit limit
Utilization of credit in a wise manner is a very important factor in using credit cards. Using only 30% of the credit card limit is advised as a standard best practice.
3. Pay bills in full
A provision of 5% on credit card bills is provided for making the payment. By regularly making only the provision amount will have a negative effect on the credit report. Paying credit cards bills in full is advised all the time by the lenders for a good credit score.
Read: Are you paying minimum balance on your Credit Card?
4. Debt Management
If you are paying high interest rates loans then consider clearing your loans. If you do not need a loan do not apply as it will increase your financial burden.
5. Number of credit cards accounts
If you have multiple credit cards it will have a negative effect on your credit score. There is no relationship between the number of credit cards you own and the credit card score. The sequence of payments and the way you handle payments determine the increase in credit score.

When Credit score does not show the number?
To generate a credit score it requires a minimum period of credit history. There are some reasons why credit scores are not shown and some of them are listed below.
When there is no credit information in the last 24 months.
A new customer with credit payment history lesser than six months
When the customer has not made any borrowings yet.
When there are no updates in credit report in the last twelve months
When a borrower has not utilised the credit limit in the past twelve months.
Rectifying Errors in Credit Score
Lending institutions provide information about the borrowers and it is updated in the credit report. If a borrower realizes that information in the credit report is incorrect then errors can be rectified. You can contact the customer satisfaction centre at 800-BUREAU (800-287328). You have to provide the requested information and the team works accordingly to rectify the errors in the report.
Email notification will be sent as soon as data is updated. As per the instructions of the Central Bank of the UAE, banks should correct the errors and update credit information in five working days. Al Etihad Credit Bureau facilitates banks with mechanisms to update the changes.
Takeaway
In the UAE, no bank will process a loan without knowing the credit report of the borrower. It is very important to know how your credit card bills payments will contribute to increasing your credit score. Credit report is used by banks, lending institutions, government bodies and other entities. Maintaining a good credit score will increase the chances of quick approval of loans, easy access to additional credit, better interest rates and provide add on facility services.

Vinay Kumar Goguru is a finance professional with more than 8 years of diverse experience as a researcher, instructor and Industry work experience with both public and private entities. Prior to MyMoneySouq, he spent 6 years in Berkadia, It's a commercial mortgage banking company. He has a "Doctoral Degree in Commerce" and two master's degrees with a specialization in Finance, one as Master of Commerce and other as Master of Business Administration. He has written several articles on personal finance, published by different International journals. He loves traveling, reading and writing is his passion. He has a dream of writing a book on his favorite finance topics.