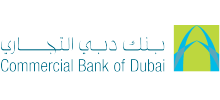 Commercial Bank of Dubai
Last Updated on 01 April 2020
About the Bank
The CBD was established in 1969 by an Amiri decree issued by the late Rashid Bin Saeed Al Maktoum. The bank has a network of thirteen (13) strategically located branches in Dubai, Sharjah, Ras Al Khaimah, Mussaffah, Fujairah, Abu Dhabi, Ajman, Al Ain & Fujairah & total 155 ATMs' including different services.
Banking Products & Services
CBD offers a wide range of banking products & services like Credit Cards, Bank Accounts, Personal Loans, Home Loans, Car Loans, Business Loans, Investments, etc. Explore all the CBD Products and Services here:
Popular Products & Services
CBD provides different types of financial products in the UAE and other regions. The flagship products include Credit Cards, Loans, Bank Accounts, Savings, Deposits, Insurance, etc. Here are the popular financial products: Credit Cards:
CBD offers various credit cards for different purposes to suit everyone's needs.
There are different types of Credit cards available with a salary range from AED 8K. Like, CBD Super Saver Credit Card, CBD Gold MasterCard, CBD Visa Infinite Islamic Card, CBD Visa infinite Card, CBD Visa Signature Card, CBD e-Tijari Web Card, etc. You can even enjoy the different features like No Annual fee, Complimentary Airport lounge access, Attijari Reward points, and many more. Read more….
Loans & Mortgages: CBD provides attractive loan options for expatriates and UAE nationals. There are different Loans available at CBD like Car Loan, Home Loan, Personal Loans & Business Loans. It offers Takaful with free of cost, low-interest rates. Bank Accounts: Various types of bank accounts serve unique needs. It's wise to put money into the best account, and use the right tools to spend and save, depending on your goals. CBD provides different Bank Accounts according to your requirements like Savings Accounts, Current Account, Deposit Account, CBD Childrens Account etc. CBD Private: CBD exclusive and personalized banking and financial services are built on extensive knowledge of the financial markets and delivered by a handpicked team of experienced and qualified Relationship Managers. CBD ELITE: CBD ELITE delivers the most excellent lifestyles to a world of banking goods, customized services, and exclusive offerings. You must meet either of the following eligibility requirements to become a valued CBD Elite customer:
CBD Mortgage holding of AED 2 million

Current/ Savings Account and/or Investment holdings of AED 400,000

Minimum monthly salary of AED 40,000
Credit Card Offers
The bank offers various discounts, deals, and promotions on car rentals, dining, food, hotels, entertainment, cinemas, careem rides, etc. Visit CBD credit card offers page for further details.
CEO: Bernd van Linder
Chairman: Humaid Mohammad Obaid Yousuf Alqutami
Founded Year: 1969
Head Quarters: Dubai
No.of Employees: 1,143
Swift Code: CBDUAEAD
Total Assets: Dh 74 billion
Net Profit: Dh362 million
Website: www.cbd.ae
Savings Account
Home Loan
Car Loan
Business Loan
Credit Card
Personal Loan
Current Account
Deposit Account
Childrens Account
Savings Account

Provided by CBD
Frequently Asked Questions
Q. Who can apply CBD Current Account?
A. You must be a UAE resident and should be at least 21 years old.
Q. What is the eligibility to become a CBD Private Customer?
A. You must meet one of the following eligibility requirements to become a valued customer of CBD PRIVATE: AED 150,000 monthly minimum salary, Savings / Current Account and/or Investment AED 3.5 million, CBD Mortgage holding of AED 5 million
Q. What are the rewards provided on CBD credit card?
A. Yes. CBD Credit card offers smiles that can be redeemed for dining, shopping, bill payments, travel and much more.
Q. Are there any No annual fees credit cards provided?
A. Yes. CBD Titanium Mastercard credit card is provided on No annual fees.
Q. Can I get balance transfer on CBD credit card?
A. Yes. You can avail balance transfer facility on CBD credit cards.
Q. What is the interest rate charged on the balance transfer?
A. 0% interest rate is charged for 12 months on credit card balance transfer.
Latest Updates About CBD
Commercial Bank of Dubai in partnership with SWIFT to adopt the SWIFT Global Payments Innovation (GPI) service.
03 March 2020
Commercial Bank of Dubai in partnership with SWIFT to adopt the SWIFT Global Payments Innovation (GPI) service, which will make cross border payments quicker and easier for its wholesale banking customers.
Commercial bank of Dubai is the first bank to enable the customer to process Murabaha commodity trading.
20 February 2020
In partnership with the DMCC Trade flow platform Commercial Bank of Dubai, has become the first bank in the region that allows customers to process Murabaha commodity trading via CBD Mobile Application.
Dubai Commercial Bank Partners with Armada Payments and Cash Management Solutions Team
15 October 2019
Commercial Bank of Dubai (CBD), one of the leading banks in the UAE, has recently celebrated its partnership with the Armada Group on payment and cash management solutions. Armada Group is one of the leading real estate development and management, contracting, facility management, hospitality, and healthcare organizations in the UAE.
A cardless cash withdrawal service has been announced by CBD.
10 September 2019
CBD has announced a cardless cash withdrawal service. It enables its wholesale banking clients to withdraw or transfer money from anywhere and anytime ATMs without a debit or credit card.