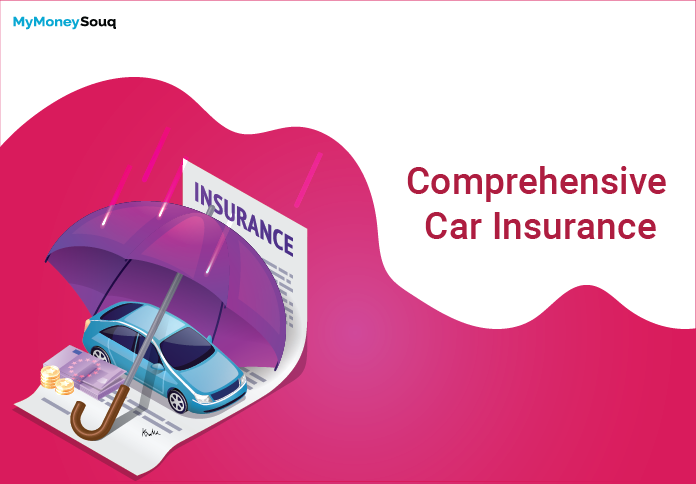 Having a car is everyone's aspiration. If you have purchased your dream car then you are lucky enough to have it. Car is not just a status symbol but it is also a comfort to travel. You might have spent your savings on buying your car or have purchased through a car loan. You must have made a lot of investment in your car so it is your duty to protect your car. To protect your car the best method is to get insurance through a comprehensive car insurance policy.
Comprehensive Car Insurance Meaning
Comprehensive Insurance means Insurance that provides protection from all types of risks to private-owned cars. Comprehensive Insurance is provided to protect the car from accidents, natural calamities, theft, and others. In case any unexpected event happens which would result in damage to your vehicle or loss then Comprehensive car insurance provides the facility of repairing your car or replacing your vehicle.
The motor insurance company provides financial support for repairing your car or replacing any parts or recovering partial loss or total loss. This insurance covers third-party liabilities and their own damages. In addition, it also covers personal accident for the driver owner if the person gets injured in a car accident.
Click here for No claim bonus on car Insurance in UAE
Coverage under the Comprehensive Car Insurance
The following aspects are covered under comprehensive car insurance.
Damages due to accident
Fire damages
Theft
Natural calamities
Human hazards
Third-party losses
Vandalization losses
Damages for car
Death or injury
1. Damages due to accident- If there is any damage occurred to the car or any loss to the vehicle due to an accident then this policy will cover the loss or damages.
2. Fire damages- If the damage to the car is due to the fire then this insurance plan will provide coverage for the losses or damages.
3. Theft- If you have a comprehensive car insurance policy and the car gets stolen then the insurer will replace it with a new one.
4. Natural Calamities- If there are any natural calamities and your car gets totally damaged or partially damaged then comprehensive car insurance provides coverage for the losses or damages. Natural calamities such as floods, earthquakes, cyclones, landslides, and other natural calamities are covered.
5. Human Hazards- Human hazards such as strikes, terrorist activities, strikes, riots and others are covered under the policy. Any damages to the car because of these human hazards can be claimed by the policyholder. Damages claimed to the car can be a partial or total loss.
6. Third-party Losses- Comprehensive Car insurance covers losses caused by a car which includes property damages or physical injury or death of a third party person.
7. Vandalization Losses- This car insurance policy covers damages or losses incurred due to the vandalism.
8. Damages for Car- If you are transporting your car through land or water or airways any damages done to the car during the transportation are covered under the policy.
9. Death or Injury- The owner-driver is also covered under this policy. Not just the physical damages of the car are covered but also the owner-driver is covered. If any mishap occurs and a person is injured or dies in a car accident the insurance policy provides coverage.
Advantages of the Comprehensive Car Insurance
The following are the advantages of comprehensive car insurance.
Efficient cost
Customize your policy
Avoid Depreciation
Break down assistance
Protection to car
1. Efficient Cost- Comprehensive car insurance is a cost-effective policy as the coverage of the policy includes multiple aspects. It saves a lot of money for the policyholder and provides cost-effective benefits.
2. Customize your policy- You can customize your insurance policy by selecting the add-on packs on the policy. By doing this you are extending the coverage of your policy. According to your requirements, you can select your policy. You can add or remove coverage of any additional protections such as engine coverage or gearbox coverage and others.
Click here for Car Insurance Companies in Dubai
3. Avoid Depreciation- Comprehensive car insurance provides the facility of selecting zero depreciation cover. When you sell your car you get value for your vehicle. There is no depreciation on your vehicle parts, your car can be good as your new car.
4. Break down assistance- If any breakdown occurs during your travel, you can call for assistance and it is not counted under any claim. It is one of the major advantages as you get assistance in difficult times.
5. Protection to Car- With the comprehensive car insurance you protect your car from physical damages due to accidents or injuries. You can make your car look good and in shape. It can protect you from car theft and provide you with claims. Not just this, you can protect your car against natural calamities and third party liabilities.