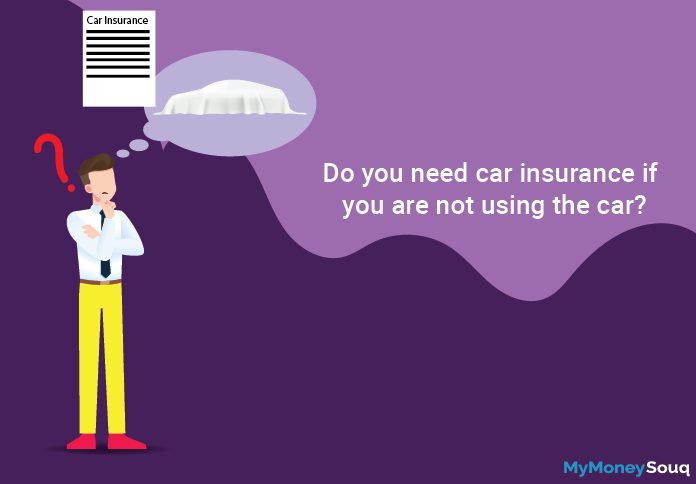 Due to the COVID-19 if you are not using your car to travel anywhere and you are working from home; are you thinking you do not need car insurance? Even in normal days you may have spent time not using your car for a long period of time and thought you have wasted money on car insurance. There could have been various reasons that you did not use your car. You might have traveled abroad or you were using public transportation or daily commuting by car might be expensive or it could be any other reason.

Even if you are driving less frequently or more or you are not going out by car, you still need insurance in most of the cases. Yet the coverage of your insurance depends on the different types of factors, this includes which place you are living in or if the car is paid off and you are not driving it. Before you think that you are losing your money on insurance and stop renewing it, it is very important to realize that car insurance gives protection against not just accidents but beyond that.
Why is car insurance required if you are not using your car?
Apart from the basic requirement of car insurance here are the other reasons why car insurance is required even if you are not using your car frequently.

Collision Coverage
Liability Coverage
Comprehensive Coverage
Uninsured or Underinsured Coverage
Payment for Medical expenses
1. Collision Coverage- In the UAE, Car insurance provides protection if there is any damage done due to collision of the car with another car or to any animal, trees, or any buildings or any objects. It protects the policyholder if any loss due to collision has occurred.
2. Liability Coverage- It provides coverage to the property damage which is caused by the driving. It is part of the insurance policy it also helps in paying for other driver's expenses. It covers both physical injury and property damage.
Click here to Comprehensive Car Insurance
3. Comprehensive Coverage- It provides protection to the insured from the damages which may occur because of the theft or fire accident or any payments to third parties in case of accident or injury or death of the third party.
4. Uninsured or Underinsured Coverage- Provides coverage for the injury and remedy expenses if the motorist who has been 'uninsured/underinsured' and an accident takes place where you are indicated in.
5. Payment for Medical expenses- If someone is injured in an accident in your car while you are driving then the medical expenses coverage is provided by the insurance company.
Generally, the minimum requirement of the insurance is to protect the other drivers while you are driving on the road so this would be covered under the liability coverage and some policies also may include medical payments.

If the vehicle is on the lease or if you have purchased through the finance then the lending company or the financing institution will need an amount of collision coverage. If the leased vehicle is stolen or damaged then certain coverage can be provided and recouped with the remaining loan outstanding balance or the leasing period. Even if you do not drive your vehicle you should still have a minimum level of insurance coverage.

Ways to reduce Insurance Expenses if you are not using your car
Understanding your insurance needs is the first thing that you can do to reduce insurance expenses. Different people have different travel requirements. There is a saying that goes "One Size does not fit for all", similarly, one insurance policy does not suit all. In order to reduce your insurance expense, think well, and plan your priorities. There are certain ways in which you can reduce insurance expenses if you are not using your car.
Modify your Insurance
Reducing your coverage
Eliminating the add on covers
Opting for Usage-based Insurance
Look out for discounts/offers
1. Modify your Insurance- Modify insurance is not about canceling your insurance. When it is the time for insurance renewal you can contact the insurance provider and ask for the best policies according to your requirement. You can cut down the expenses by removing the features that you do not use. You can reduce your insurance burden by doing this.
2. Reducing your coverage- By reducing the coverage you are still protecting yourself against the risk. It also provides you with the facility of reducing your expenses on insurance. Just think about what is needed for you and according to that reduce your coverage.
Click here for Car Insurance companies in Dubai
3. Eliminating the add on covers- Add on facilities like 24 hours roadside assistance, windscreen damage cover, grace period cover, natural calamity cover, larger third party cover, GCC cover, agency repairs and many others. There might add covers included in your insurance which you may not avail. Hence you can remove the add on covers and reduce your car insurance amount.
4. Opting for Usage based Insurance- Usage-based insurance means you can pay a premium for the car insurance only for the kilometers that you drive. During this Pandemic time since driving long kilometers is not so frequent, this option would be highly preferable.
5. Look out for offers/discounts- Look out for offers and discounts offered by the insurance companies. Based on membership some insurance providers offer attractive offers, look out for the best deals, and reduce your expenses.
Takeaway

Just to save money if you are canceling your insurance it is not the right decision. Driving without insurance is a legal offense in the UAE. It is also a risk to physical and financial health that will be more expensive than the premiums that you pay for insurance. There are certain best practices with which you can reduce the costs without removing insurance coverage. Contact your insurance provider to discuss with them your requirements and they will provide you the best services. You can save your money, health, your car, protect everything and everyone on the road.


Vinay Kumar Goguru is a finance professional with more than 8 years of diverse experience as a researcher, instructor and Industry work experience with both public and private entities. Prior to MyMoneySouq, he spent 6 years in Berkadia, It's a commercial mortgage banking company. He has a "Doctoral Degree in Commerce" and two master's degrees with a specialization in Finance, one as Master of Commerce and other as Master of Business Administration. He has written several articles on personal finance, published by different International journals. He loves traveling, reading and writing is his passion. He has a dream of writing a book on his favorite finance topics.