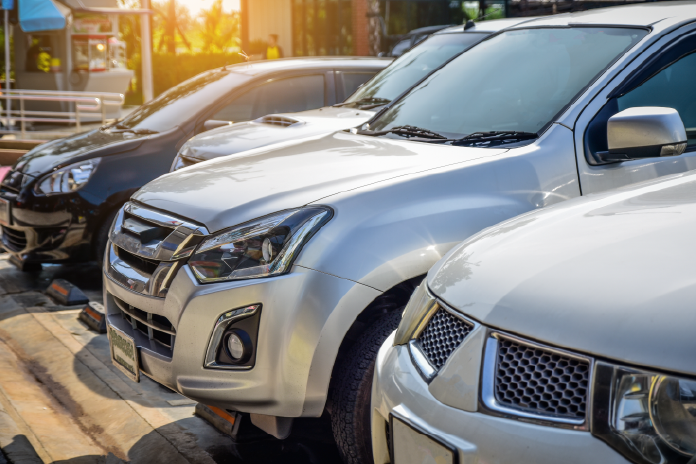 Dubai is one of the largest commercial hubs in the world and with all the well organized living over there, parking rules and regulations are also strict and disciplined.
Earlier, the parking zones in Dubai were divided into 4 zones as B, A, F, E. However, according to the current situation, the parking zones are divided into only three categories i.e., special areas, non-commercial areas, and commercial areas.
As per RTA Dubai (March 2022), Public parking in Dubai will be free on Sunday and public holidays. There will be parking charges levied on the rest of the week on a regular day.
Check: Ways to get free parking in Dubai
Ramadan Parking Timings 2023 in Dubai, UAE
Paid parking hours are also altered during Ramadan, and Sharjah Municipality officially announced paid parking hours for the year 2023
Ramadan Sharjah Parking Timings 2023:
Sharjah announced the free parking timings on Ramadan month Parking is free on Fridays, except in zones that have blue information signs. In such areas, parking is a paid service on all days of the week.
The paid parking hours will be from 8 am to 12 am (midnight) every day from Saturday to Thursday.
Dubai Ramadan Parking Timings 2023:
Dubai's RTA has announced that there will be new timings for paid parking zones and public transport during the season of Ramadan.
The new timings will be effective from Thursday 23 March 2023, the official beginning of Ramadan.
There will be two slots for paid parking zones. The first slot will be from 8:00 am until 6:00 pm. On the other hand the second slot will start from 8:00 pm until midnight from Monday to Saturday.
Parking in paid zones is free on Sundays and multi story car parking are charged as under 24 hours paid parking zone.
Ramadan Abu Dhabi Parking Timings 2023:
The peak hours of Darb toll gate is changed during Ramadan. The motorists should be paying Darb fee between 8am and 10 am. This will also be between 2 pm and 4 pm through Monday to Saturday.
The Mawaqif parking fee is continued and will be collected during the month between 8 am and 12 am. The Abu Dhabi express service will operate through 6 am and 11 pm in weekdays and on weekends from 6 am to 1 am. The Abu Dhabi service link will be available from 6 am to 11 pm throughout the week.
UAE 51st National Day – Free Parking in UAE
Dubai: From 1st December 2022 to 3rd December 2022, RTA announced public parking is free of charge in Dubai. Multi-level parking is not included in this. From 5th December 2022, the public parking fees will be levied.
Sharjah: Sharjah Municipality announced that public parking is free of charge from December 1 to December 3 2022 on the occasion of 51st National Day Celebrations.
Parking with blue boards will charge the parking fee including Sundays as well as public holidays also.
Abu Dhabi: ITC announced that public parking is free of charge in Abu Dhabi from 1st December 2022 to 7:59 AM on 5th December 2022.
Darb toll gates are also free of charge during holidays from 1st December 2022 & reactivated from 5th December 2022.
Free Parking on occasion of Prophet Muhammad's Birthday

8 October 2022 was announced as public holiday on the occasion of Prophet Muhammad's birthday. The RTA has decided to offer free public parking in Dubai on this occasion. Free parking is not applicable to multi level terminals.
Abu Dhabi: Abu Dhabi has also confirmed there are no charges levied for Mawaqif parking and Darb tolls on this festive occasion.
Sharjah: Free parking in Sharjah was also announced but this excludes 7 day paid parking zones which are marked with blue signs.

Toll Gate Timings 2022 (Free and Paid) – Dubai, Abu Dhabi, Sharjah & Free Parking Timings
Abu Dhabi:

The new timings are effective from July 15th in the UAE.
For paid parking and road tolls the DMT (Department of Municipalities and Transport) in Abu Dhabi has changed the timings which is effective from Jul 15, 2022
Toll gate: The Darb toll gates are Free on public holidays and Sundays. The charges for Toll gate are applicable from Monday-Saturday from 7am to 9am and evening 5 pm to 7 pm.
Parking: Instead of Fridays, public parking is now free on Sundays and also on public holidays. Parking fee is applicable from Monday-Saturday.
Dubai:
The revised timings are in effect since March in Dubai.
Parking: Daily the paid parking service is for fourteen hours from 8am to 10pm with the exception of Sundays & public holidays. On Sundays the tourists and Residents can park for free. Parking fee is charged for 'Multi-storey' facilities on all days of the week.
Toll gate: Al Maktoum Bridge toll free from 10 pm to 6 am on weekdays ; and from 10 pm Saturday till 6 am Monday.
Sharjah:
Sharjah has adopted a 3 day weekend from Friday to Sunday and the parking timings are unchanged in spite of the change in weekend.
Paid parking service in this emirate is from 8 am-10 pm from Saturday-Thursday. Free parking on Fridays with exception in zones with 'blue information signs' and in these areas it is paid parking throughout the week.

New parking zones have been introduced in Khor Fakkan, Sharjah
Fee has been initiated in the new parking zones but senior citizens aged 60 yrs or more can park for free.
These new parking zones have been introduced in Khor Fakkan, Sharjah. The KhorFakkan Municipality declared the new parking model on August 4, 2022. These changes will be effective from Monday August 15, 2022.

Paid Parking timings on Sheikh Khaled Street will be from 8 am to 10 pm. On Friday, it is free of charge. However on all the weekdays on Corniche Street, Shees Park and Al Rafisah Dam parking timings will be from 8 am to 10 pm.

The parking charges as per hourly basis are as follows

1 hr- Dh2
2 hrs- Dh5
3 hrs- Dh8
5 hrs- Dh12
The Sharjah Citizens aged of 60yrs and above will not be charged any parking fees. For senior citizens to avail this facility they have to submit a few documents such as the below mentioned.
Emirates ID
Car ownership proof
Registration docs
These documents can be submitted online on the KhorFakkan Municipality website (www.khormun.gov.ae). You can also submit through the offline mode at the headquarters in Khor Fakkan.

Steps for using smart parking.
You have to click on the play button of smart machine and it will show different options for you.
Here you have to select the source plate of your car
Check your details displayed on the screen.
Select the time slot and length of time your willing to park
Select the payment method. Payment can be accepted in coins or prepaid parking card
Dubai parking timings during Ramadan – 2022
Parking timings are adjusted in Dubai during the month of Ramadan by Roads and Transport Authorities(RTA).
Abu Dhabi: On Fridays and during public holidays its free. The Mawaqif parking fees are applied from 8AM to 12 Midnight from Saturday to Thursday.
Dubai: Parking is free on Sundays in Dubai. Fees are applied from 8am to 6pm and again 8pm to 12 midnight. This is from Monday to Saturday.
Sharjah: In Sharjah, the parking is free in most of the zones on Fridays and any public holidays in the week. Fees are charged from 8 am to 12 midnight.
Truck timings during Ramadan – 2022
The movement of trucks is prohibited throughout the year through Al Shindagha Tunnel, on Al Maktoum Bridge, Floating Bridge, Al Garhoud Bridge, Business Bay Bridge, Infinity Bridge and in the Airport Tunnel.
On Fridays, the prohibited timings during Ramadan will be from 12 noon to 3pm, instead of 1pm to 3pm.
The prohibited timings will be from 7.30am to 9.30am and from 2pm to 4pm in other areas
In the downtown areas of Deira and Bur Dubai the trucks prohibited timings are from 7am to 11pm,
UAE 50th National Day – Free Parking in Dubai
From December 1, 2021, to December 3, 2021, public parking is free in Dubai. Multi-level parking is not included in this. From December 4, 2021, the public parking fees will be levied.
Expo 2020 Dubai Parking
The parking at Expo 2020 Dubai is Free. The parking spots are open from 8.30 AM to 1.30 AM on weekdays and 8.30 AM to 12.30 AM on weekends. Valet parking os provided at Expo 2020 Dubai location for AED 95 but on first come first serve basis.
The designated parking lots for Expo 2020 Dubai are,
Opportunity parking zone (from the E77 Expo Road)
Sustainability parking zone (from the E77 Expo Road or D54 Zayed Bin Hamdan al Nahyan street)
Mobility parking zone (from the E311 Sheikh Mohammed Bin Zayed Road)
Dubai Exhibition Centre parking zone (from the E311 Sheikh Mohammed Bin Zayed Road)
Global Village Parking (2021-2022)
As there is no Metro to Global Village, visitors can visit by Car or Taxi or by Bus. There are 3 different parking spots for the visitors who visit by Car.
General Parking – Area P1 – P12 on no charges
VIP Parking – Area 1 & 2. AED 200 is charged per day on weekdays and weekends.
Premium Parking – AED 100 per day is charged
Also, rickshaw services are provided from the parking spot to the entry gate. AED 5 is charged per person.
Regular Parking timings
| | |
| --- | --- |
| Zone | Timings |
| Zone A | 8 am-10 pm |
| Zone B | 8 am-10 pm |
| Zone C | 8 am-10 pm |
| Zone D | 8 am-10 pm |
| Zone E | 8 am-11 pm |
| Zone F | 8 am- 6 pm |
| Zone G | 8 am- 10 pm |
Roadside parking spaces in the commercial areas comes under Zone A and the charges for parking in this zone can be Dh 4/ hour, Dh 8/ 2 hours, Dh 12/ 3 hours.
All the commercial spaces parking lots are considered as Zone B and the charges might include Dh 3/ hour, Dh 6/ 2 hours, Dh 8/ 3 hours, Dh 12/ 4 hours, Dh 15/ 5 hours and Dh 20 for 24 hours.
Parking roadside in non-commercial area is under Zone C where the charges might be Dh 2/ hour, Dh 5/ 2 hours, Dh 8/ 3 hours, Dh 11/ 4 hours.
Non-commercial area parking lots are put under Zone D and charges of this zone include Dh 2/ hour, Dh 5/ 2 hours, Dh 8/ 3 hours, Dh 10/ 24 hours.
Parking in special areas
Zone E is earlier allotted to Deira fish market but now as the location of Deira fish market which is now called as Water Front market. This zone includes underground parking which is free and public parking which is payable.
Parking in Tecom areas comes under Zone F and the parking charges might include Dh 2 per hour, Dh 5 per two hours, Dh 8 per three hours, Dh 11 per four hours.
Parking areas in Down Town Dubai that are payable are under Zone G.
Ways to pay parking fees in Dubai
Whatsapp
Similar to SMS, customers can pay parking fees through WhatsApp on +971588009090. The message to be sent is [Plate Number] Space [Zone Number] Space [Duration]. You'll get SMS confirmation for the parking fees. And the parking fee will be deducted from the phone account balance or added o the mobile bill in the case of a postpaid account. Paying parking fees through WhatsApp in Dubai will save the telecom SMS charges of 30 fils.
Nol cards
Nol cards are used for various purposes in Dubai like to pay the fare for metro, to pay parking fees, etc., All you have to do is to buy your parking ticket using the Nol card and the money will be deducted from the card.
Prepaid card
Prepaid cards can be found at the supermarkets, grocery stores, etc., with denominations of Dh 30 and Dh 100. The charges will be automatically taken from the prepaid card as soon as it is inserted in the related slot of the parking machine.
Mparking
Send an SMS in the format of
Number plate (space) Area code (space) Number of hours to 7275. Through this you can also get alerted hourly and renew the parking ticket. SMS charges of 30 fils are levied.
Smart parking
Smart Parking is a free parking application you can avail which doesn't charge you for any transaction you carry out using it.
Coins
Parking fares can be paid by paying it in the form of coins at the nearest parking machine.
Seasonal parking cards
You can get seasonal parking cards at different values with different periods of validity. Seasonal parking cards can be found in A, B, T categories with a validity of three, six and nine-month validity.
Parking fines in Dubai
Not paying the parking ticket will cost you Dh 150.

AED 100 is charged on exceeding the parking time

AED 1000 is charged on parking without a parking plate

AED 200 is charged for using forbidden parking

Usage of unauthorized parking spaces will be fined Dh 1000.
Go through: Mparking in Dubai
Parking in Dubai is an embodiment of order and rules. People who follow them and have a systematic way of parking can avoid parking fines.
Disclaimer: The information provided by MyMoneySouq is for informative purposes only. MyMoneySouq strives to keep the facts and figures updated. However, it is recommended to visit the official website of RTA UAE for updated information.