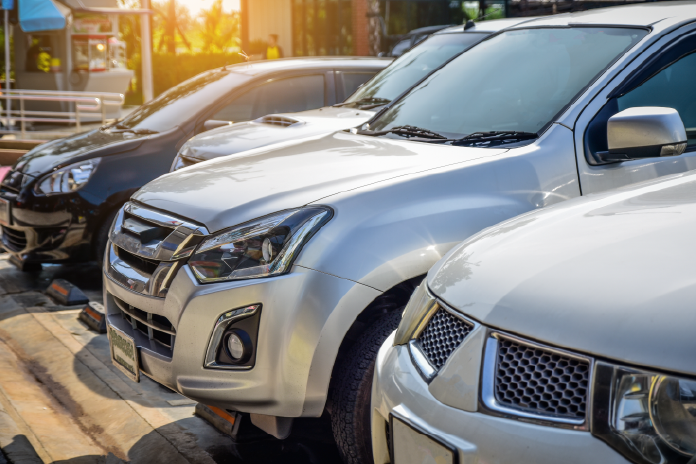 Dubai is one of the largest commercial hubs in the world and with all the well organized living over there, parking rules and regulations are also strict and disciplined.
Check: Ways to get free parking in Dubai
Earlier, the parking zones in Dubai were divided into 4 zones as B, A, F, E. However, according to the current situation, the parking zones are divided into only three categories i.e., special areas, non-commercial areas, and commercial areas.
Parking timings
| | |
| --- | --- |
| Zone | Timings |
| Zone A | 8 am-10 pm |
| Zone B | 8 am-10 pm |
| Zone C | 8 am-10 pm |
| Zone D | 8 am-10 pm |
| Zone E | 8 am-11 pm |
| Zone F | 8 am- 6 pm |
| Zone G | 8 am- 10 pm |
Roadside parking spaces in the commercial areas comes under Zone A and the charges for parking in this zone can be Dh 4/ hour, Dh 8/ 2 hours, Dh 12/ 3 hours.
All the commercial spaces parking lots are considered as Zone B and the charges might include Dh 3/ hour, Dh 6/ 2 hours, Dh 8/ 3 hours, Dh 12/ 4 hours, Dh 15/ 5 hours and Dh 20 for 24 hours.
Parking roadside in non-commercial area is under Zone C where the charges might be Dh 2/ hour, Dh 5/ 2 hours, Dh 8/ 3 hours, Dh 11/ 4 hours.
Non-commercial area parking lots are put under Zone D and charges of this zone include Dh 2/ hour, Dh 5/ 2 hours, Dh 8/ 3 hours, Dh 10/ 24 hours.
Parking in special areas
Zone E is earlier allotted to Deira fish market but now as the location of Deira fish market which is now called as Water Front market. This zone includes underground parking which is free and public parking which is payable.
Parking in Tecom areas comes under Zone F and the parking charges might include Dh 2 per hour, Dh 5 per two hours, Dh 8 per three hours, Dh 11 per four hours.
Parking areas in Down Town Dubai that are payable are under Zone G.

Dubai parking timings during Ramadan
Parking timings are adjusted in Dubai during the month of Ramadan by Roads and Transport Authorities(RTA).
Parking will be free during the month of Iftar. The parking zones that are payable would be available from 8 am to 6 pm and 8 pm to 12 am during Ramadan.
Parking plays a prominent role in Dubai and parking with appropriate timings is what makes it organized in every which way.
Ways to pay parking fees in Dubai
Nol cards
Nol cards are used for various purposes in Dubai like to pay the fare for metro, to pay parking fees, etc., All you have to do is to buy your parking ticket using the Nol card and the money will be deducted from the card.
Prepaid card
Prepaid cards can be found at the supermarkets, grocery stores, etc., with denominations of Dh 30 and Dh 100. The charges will be automatically taken from the prepaid card as soon as it is inserted in the related slot of the parking machine.
Mparking
Send an SMS in the format of
Number plate (space) Area code (space) Number of hours to 7275. Through this you can also get alerted hourly and renew the parking ticket. SMS charges of 30 fils are levied.
Smart parking
Smart Parking is a free parking application you can avail which doesn't charge you for any transaction you carry out using it.
Coins
Parking fares can be paid by paying it in the form of coins at the nearest parking machine.
Seasonal parking cards
You can get seasonal parking cards at different values with different periods of validity. Seasonal parking cards can be found in A, B, T categories with a validity of three, six and nine-month validity.
Parking fines in Dubai
Not paying the parking ticket will cost you Dh 150.

AED 100 is charged on exceeding the parking time

AED 1000 is charged on parking without a parking plate

AED 200 is charged for using forbidden parking

Usage of unauthorized parking spaces will be fined Dh 1000.
Go through: Mparking in Dubai
Parking in Dubai is an embodiment of order and rules. People who follow them and have a systematic way of parking can avoid parking fines.