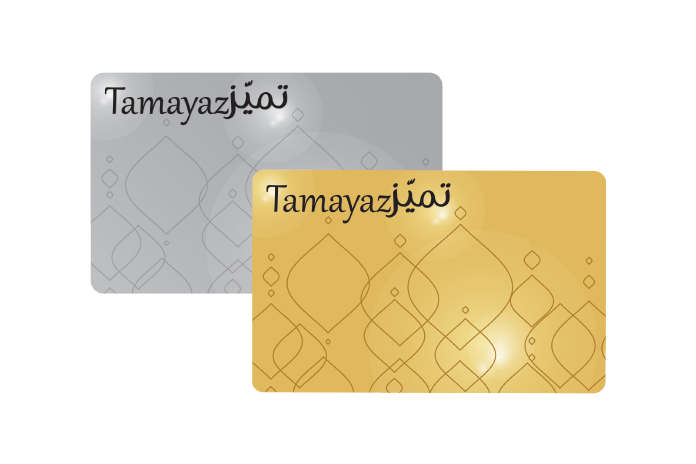 1. What is a Tamayaz card?
Keeping in mind the grocery shopping and the income spent on purchasing the groceries, Emirates Islamic in association with Union Coop has introduced Tamayaz card. It is nothing but a type of credit card that makes shopping of groceries more flexible and reduces the expenditure on groceries for the people of the UAE.
Check : Mashreq Salaam Reward Loyalty Program
2. Features of Tamayaz card program
Features of Tamayaz card program might include

Instant discounts are available on this card.
The Tamayaz cardholder can earn 3 Tamaya points and 2.5 choice points on every 1 AED spent on Union Corp.
You can avail balance transfer at 0% for a period of 6 months with a 2% processing fee. A balance transfer can be done up to an extent of 80% of the credit card limit and 5% of the minimum payment that is required every month.
Tamayaz card makes sure that all the customers that are using the card for grocery shopping get an instant cashback of 5% on the card for every Dirham spent at the Union Corp store.
Emirates Islamic Union Coop and other co-branded credit card customers avail automatic access to the most popular Tamayaz program.
People who have Tamayaz card can also benefit certain special offers that are exclusively designed for members of Tamayaz members both in the UAE and abroad.
Balance transfer facility is available at the rate of 0% for 6 months along with a processing fee of 2%. A balance transfer can be done on a limit of 80% on your card and a minimum of 5% on every payment that is needed for the month.
You can get a complimentary welcome bonus of 6000 points.
You can get the tap and pay experience with Visa Paywave.
3. Benefits of Tamayaz card program
You can redeem points for anything you purchase in Union Corp using Tamayaz card.
You can avail benefits on travel, dining, shopping etc.,
You can get back 3.67% of what you spent in the form of Choice points, retail points etc.,
Free valet parking for a month at the selected locations.
Emergency Medical and Legal Referral service to get an instant expert opinion from any part of the world.
Easy Payment plans allow you to buy the items of your choice at an interest of 0%.
You can avail Mazaya offers to get discounts on dining.
24/7 support provided by the customer care services that help you with issues like the lost card, stolen card, and other related issues.
Golf offers allow you to unleash your passion for golf and enjoy the discounts at reasonable rates.
Salary requirement for Tamayaz card is minimum and reasonable.
Benefits on each type of Tamayaz card

Gold card

The cardholder can get 3 main cards and 1 supplementary card with the same loyalty amount for the subscribers and the same members of the household.

Here are the benefits of Gold card

Instant discounts at checkout for selected products.
One point on every Dirham purchase.
The subscriber can avail 50 Dirhams instant redemption after getting a sum of 3000 Tamayaz points against the reward points that are collected at the cashier in all the branches.
Silver card
Similar to Gold card holders, silver cardholders will also avail 3 main cards and 1 supplementary card with the same loyalty account number for the same members of the household

Here are the benefits of the Silver card

Instant discounts at checkout for the selected products
One point for every Dirham purchase
The subscriber can get 50 Dirhams of instant redemption on collecting 4000 points against the collected reward points at the cashier of all the branches
Go through: Top shopping websites in Dubai
4. Registration to Tamayaz card
You can register to Tamayaz card by visiting the official Union Coop website of Tamayaz card and follow certain steps to get registered and this entire process is validated within a time period of 24 hours.

Once you complete the registration process, you can check the information regarding Tamayaz card by logging in with your valid ID and password provided to you.
5. Why should you get a Tamayaz card?
Purchase protection

Apart from all the exclusive offers and instant discounts that a Tamayaz card offers, you can also avail the protection for your purchases for a period of 365 days from the date of purchasing the product. Claim against the damaged items or products is also available and one can claim up to a coverage of USD 5000 per damage or USD 20,000 per year against the loss or damaged items.

Zero fees

Yes, that's true. Earlier there used to be a fee to get this credit card. But now you can get this credit card even without paying the fees.
Medical and legal referral

This is considered as one of the astounding features of Tamayaz card as the card users can get protection anywhere in the world through emergency medical and legal referral services. Medical service provider referral, medical advice by means of telephone, medical condition monetization pre and post the hospitalization, delivery of essential medical equipment, medical evacuation is also provided to the cardholder.

Enquiry services

Tamayaz cardholders can also get access to travel services, enquiry services, calling and inquiring technicians, booking interpreter services etc.,
6.Rewards and miles you get by getting Tamayaz card
You can get a variety of miles and reward points using Tamayaz card as stated below

Free valet parking facility at Dubai airport.
15% discount at Cristal Hotel, Abu Dhabi.
15% discount on Bookmyservice.com
20% discount on Bloomingbox.com
Nearly a discount of 30% on all the restaurants of UAE.
1,500 Guest Miles for 14,000 Choice Points.
2,000 Guest Miles for 16,000 Choice Points.
7.Fees and charges included in Tamayaz Card
| | |
| --- | --- |
| Category of fees | Amount to be paid |
| Overlimit fees | AED 249 |
| Card replacement fees | Free |
| Late payment fees | AED 225 |
| Liability letter | AED 50 |
| No liability certificate | AED 50 |
| Paper Statement fees | 10 |
| Forex charges | 2.34% |
| Minimum payment due | 5% of the statement balance added with overdue amount |
| Check and direct debit return | AED 100 |
| E statement | Free |
| Copy of sale voucher | AED 50 |
| Maximum cash advance per transaction | 50% of the card limit or 10000 whichever is available |
| Overseas transactions in UAE Dirhams | 1.99% |
8. Documentation needed to get Tamayaz card
Documents related to income
Valid Emirates ID
Valid Passport
Address proofs
Proof of residence
Latest credit card statement
A copy of credit card
9.Eligibility criteria required to get a Tamayaz card
In order to get Tamayaz card, you need to have a minimum salary of AED 5000.
You should be a customer of Union Coop
You will avail gold card if you are a shareholder and a silver card if you are a non-shareholder.
10. Terms and conditions for Tamayaz card
The original Tamayaz card is essential to get redeem points that can be availed by the card.
You can get a new Tamayaz card on request followed by a new registration process. The points earned will be redeemed to the new card that has been issued.
If the card is lost, you can get a new card by request and all the points will be transferred to the new account.
The card holder is responsible for any loss, theft or damage of the Tamayaz card that he is holding currently or supplementary card and he can complain about the same to his nearest Union Coop branch.
No points will be transferred if the cardholder benefits got changed from gold to silver and the points will be canceled.
Whereas when the beneficiary changes from silver to gold, all the points will be transferred from silver to gold.
Any of the terms and conditions that are stated can be modified or canceled by Union Coop and only Union Coop holds the rights to cancel or modify them.
You can earn loyalty points on each and every purchase of the card.
11. How to earn reward points using Tamayaz card?
You can earn reward points of a Tamayaz card by the following ways

The card members can get a 5% cash back as Tamayaz points for the expenses made on Union Coop stores that are spread all over the UAE.
All the members of Union Coop can avail the following

3 Tamayaz points for every 1 AED spent on any Union Coop store.
2 Tamayaz points for AED 1 on each purchase made in the UAE.
1 Tamayaz point for AED 1 on every purchase made all over the world or internationally.
All the Tamayaz points given by the Union Coop are given to the customers were added to the Tamayaz account by default, while for the points given by Emirates Islamic, the customer or the user needs to call or contact by using the numbers 600499995 and convey the request to add Tamayaz points to their respective accounts.

12. Redeeming Tamayaz points
Redemption of Tamayaz points can be done by approaching Union Coop stores that are present all over the UAE.

The redemption can be done as represented in the below mentioned table
Tamayaz points
Tamayaz points in AED
Cashback %
For shareholder
3000
50
5
For nonshareholder
4000
50
3.5
Conclusion

With the increasing expenses on grocery items, it is very beneficial to have a card like Tamayaz that helps you stay in check regarding your expenses.