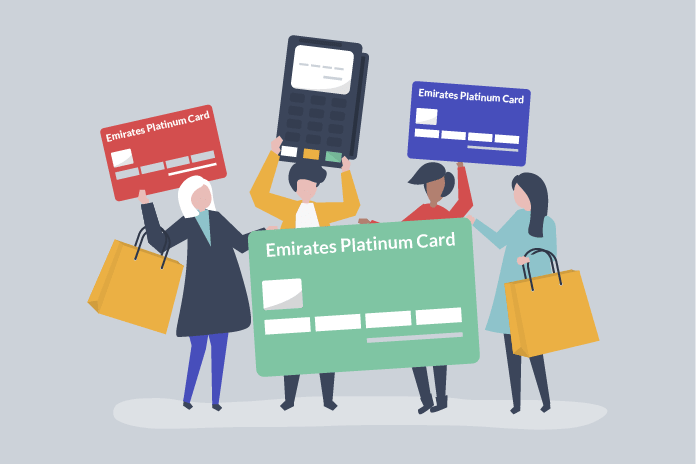 Emirates Platinum Card programme was launched in 2008 that is exclusively available for the Emirates employees. Emirates Platinum Card offers special discounts to their employees. The offers can be availed on shopping, entertainment, leisure, movies, dining and much more.
Check: Credit Cards with no Annual fee in the UAE
What is the Emirates Platinum Card programme?
Ek Platinum Card can be availed by the dependents of the Emirates employee as well. This includes everyone right from the higher officials to the pilots, cabin crew, etc. Even dnata and subsidiary companies are open to this programme.
The EK platinum programme offers 4 tiers i.e.,
Emirates ID Card

Emirates Platinum Card

Emirates Platinum Club Card and

Emirates Platinum Premium Club Card.
Even retired employees of Emirates are eligible. Each employee can add up to 3 dependants who can avail the benefits of this programme.
How to register on the Emirates Platinum Card programme?
Emirates, Dnata and its subsidiary companies employees are automatically registered on this programme. Employees will receive a Welcome Email. Using the credentials provided in the Email can visit the Emirates Platinum Card website and change the password. Apart from the website, the offers can be availed using the app. It is available for both Android and iOS users.
Emirates Platinum Card Offers
Emirates Platinum card offers are provided to the respective staff and employees exclusively. There are several places i.e. 1700+ where they can avail the EK platinum card offers.
The app users can safe a lot of money of the usage of the app as Emirates provides discounts on every category like dining, lifestyle, shopping, entertainment, travel and much more. Emirates and its subsidiary companies staff can get up to 50% OFF or even more than that on their expenses.
Other than the discounts and offers the employees would receive e-newsletters as well.
Maybe interested: Best credit card offers in Dubai
How to avail Emirates Platinum Card offers?
Once you have confirmed your registration you can log in on the website or the app and find different categories like travel, fashion, entertainment and much more. Ek Platinum card users can pick the categories and check the Emirates Platinum Card offers from the discount list that are available along with the validity.
They can visit the selected place with their Emirates platinum discount card. Some places might require a prior booking which can be found in the terms & conditions section.
Also check: Best Credit Cards to get Airport Lounge Access in Dubai
Having more than 75,000 employees, Emirates provides an opportunity for the brands also to promote their businesses on the EK platinum Card programme.
MyMoneySouq helps the visitors to find the right financial product by comparing different products provided by various banks in UAE. It compares different loans, insurance, accounts, credit cards. It works with a goal to give the users a clear idea of what to expect out of their funds and what they can get from those.