Banks in UAE are usually skeptical when it comes to giving loans to individuals with a low salary or a high Debt service ratio/Debt burden ratio. You may check out this article to understand more about DBR. Banks such as Emirates NBD, RAKBANK, Mashreq have a minimum salary requirement of AED 5000, however, there are also banks such as HSBC and the National Bank of Abu Dhabi whose salary requirement is AED 7000 or sometimes even more than that.
We received many queries on topics such as life insurances and also, ways to procure a personal loan in Dubai even with a low income. What we found out was that most people do not understand their intricacies. So, this article focuses on addressing as to how one should go about in availing a personal loan in UAE with a monthly salary of AED 5000 or less. Here are some ways, that most of us may not be aware of.
<Personal loans with monthly salary AED 0-3000>
Finance options in UAE with monthly salary less than AED 5000
Let us not forget the fact that banks are here to earn money by lending money. Though most of them require a higher salary, you can rest assured that, there are banks that are offering finances, even if your monthly salary is less than AED 5000. Some of those options are:
Dubai Islamic bank:
It is one of the leading banks in Dubai, where you can apply for a personal loan even if your salary falls short of AED 5000. They provide Shariah-compliant personal finance. There are multiple personal finance options available for you offered by Dubai Islamic Bank. The interest rate and the finance amount will vary, depending on the customer's profile. However, the maximum finance offered is AED 4,000,000 with a tenor of 48 months for UAE nationals and AED 2000,000 with the same tenor for expatriates.
<Personal loans with monthly salary AED 0-4000>
RAKbank:
It is another leading bank which offers personal finance with a minimum salary requirement of AED 3000. Rakbank is known for its fast processing service and flexible repayment options. They offer maximum finance of up to AED 1250K for both UAE nationals and expats.
<Personal loans with monthly salary AED 0-2500>
Credit card:
Credit cards are a source of short term cash requirement. There is a pre-determined credit limit up to which you can use. Banks such as Emirates NBD offer cards with a minimum salary of AED 4000, the requirement will vary depending on the type of card you would want to avail.
These were the financial institutions you can turn to when there's a need for urgent cash. However, given you are going to apply for finance with less minimum salary, there are few things that you need to keep a note of before finalizing one.
<Personal loans with monthly salary AED 0-5000>
Things to keep in mind
Salary transfer: Banks would usually prefer you have an account in their branch where your salary is transferred. This helps them to offset the risk involved in an unsecured form of finance. It also gives them security and keeps a track of your income. However, there are few options for you if you prefer non-salary transfer finance.
Interest rate: When there is risk involved with a lower salary, banks normally charge higher interest rest to mitigate the risk. The flat interest rate normally ranges from 2-11% whereas the reducing rate varies between 4.9-19%. It is important that you understand what is being charged and not hurry. Be sure to shop around and consider all the options before finalizing one.
Salary transfer certificate: This is asked by the bank during your application processing stage to understand your expenditure breakdown. They would also want your designation at the company and your position to safeguard themselves from any fraud.
Now, the documents that you would require to apply
Loan application form – completed and duly signed.
Some identity documents like Passport, a copy of the VISA, Emirates ID, etc.
For Expatriates – Valid Passport with a valid UAE Residence Visa.
Salary certificate and/or salary transfer letter
Statement(s) of your bank account(s)
For self-employed individuals – Trade License, MOA
<Personal loans with monthly salary AED 0-6000>
This is about it, so now you are aware of the various options that are available for you. As a personal opinion from our side, avoid the credit card. If the required amount is higher than your repayment limit or exceeds your capacity and you only keep paying the minimum amount, it would eventually drown you in debt with all the accumulated interest. This will ultimately impact your credit worthiness which would consequently hamper your likeliness of availing finance in the future. We can never predict the future, be sure to not close any doors deliberately.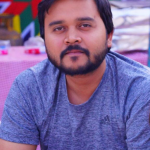 Hemanta Bijoy Kaushik is a personal finance writer. Discovering his love for writing, he has written a number of blogs on personal finances and other genres on various digital media platforms. He has completed his MBA from IMT and currently working at HDFC bank as Personal Banker. When he's not writing, you can find him exploring different cuisines and binge-watching TV series. Hemanta hopes to write a novel soon. You can check out his work on www.instagram.com/hemantakaushik