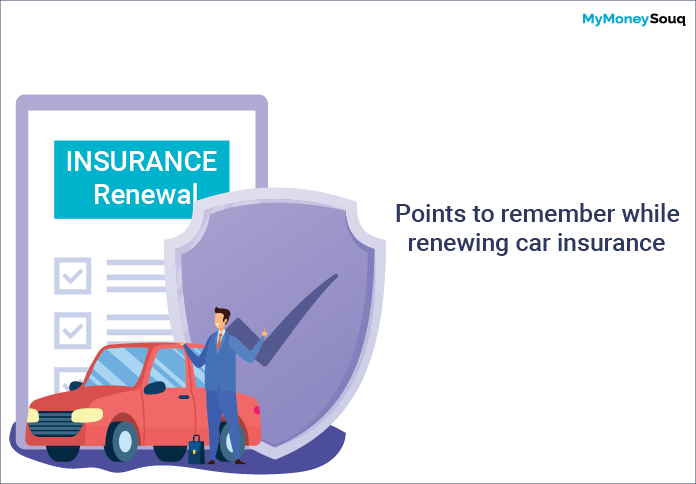 Car Insurance Renewal is mandatory if you are planning to drive your vehicle in the UAE. The UAE RTA law mandates owners of vehicles to get car insurance. The car insurance protects the car and the passenger, the expenses on car repair. In the UAE, the car insurance policy tenure is 12 months, and most of the insurance providers provided a (grace one month period) penalty-free one month to renew the car insurance. Instead of waiting for the remainder from the insurer, you can do enough research and work on the best insurance policy that meets your requirement.
Keep the below points in mind while you do car insurance renewal
In the UAE, there are two types of car insurance. They are Comprehensive Car insurance and Third-party car insurance. According to your requirements, choose the best policy and keep the following points in mind during Car Insurance Renewal.

Policy features
Insurance Provider
Insurance premium
Choose your plan
Select your add ons
Insured declared value
No claim Bonus
Get your renewal quotation
Understand the Claim Process
Compare quotations
Know your requirements
Rely on the best insurance company
1. Policy features
During the first year of using your car, you would have got enough understanding of your vehicle and your driving needs. The features that are useful for you and the ones that are missing in your car. Renewal time is the best time to add new features and remove some which are not required. Example– Suppose your insurance cover provides Oman cover and off-road cover. You never used this service as you hardly go on cross-country adventures within or outside the UAE. Since this is not useful to you, you can opt out of this option and reduce your premium amount.

2. Insurance provider
The easiest method of car insurance renewal is to continue with the same insurance provider. It is advised to look out for various other insurance providers to compare their features and choose the best insurance in UAE according to your requirement.

3. Insurance premium
The insurance premium is dependent on various other factors such as model of the car, drivers age, driving experience, driving history, traffic violence, claim history, and such others. It also depends on the extent of coverage and the type of coverage that you select while renewing your insurance policy.
Click here for Comprehensive Car Insurance
4. Choose your Plan
There are two types of insurance policies they are Comprehensive Car Insurance Policy and Third party Liability Insurance. Third Party Liability insurance covers the injuries caused to another vehicle by you. It does not cover damages to the property or your car. Comprehensive Car Insurance Policy provides protection to the car and passengers as well.

5. Select Add ons
Add on features such as accident cover, agency repair, roadside assistance, fire, Oman extension, theft, car replacement and others. Select add on features to your insurance policy which are best according to your requirements.

6. Insured Declared Value
If your car is stolen or there is total loss to your vehicle there is a basic amount fixed by the company which is provided to the car owner. This is based on the current market value of the vehicle. Knowing the insured declared value is very important to understand the risk and benefits of the insurance during car insurance renewal.

7. No Claim Bonus
The No claim bonus amount adds on every year. The more increase in the number of claim free years, the more is the benefit to the policyholder. The benefit is provided in the form of a discount while renewing the policy. According to the UAE Insurance authority, if the policyholder does not make any claim on the insurance in the 1 to 3 years then he is allowed to get a discount which would be between 10% to 20%. The discount is provided on making the car insurance renewal.
Click here for No claim bonus on car insurance in UAE
8. Get your Renewal Quotation
A renewal quotation provides you with the details of the insured declared value, add-on chosen, no claim bonus, deductibles, features and benefits. Getting a quotation will make you know how much you are expected to pay and what benefits you will get from the complete renewal pack.

9. Understand Claim process
This step is very important to understand because when you are in an emergency, you need to know whom to contact and get your claims cleared. The top insurance policy providers have an easy and efficient claim process. Having a good knowledge of claim procedure is very useful. Talk to the insurance provider and get the details.

10. Compare quotations
When you are doing your research on renewing car insurance. Collect the quotations from the different insurance providers and compare the price, add on features, services and choose the best according to your budget and requirements.

11. Know your requirements
Different car users have different insurance requirements and accordingly, the services are provided by the insurance companies. Analyse your needs and know what you want and select your plan.

12. Rely on the best insurance company
When you choose your insurance provider based on your reputation of the company, then the claims are settled on time without any hassles. A good company has a good reputation and financial background to ensure best services to the customers.

Takeaway

Car insurance protects your car from any kind of mishappenings on the road. Car insurance takes care of not only accidents but also theft, third party liabilities, and others. Protection to the car, financial protection, legal liability expenses, damages to the car, physical injuries protection and other services are offered by car insurance. In most cases, the car dealer provides the first car insurance policy and once it is the time for renewal, it's your turn to look into your requirements and choose the best car renewal policy that fits your budget and requirement. Plan, Analyse, compare and renew the car insurance policy ensuring your money is invested in the right car insurance policy.

Vinay Kumar Goguru is a finance professional with more than 8 years of diverse experience as a researcher, instructor and Industry work experience with both public and private entities. Prior to MyMoneySouq, he spent 6 years in Berkadia, It's a commercial mortgage banking company. He has a "Doctoral Degree in Commerce" and two master's degrees with a specialization in Finance, one as Master of Commerce and other as Master of Business Administration. He has written several articles on personal finance, published by different International journals. He loves traveling, reading and writing is his passion. He has a dream of writing a book on his favorite finance topics.