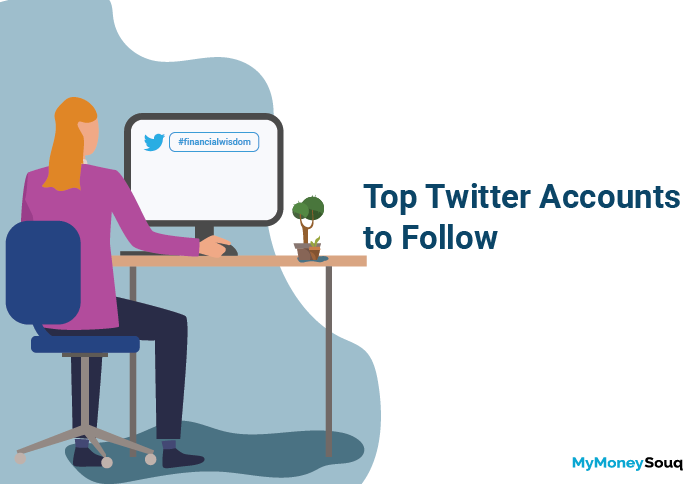 Who doesn't like to sort out their money problems, fulfill their financial needs or save more for the future? Almost everybody plans for that. But, sometimes due to a lack of awareness about money management, people fail to reach their financial goals. And that is why Personal Finance is very important for everyone.

Personal finance is the process of planning and managing personal financial activities in a budget or financial constraints. It may refer to an individual or to the entire industry that provides financial services to individuals. Everybody must have Personal Finance Knowledge. It includes income, spending, saving, investing & Protection (retirement plan), etc.
Check: 5 Best Ted talks on Personal Finance
Life has become more comfortable and friendly with Social Media. You are just a click away from people. Though it impacts negatively in some ways, we can use it for good like Education, to communicate in emergency situations, etc. In this way, we can even gain knowledge about Personal Financing Planning. There are many people who are talking/advising about Money Management or Finance Management, etc in Social Media.

There are some experts, who specialize in everything including from investment advice to budget living. Here is a list of top 10 people to follow on Twitter to know more about Personal Finance.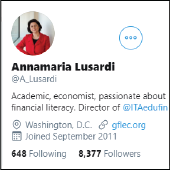 1. Annamaria Lusardi (Twitter: @A_Lusardi)
Annamaria Lusardi is an academic, economist. She is very passionate about Financial literacy and this makes her a good Financial Adviser. A maximum share of her twitter handle is used to talk about Financial Education. She has more than 8k followers in twitter.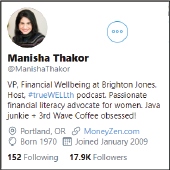 2. Manisha Thakor (Twitter: @ManishaThakor)
Manisha Thakor is a Passionate financial literacy advocate for women. She has around 18k followers. She mostly talks about Financial Influence on Women. This is one of the best Twitter profiles to follow as her tweets help to gain knowledge about Personal Finance / Financial Management.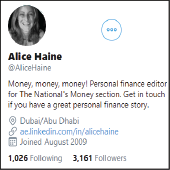 3. Alice Haine (Twitter: @AliceHaine)
As Alice Haine is a Personal Finance Editor by profession, she tweets more about finance and especially women's involvement in Financial Management. Recently she tweeted about wealth products and services that factor in women's needs.
Know About: Top 5 tools plan Personal Finances better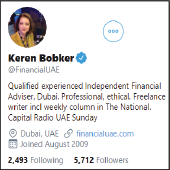 4. Keren Bobker (Twitter: @FinancialUAE)
This is one of the best financial advisor's profiles to follow. Keren has more than 2000 followers. She often tweets more about Money Management and saving money which are really important aspects of one's life. She has good knowledge and experience in financial products. She recently tweeted about saving money on your currency transfers.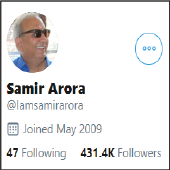 5. Samir Arora (Twitter: @Iamsamirarora)
Samir Arora's twitter account mainly focusses on the financial market and everyday observations of economic conditions, etc. His tweets give out a clear idea of the current happenings in the financial sector and of course with a humorous bent. Hence this makes him one of the profiles to be followed on twitter. He has more than 430k followers.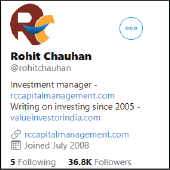 6. Rohit Chauhan (Twitter: @rohitchauhan)
Rohit Chauhan is an investment manager at an investment firm. His tweets give valuable insights into his investment experiences and his analysis of market trends. He has around 37k followers on Twitter. He learned about basic investments from newspapers, financial books and his own personal experiences. What a better way than to learn from personal experiences!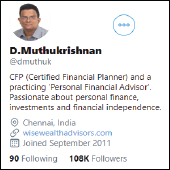 7. D. Muthukrishnan (Twitter: @dmuthuk)
Muthukrishnan is a certified financial planner and Personal Financial Advisor by his Profession. His tweets give investors substantial investment advice. His passion for personal finance, savings and financial independence made a well-known expert in the field.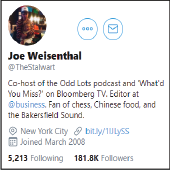 8. Joe Weisenthal (Twitter: @TheStalwart)
Joe Weisenthal mostly talks about the investment of money in different fields. Earlier, he was a writer and analyst. He is also a co-host of Odd lots podcast which is about a weekly update on market, finances, and economics. He has around 182k followers on Twitter.
Maybe Interested: Best books on Personal Finance that you should read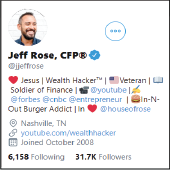 9. Jeff Rose (Twitter: @jjeffrose)
Jeff Rose is a certified financial planner. This is one of the best profiles to follow if you would like to gain knowledge about Financial Management. His tweets help us to know about Investments, Saving Money & Money Management. Twitter users who are interested to learn about personal finance can follow him and keep yourselves updated.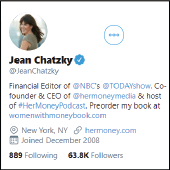 10. Jean Chatzky (Twitter: @JeanChatzky)
Jean Chatzky is a Financial Editor by her Profession. She also hosts a podcast show which is about money. Most of her tweets are about money management, especially for individuals. She also gives tips on saving money and budgeting from our everyday regular activities.
Conclusion
There are many more profiles to follow on Twitter about Personal Finance Management. The above profiles are some of the best. Finally, for a happy & successful life, Personal Finance Education is very important for anyone. It is never too early or late to learn how to manage your money, to control your debts and invest in your future.
Sameera's interest in the finance niche and immense interest in reading has made her a personal finance writer for MyMoneySouq. She calls herself a writer by day and reader by night. She enjoys writing as much as cooking.