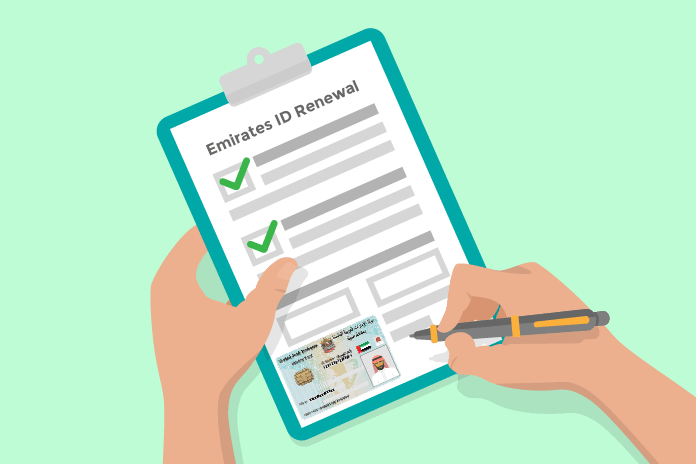 For a UAE national, the Emirates ID is valid for a maximum of 5 years or 10 years and for an expat it depends on the validity of the residence visa. Every UAE resident must get their Emirates ID renewed on time without any delay. Even though 1 month grace period is provided after the expiration, the process of renewal begins 6 months prior to the expiration.
How to renew the Emirates ID?
There are certain steps to be followed for Emirates ID renewal online. It can be renewed by visiting the Federal Authority of Identity and Citizenship(ICA) website.
Visit https://www.ica.gov.ae/#
Click on "Renew ID Card"
Can visit "View info" if you are looking for any additional information else continue with "Start Service"
Log in to the website using your credentials

Fill the Emirates ID application form with basic details which also includes your Emirates ID number.

Once the form is filled you can recheck and submit. Make sure you have entered the right details before submitting the form.

It will redirect the applicant to the payment portal where the fees can be paid

Once the online application is submitted please make a note of the application number(even though the application number will be sent on SMS)

The applicant needs to visit the nearby medical center for medical tests

Once the medical certificate is provided, it can be submitted at the nearby EIDA(

Emirates ID Authority) center

The application will be processed once the verification is done

You can get notified regarding your Emirates ID status
Documents required for Emirates ID renewal
For UAE nationals
Passport

Family book

Expired ID copy

Social welfare certificate (for those under social welfare coverage)

Medical certificate(For special needs and elderly applicants)

Photo (With light blue background)
Emirates ID renewal charges
There are some charges levied on the renewal of the Emirates ID.
For UAE nationals, AED100(5-year ID) and AED 200(10-year ID) are charged.

For GCC nationals, for a 5 year ID card, AED 100 is charged.

For expats, AED100 is charged for each residency year which depends on the residence Visa validity.

AED 70 is charged on applications submitted via printing offices and AED 40 on the application submitted online.
Emirates ID renewal eligibility
Even UAE or GCC national whose Emirates ID card has expired are eligible.
Emirates ID fine enquiry
A grace period of one month will be given from the date of the expiry. The cardholders must renew their applications before that else there are some fines levied on late submission.
AED 20 is charged per day once the grace period is over.
MyMoneySouq helps the visitors to find the right financial product by comparing different products provided by various banks in UAE. It compares different loans, insurance, accounts, credit cards. It works with a goal to give the users a clear idea of what to expect out of their funds and what they can get from those.