Banks provide several offers on credit cards, When you use a credit card which comes with a list of many rewards, it becomes difficult to keep a track of all the rewards available on your card and avail them.
FAB Credit card can be counted in the list of credit cards, that has many rewards added to its list. If you are a FAB credit card user, You can get happy about the rewards in your basket or confused about where to redeem them.
FAB rewards program is known as FAB First Points Program, and to make the most of your FAB loyalty program you can redeem your points with various brands like Calvin Klein, LE Chateau, ALDO, and Charles & Keith. The list doesn't just stop there, and to help you further with FAB rewards redemption, we have prepared a set of points to help you redeem your points to their fullest.

How to earn FAB Reward Points?
Firstly, it's very easy to earn FAB First Points. You just have to use your FAB Credit Card regularly to earn reward points. By spending AED 1 each from your card, you can earn 1 reward point on your credit card. You can even earn more reward points depending upon which FAB credit card that you use. You will also earn reward points on the supplementary cards that you avail with your primary card.
You can redeem your points for vouchers to pay utility bills of RTA, DEWA/SEWA and du. You can also redeem your points at various stores as well.
The best part about earning reward points is, you can earn your First points both domestically and internationally but have to be redeemed within 3 years from the date you avail these points. First Points can be redeemed faster than any loyalty program in the world!
How to know how many FAB points I have earned?
It's very simple to know how many points you have accumulated on your card. Just dial 600 52 5500, and get to know the number of points you have gathered on your card. The bank will also notify about the number of First points you have accumulated in your monthly statement.
Want to earn some bonus FAB points?
Yes! It is possible to earn bonus points on your card. You can earn double first reward points by using your card in Supermarkets in the UAE or on all purchases made internationally. FAB has raised its horizon, by helping you provide more bonus points if you avail an additional product from their bank such as FAB personal loan, insurance, savings plan etc.
FAB Rewards Points Redemption
You can redeem your points using different methods of redemption. Once you feel you have collected enough first points that can be redeemed, you can call 600525500 and redeem your points.
You can redeem your points for any vouchers or pay your utility bills according to your need and comfort. You can check the FAB Rewards List on the FAB's website and look for vouchers that can be redeemed for your points. Every voucher needs a different set of first points to be redeemed. You can decide the voucher(s) and call the customer care on 600525500 and give your card details accordingly to redeem your points.
Following is the
FAB rewards redemption list
| Category | Voucher value in AED | FAB points required |
| --- | --- | --- |
| Retail Shopping | - | 50,000 |
| Careem Rides | 50 | 10,000 |
| Salik Recharge | - | 10,000 |
| Cosmetics | - | 50,000 |
| Cashback | 200 | 50,000 |
| Electronics | - | 200,000 |
| Jewellery | 1000 | 200,000 |
| Etihad Guest Miles | 16,666 Miles | 200,000 |
| Home Furniture | 2500 | 500,000 |
| Lulu Shopping | 500 | 100,000 |
| Online Shopping | 500 | 1000 |
| Mobile Recharge | - | 5000 |
| Amazon Subscription | - | 5000 |
| Meal Home Delivery | - | 10,000 |
After contacting your customer agent, the voucher that you select will be sent to you by courier within 8 days.
If you want to redeem your points for utility bills, you need to know whether the utility that you want to cover with your points, is availed with FAB. You need to analyze the FAB rewards list, to see whether the UBP (utility bill payment) code is there in the list of utilities in the rewards list. The UBP code needs to match with the utility that you want to redeem with your points.
You can redeem first reward points by paying utility bills of services like Sewa, E-Vision, ADWEA, Salik and many more.
You can redeem a maximum of AED 500 in a calendar month. Be sure to contact FAB customer desk on 600 52 5500 to know more.
Reward points from Co-branded Credit Cards.
When we talk about Co-branded credit cards, the first thing that comes to our minds is utility bill payments and earn more reward points.
FAB has formed strategic partnerships with various brands to provide their customers with the best of the cashback, Airmiles, and discounts. FAB has partnered with brands like du, Joyalukkas, LGB express and H&M, to bring out more varieties in FAB First points.
FAB and du
FAB has partnered with one of the largest telecom companies in the UAE to provide benefits and rewards to customers of both FAB and du. Customers availing data plans from du using FAB du credit card both FAB Du Titanium Card and FAB Du Platinum Card can enjoy a discount of 10% on their daily privilege plan and earn triple reward points on du spend which can be redeemed against the full portfolio of du services under FAB's talk for a free programme. You can also avail 10% bonus credit on your FAB du credit card when you avail autopay online. Customers can avail the same benefits while travelling abroad, without any interruption.
FAB has become the third-largest bank in UAE not only because of its successful operations but also for various rewards that it provides to its customers. First Abu Dhabi bank has also rewarded its customer Mansour Hamdan, with AED 1 million in Emirati Al Awwal Quarterly draw. The major outcome behind such rewards is to promote financial literacy amongst its customers, in UAE, and all around the middle east.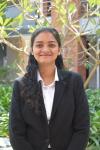 Manasa Netrakanti is an avid traveler and writer. Throughout her life, she has travelled to various states across the country and has also been acquainted with various languages and culture. She loves to read various books on Mythology fiction and autobiographies. Manasa wishes to become an author someday, who can inspire the world with her writing.