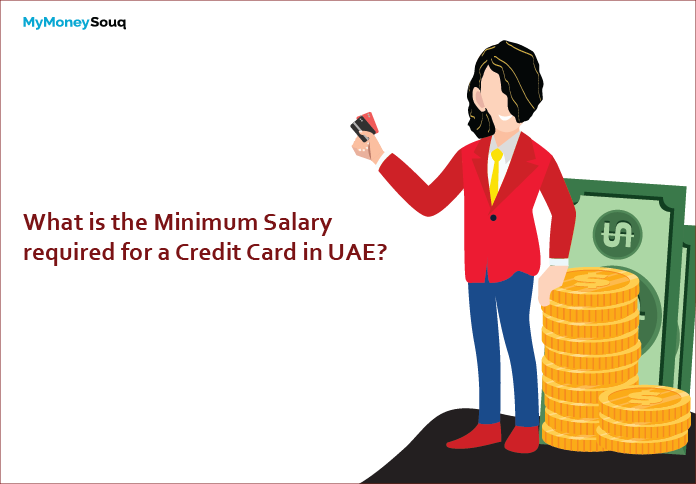 A credit card is the most convenient payment method and has become an important tool for everyone. It is the various credit card offers and benefits provided by the banks in UAE that is making them one of the preferred payment methods.
Each year there is more than a 50% increase in the number of credit card applications in UAE. According to a survey, in 2017 there was a 65% increase in the credit card applications in UAE compared to the previous year. But it is not that all the applications will get approved. Banks check several things while approving a credit card application like Debt Burden Ratio, credit score, minimum salary, nationality, etc. Amongst all, the first and foremost factor considered in the credit card application is the monthly salary/income of an individual.

Credit cards with minimum salary AED 5000
The minimum salary required for credit card in UAE differs with each bank. But generally, the minimum salary required for a credit card is AED 5000. There are several banks providing credit cards in UAE for a minimum salary of AED 5000.
Best credit cards in UAE for AED 5000 salary are:
Financial institutions are offering high benefits to each of these cards. They are not limited to basic features, they also offer good benefits such as cashback, dining discounts, travel privileges, movie discounts and much more.
Credit card in UAE for AED 3000 salary
There are no banks in UAE providing credit cards for AED 3000 salary. As already mentioned, the minimum salary for a credit card in the UAE is AED 5000.
Credit cards are the most beneficial tool when rightly used. It can also be your worst nightmare when you don't understand how to use it. More than 60% of the credit card holders are not aware of the interest rates charged on their cards and around 20% of the credit cardholders in UAE does not know how missing credit card payments will affect them. This is landing most of the credit card holders into debts. It will have a bigger impact on individuals with a salary of less than AED 5000. Considering this, banks don't provide credit cards without a minimum salary of AED 5000.
Maybe interested: Understanding credit card charges in the UAE
Eligibility Criteria
The following factors could affect the chances of an applicant of qualifying for a credit card in UAE:

Age: Most of the banks offer credit cards between the age of 21 years to 60 years. It is also possible to get credit cards with the age of 18 years. The condition is that applicants should show income earning sources.

Income: The income or salary proof is mandatory to get a credit card.

Credit History: Credit score is a requirement to get a credit card, the credit score ranges from 300-900. If an applicant is applying for the first time then a credit card with limited options is provided and credit card benefits will be revised based on the card payments.

ID Proof: UAE Nationals must show their Emirates ID, while expatriates can show documents such as their passport and visa.

Address Proof: A valid address proof is required to get a credit card.
Requirements for getting credit cards
Once you are eligible, the bank will collect the required documents from the customer. Each bank has its own different requirements for issuing a credit card. Below are the common requirements for getting credit cards.
Valid Emirates ID and passport
Proof of income
Minimum 18+ years of age
Have a valid UAE mobile number (To ensure more security banks are requesting for valid mobile number)

MyMoneySouq helps the visitors to find the right financial product by comparing different products provided by various banks in UAE. It compares different loans, insurance, accounts, credit cards. It works with a goal to give the users a clear idea of what to expect out of their funds and what they can get from those.